Unbelievably, I stuck to my winter plan and spent some time in the gym. I worked on core and leg strength to hopefully increase my speed on the bike and to allow me to bank a little more time on brevets.
Florida Escape
My wife and I decided to escape this year's winter weather and spend a little time in Jacksonville Beach, Florida. Unfortunately, neither of us has taken to skiing, snowboarding, snowmobiling, or snowshoeing when the flakes fly. I used to claim that I enjoyed the 4 seasons. But I think I'm done trying to convince myself that I like shoveling snow out of the drive, scraping ice off of the windshield, or crunching down salty sidewalks on dog walks. So, after enjoying Christmas with family, then not enjoying January's bitter bite, I looked forwards to some warmth and drove south to Florida with my 80's Bianchi on the rack. It was from that aft perch that the bike would be subject to the corrosive attack of the salty roads of NY in winter as we escaped.
A few rides around Jacksonville beach for morning pastries and a pre-sunrise shakedown ride to St. Augustine had me convinced the old bike's tires weren't going to blow. The old Selle Italia leather saddle I had found a couple years back in the takeoff bin was surprisingly comfortable, despite its age. The "upgrade" from the square taper's crankset to a modern subcompact was the only significant change my first road bike had ever received. Still, the gearing change was hardly needed to ride the flat roads paralleling the coastline. Although it was no top-of-the-line bike (even in its day), it did have some racy geometry, which made me feel like I was riding on stilts compared to the bikes I have been riding the past couple of years. Narrow handlebars, steep angles, and "plush" 23 mm tires on southern roads reminded me of my first long rides in Florida and Georgia in my teens and 20s.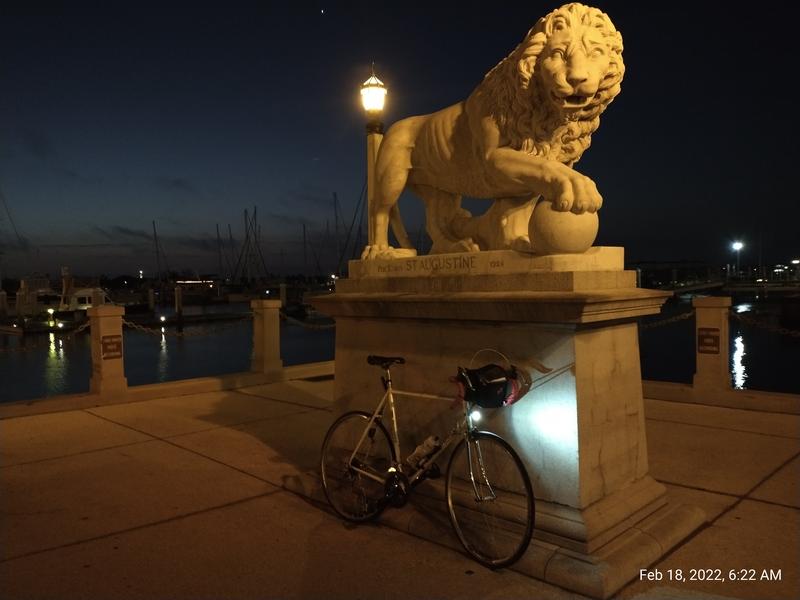 Bridge of Lions in St. Augustine
It wasn't long before I looked up local permanents and planned the perfect day and time to take off. RUSA permanent #620 was a 200k that went from St. Augustine to New Smyrna Beach along Route 1 on the way south and A1A along the water heading north. The forecast for the week had mild southern breezes picking up around mid-morning to a stiff and steady wind. Timed right, I could raise the sails and lift my legs for the return. For fun, I'd ride to the start and back to Jacksonville at the end to make it a 300k, with #620 sandwiched in the middle.
The ride to the start in the middle of the night was warm, clear, and moonlit. The gentle breaking sounds of the surf were all there was to hear in the dark as I pedaled the 25-mile stretch through the Guana River Wildlife Management Area. The St. Augustine lighthouse regularly blinked its beacon from the south. I tried to set my pedaling cadence to some harmonic of its frequency.
The morning took me by not-yet-open orange stands along Route 1, through palmetto and live oak groves on the Old Dixie Highway, and along the Halifax River through Ormond and Daytona Beach. I arrived in New Smyrna a little after noon as the wind came and filled my handlebar bag with plantain chips and gummy bears and turned back to the north.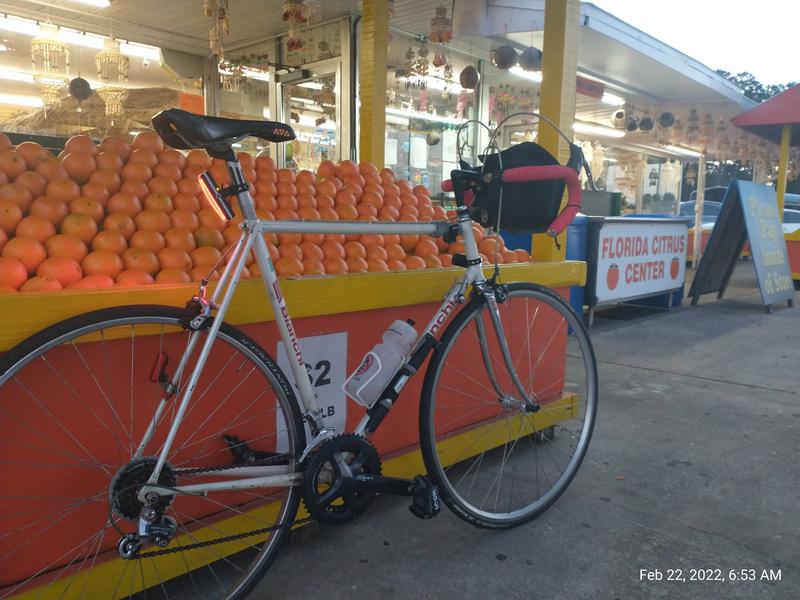 A citrus stand along Route 1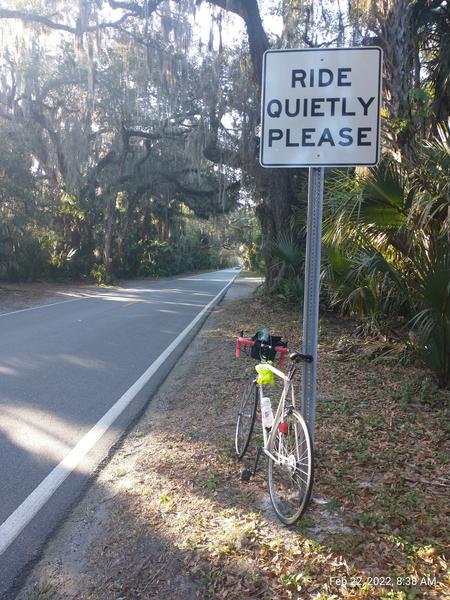 Live Oak and Palmetto along a stretch of the Old Dixie Highway
I stopped to take a picture in Daytona Beach, which I hadn't visited since I was in the Navy, stationed in Orlando, in my teens. Then, I flew along on the almost non-existent shoulder in Ormond-by-the-Sea and on the wide bike path in Flagler Beach, where I stopped to enjoy ice cream and escape the sun in the shade of the ice cream stand. I passed by Marineland and went over the Matanzas Inlet bridge, where I began a several-mile-long chase of an older couple riding ahead of me. I caught them miles later, confident that they must have been on eBikes, only to find they were under their own steam. Finally, I returned to St. Augustine and Jacksonville before the headlight was needed again.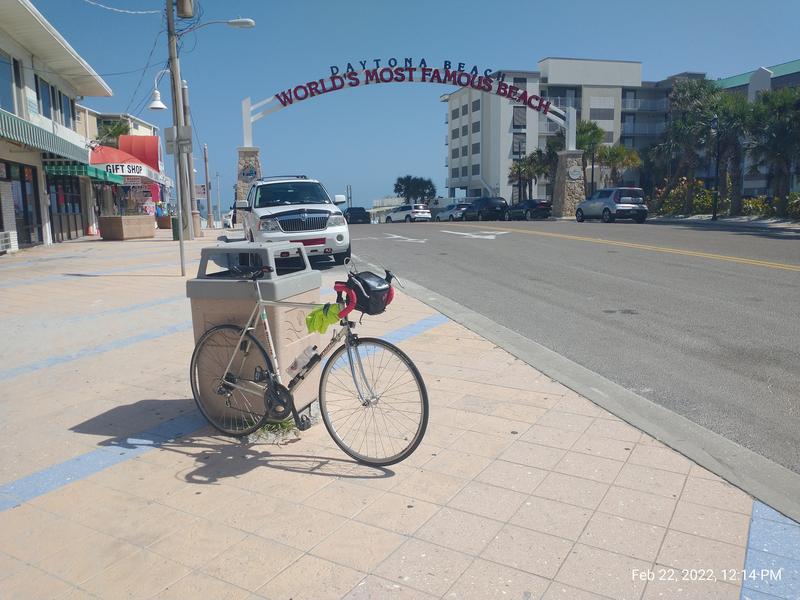 "The World's Most Famous Beach": Daytona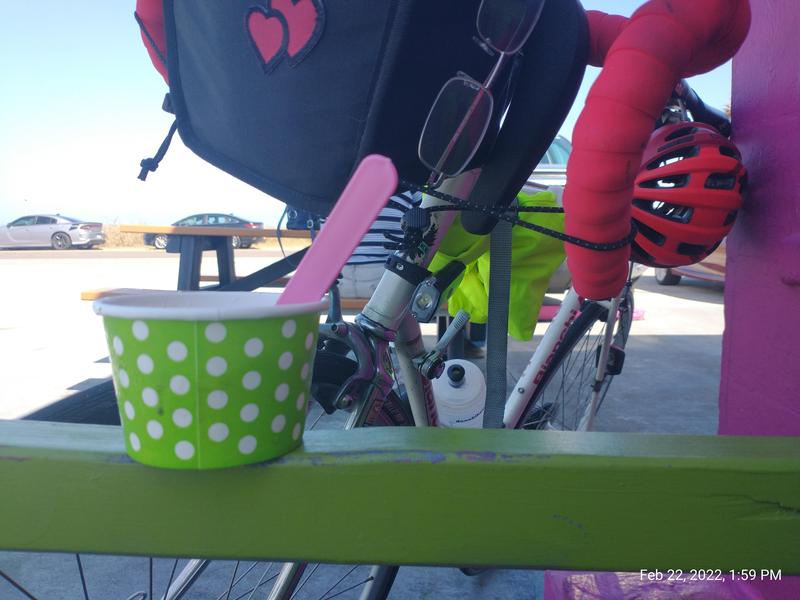 Ice cream in Flagler Beach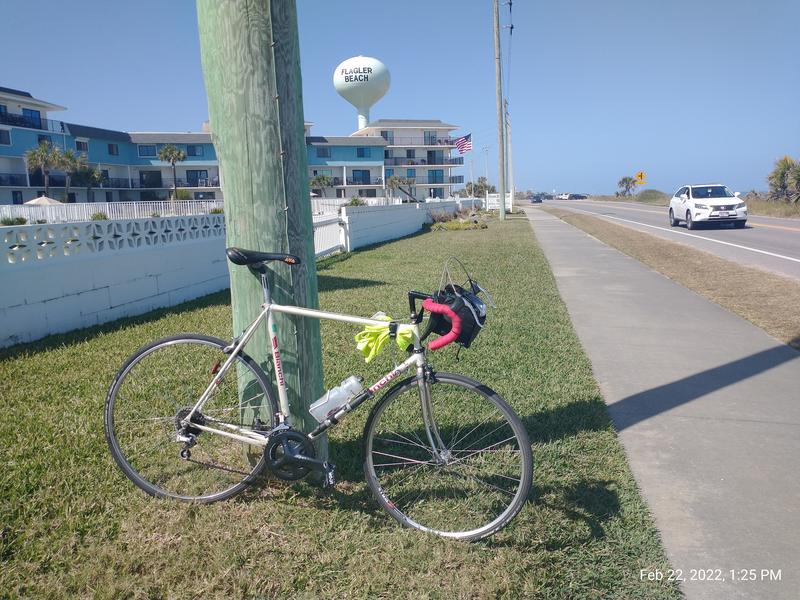 Flagler Beach
If I had to ride in Florida every day, I'd feel penned in by the ocean and rivers, essentially telling you what you can and can't make for routes. However, that made for a memorable February perm that I'd look forward to repeating annually.
Five Waterfalls perm 4370
Randonneuring may involve some travel to get to the start of your brevet. Our local group is headquartered in Ontario, NY, about 2 hours from Ithaca. Most brevets start there at the RBA's house. Jim Bondra and I, Ithaca residents, decided to propose some new rides that begin nearer to home for us and maybe even get some fresh, themed brevet routes on our local calendar. Jim took the lead by creating the "Five Waterfalls" permanent route (#4370) that started in Ithaca and visited some of the many waterfalls in this area and in late April, we decided to ride it together on a sunny day.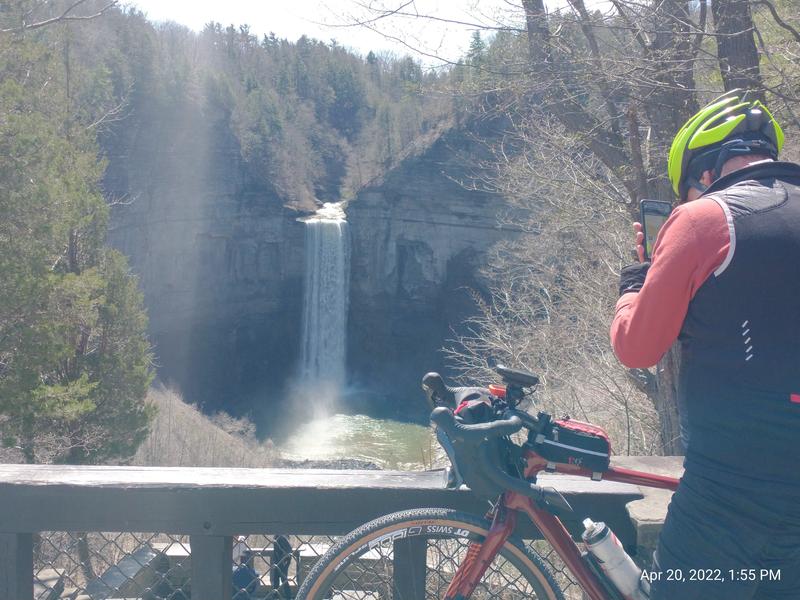 Taughannock Falls near Trumansburg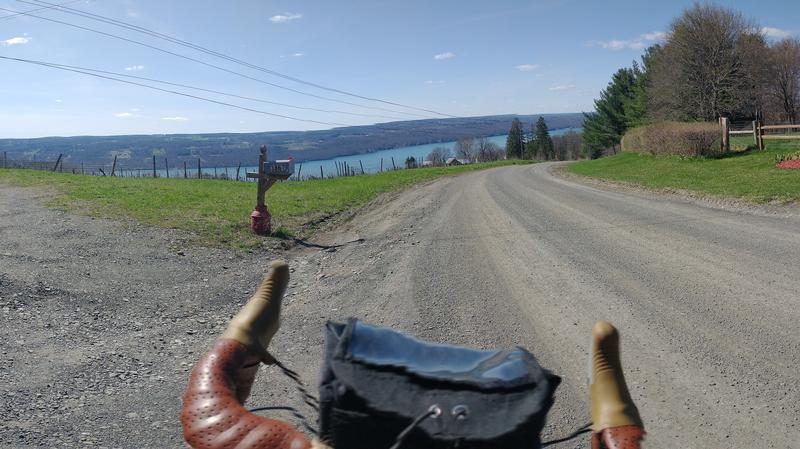 Seneca Lake from Carpenter Road in Burdett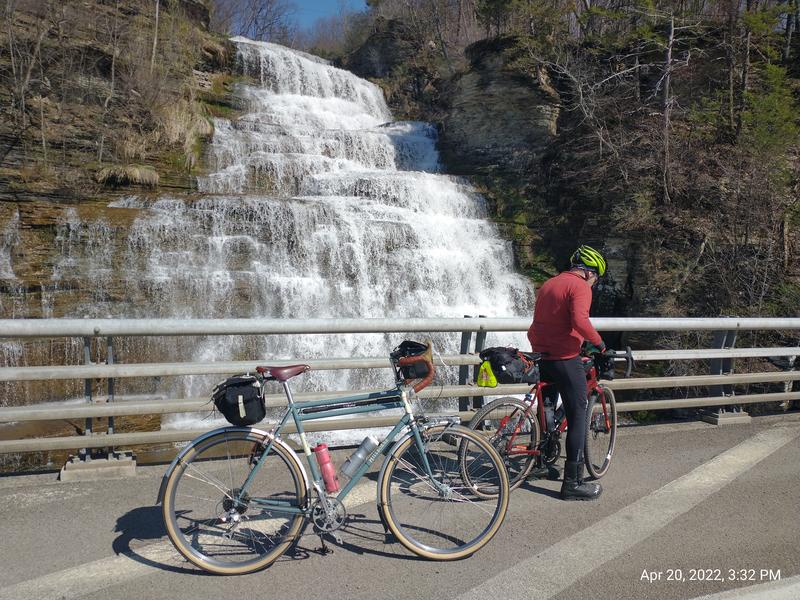 Hector Falls north of Watkins Glen on Seneca Lake
The ride took us from the south end of Cayuga Lake, to Trumansburg's Taughannock Falls, Hector Falls and Shequaga Falls on the south end of Seneca Lake, and finally Buttermilk and Ithaca Falls in back in Ithaca. With 3200 ft of climbing over 100k, it's a nice loop for our local rides. Maybe we'll try to use it in a populaire someday.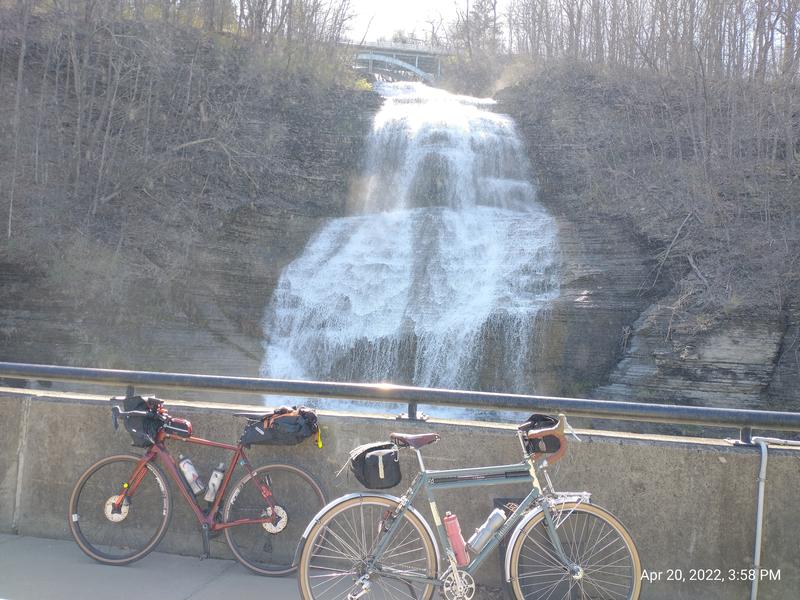 Shequaga Falls in Montour Falls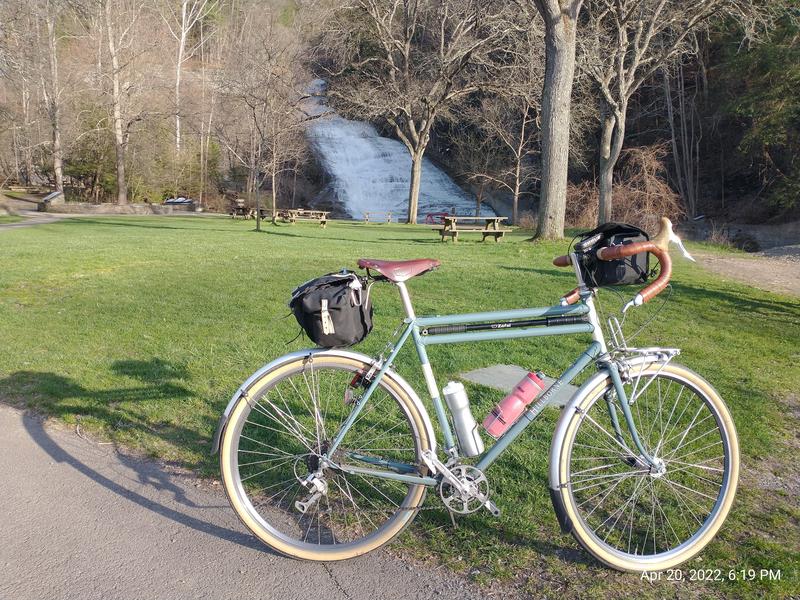 Buttermilk Falls in Ithaca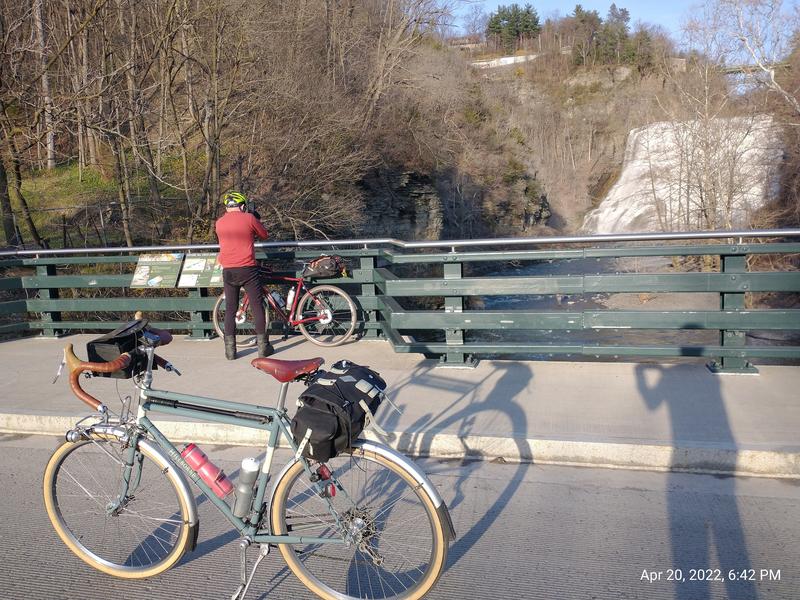 Ithaca Falls