On Memorial Day, I rode an almost-double-century to from Ithaca, to Watkins Glen, Penn Yan, Sodus Point and back to Ithaca over the course of 16.5 hours with a couple of hours of rest and sightseeing along the way. My moving speed was about 13 mph and overall a little better than 11.5 mph.
Ithaca to Penn Yan: about 50 miles
I started this ride in the middle of the night (2:30 am, actually) so that I could arrive in Watkins Glen at sunrise and have breakfast in Penn Yan. The first 20 miles or so between Ithaca and Watkins Glen includes some of the area's more challenging terrain, and I don't claim to be a very talented or fast climber. I don't know that there is a great way to start any ride out of Ithaca as every direction means you are going to climb with fresh legs, but you're not yet warmed up. I take it easy and just try to put my head in the right place for a day in the saddle. I elected to stay off the main route (route 79) that goes between the towns in order to avoid any drunks or "heavy" traffic during the night. A nice benefit of taking this way in to Watkins Glen is the great view you get of Seneca Lake from the hills south and east of the lake.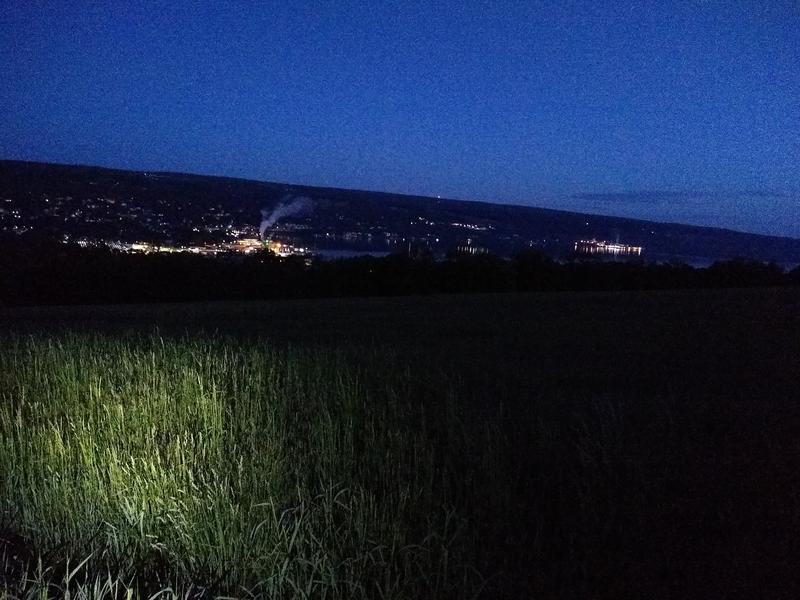 Watkins Glen and Seneca Lake from a perch SE of town on Cass Road, just before dawn.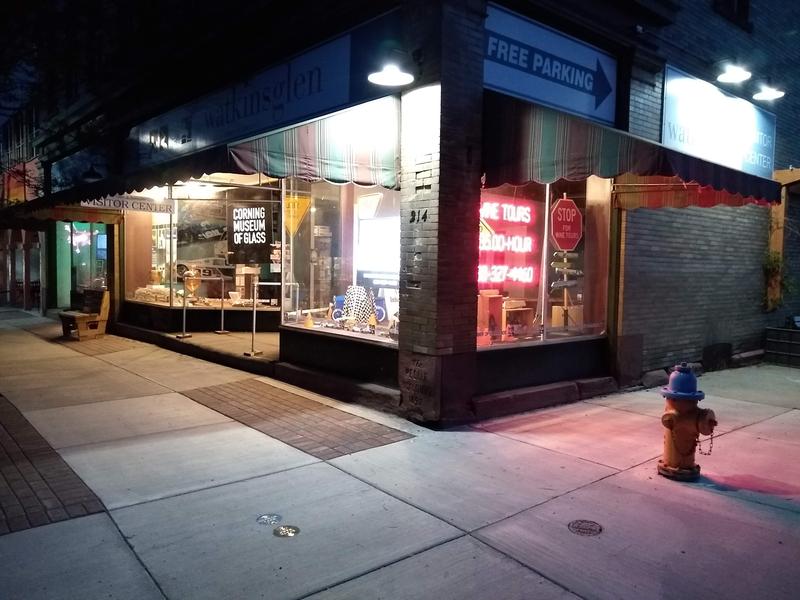 Watkins Glen visitor center.
After riding through Watkins Glen, the easy climb north along the west shore of Seneca Lake as the sun is coming up was wonderful. Passing by Glenora winery, I really started to settle into the ride and had that feeling of being a tourist in my own region.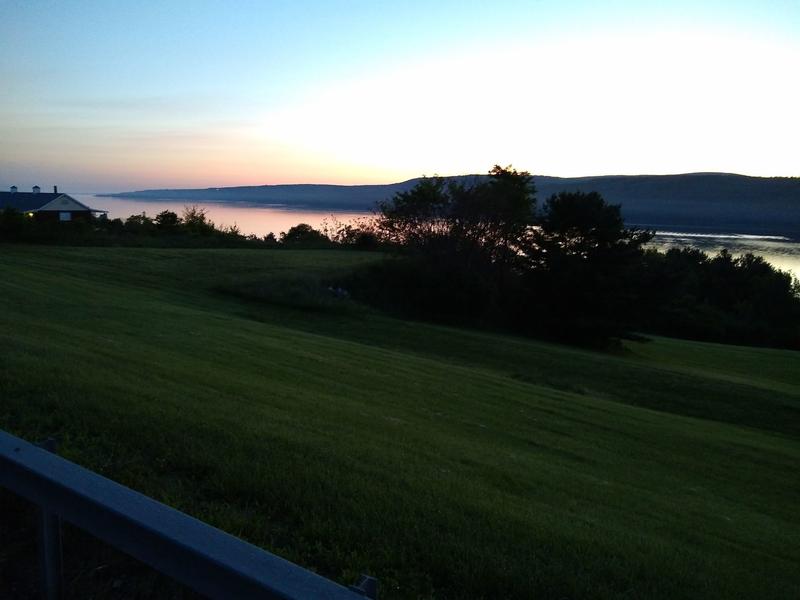 Sunrise from route 14 north of Watkins Glen.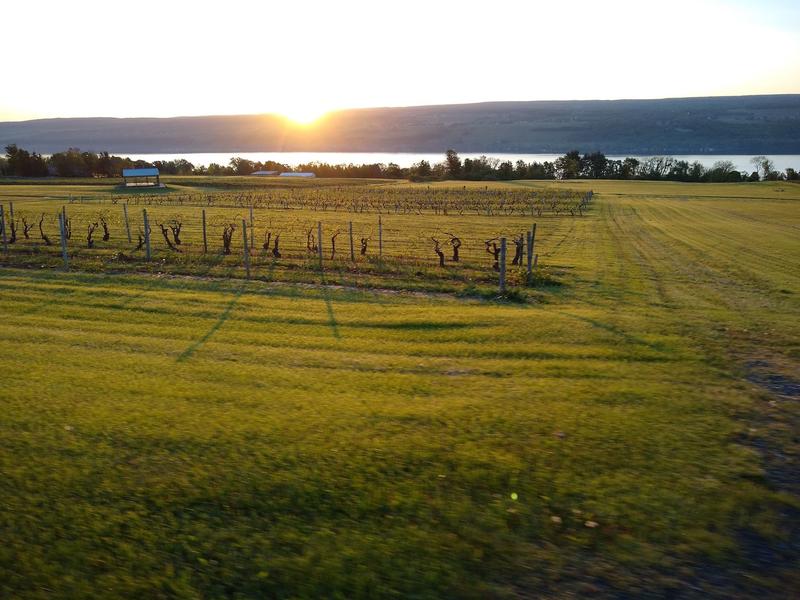 Glenora winery at sunrise.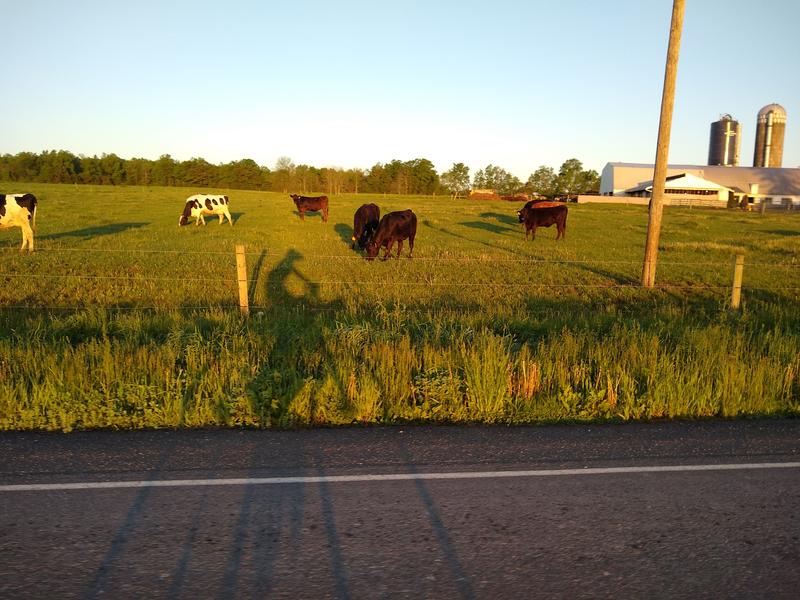 Cows
I stopped for about 30 minutes at the Penn Yan diner for a breakfast sandwich, just as it was opening. The counter was reserved for the party of veterans that were preparing for their role in the parade that morning. Someone arrived in a vintage Willys. I quickly ate while my bottles were refilled, made note of the moment and the people, paid, and got moving again.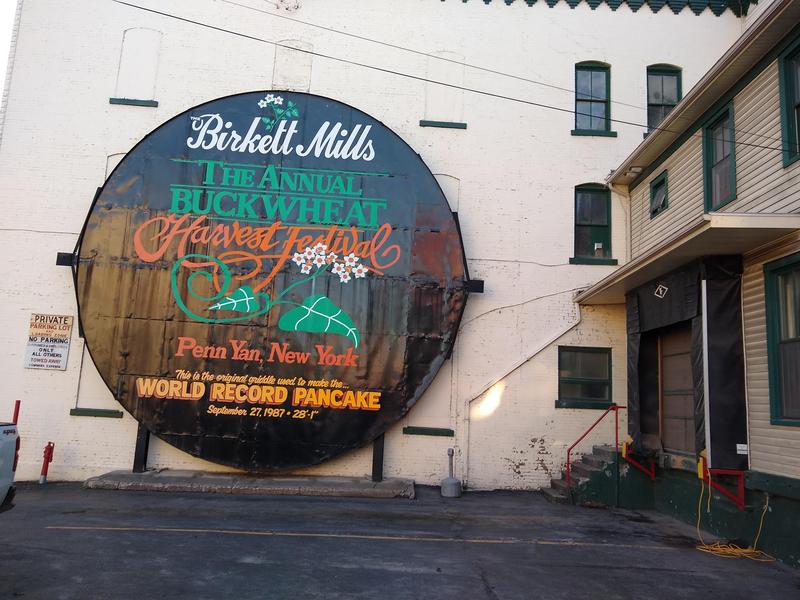 Buckwheat pancake griddle at Birkett Mills in Penn Yan, NY.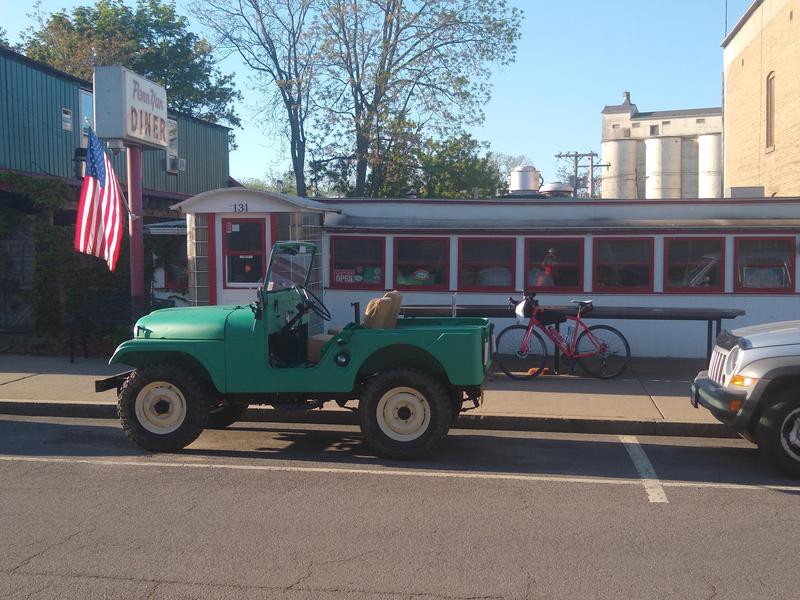 Breakfast at the Penn Yan Diner
Penn Yan to Sodus Point: about 60 miles
This stretch looks like it should have been flatter than it was. No big climbs, but plenty of the little ups and downs over drumlins and little hills to made me cycle through all of the gears. I had never done a 300k before, so I was still taking it easy, hoping to leave as much gas in the tank as I could for the latter half of the ride.
Along the way, I ended up passing through Clifton Springs, where a Memorial Day service was in progress, roadblocks were up, and I stopped for another 15 minutes and doffed my helmet in deference to the ceremony and its veteran speakers. I couldn't really follow what they were saying over the PA and slowly moved along, getting a few odd looks as I scooted around the edge of the assembled crowd.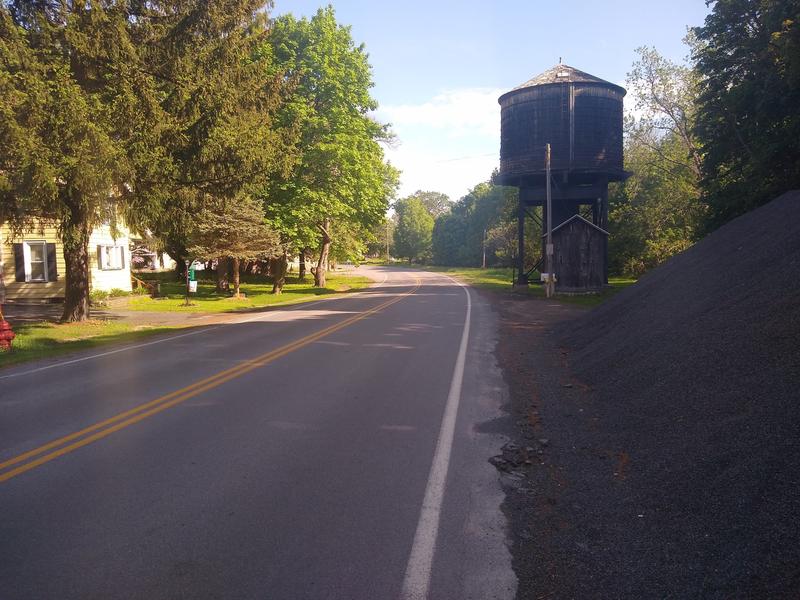 Railway water stop in Orleans, just north of the Ontario Pathway. Can't refill the water bottles here!
Memorial day ceremonies in Clifton Springs.
I made a little detour into Palmyra to get another refill on my water, then doubled back to continue along my way, passing over the Eric Canal. Daydreaming or humming along, I failed to notice another parade getting ready to kick off in Marion. I found myself pedaling down an empty Main Street, people on each side waiting for the parade that I apparently was leading! I waved at my flag-waving fans as they watched me roll by...an unlikely mascot for their festivities.
The town of Marion parade cleared the streets awaiting my arrival.
After Marion, I felt I'd crossed over from the Finger Lakes wine country and into the part of the state that focused its efforts on apple growing. Apple orchards were everywhere from Marion to Pultneyville and along the ever-undulating Route 101/Lake Road out to Sodus Point. I stopped under a tree at the lighthouse/historical society and had a packed lunch on a bench there and then visited the Sodus Point Beach Park, spending a total of about 30 minutes relaxing.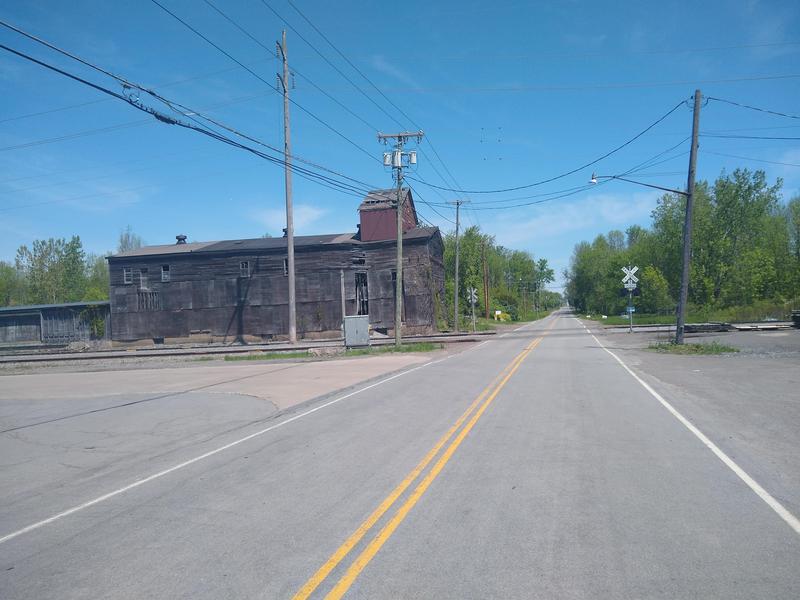 Old apple warehouse on Townline Rd., Williamson.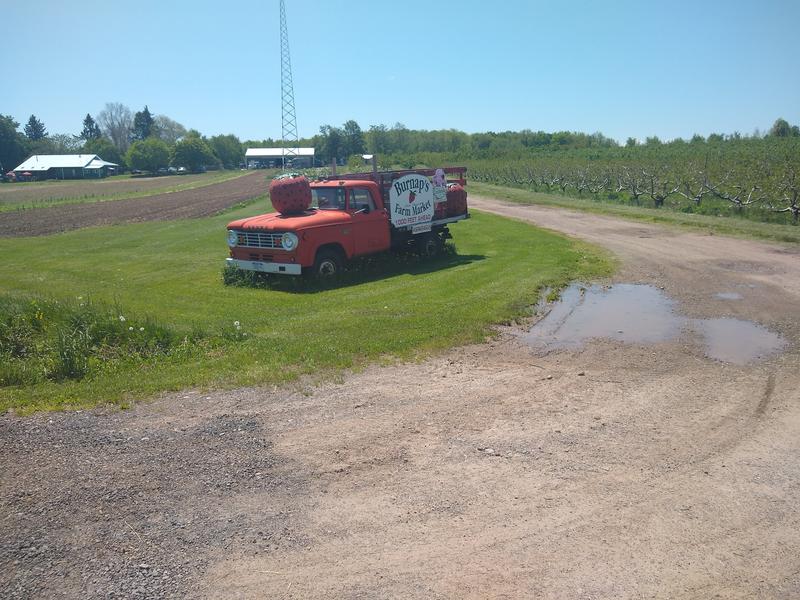 Apple truck at Burnap's Farm.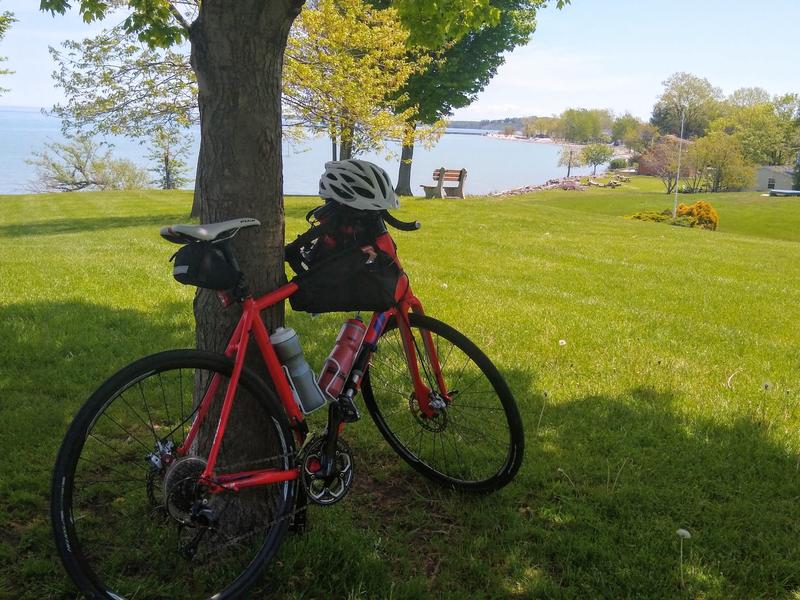 Lunch under a tree at Sodus Point.
Sodus Point to Sampson State Park: 30 miles
I stopped at Lukacs Pottery on Route 14 on the way out of town (I like to see what they have and order a dish or bowl to remember the trip if it's a special day) and then again at the Alton Country Store to grab some jerky, which seemed to be just what the doctor ordered. I chatted with some folks out on the store's front porch about what I was doing today while I fed my face some more.
Route 14 is a state bicycle route, so you'd think it'd be joy to ride on, but it wasn't. I felt pretty exposed despite there being a relatively wide shoulder. At one point, to avoid some debris on the shoulder, I crossed the white line and veered into the road...like you do to avoid a flat from glass in the road. As a made my maneuver, from way off in the distance behind me I heard a horn start blaring...and it kept blowing for about 15 seconds until a pickup truck pulled up alongside me with its passenger side window down. The guy in the truck pointed to the registration sticker on his window and shouted, "You see this? That means I have a right to be on the road! You don't. Get off the d@mn road." Birds were exchanged, chests were thumped, and he sped off. I spent the next 10 miles replaying that in my head.
I again crossed the Erie Canal going south through Lyons, near Lock 27 and where the Canandaigua Outlet meets the canal. Riding past the "Pour House" bar near the canal reminded me that I'll have to make the effort someday to visit the "Poorhouse Lock", after which the bar is named, but today I just plowed ahead.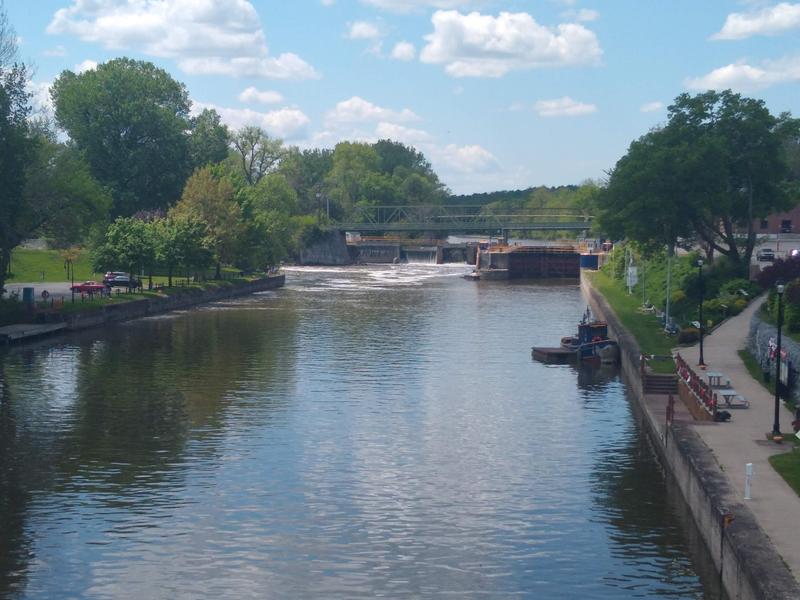 Passing over the Erie Canal in Clyde.
The heat started to get to me as I passed through Geneva. I stopped at a convenience store to grab a Gatorade, which (for me) has pulled me out of a bonk more than once. The ride along the east shore of Seneca, with the sun still high in the sky, but reflecting off the water again had me feeling like a tourist. I entered Sampson State Park from the north side, rode along the old military base's roads and stopped briefly to admire the vintage jets and tanks and to talk with the volunteers at the former brig that is now a veterans' museum before heading back out onto Route 96a. An inaccuracy in the OpenStreetMap data that fed my Ride with GPS route took me to a dead end at a fence at the Seneca Army Depot, so I resigned myself to sticking to the main road for a while. I corrected the OpenStreetMap data post-ride.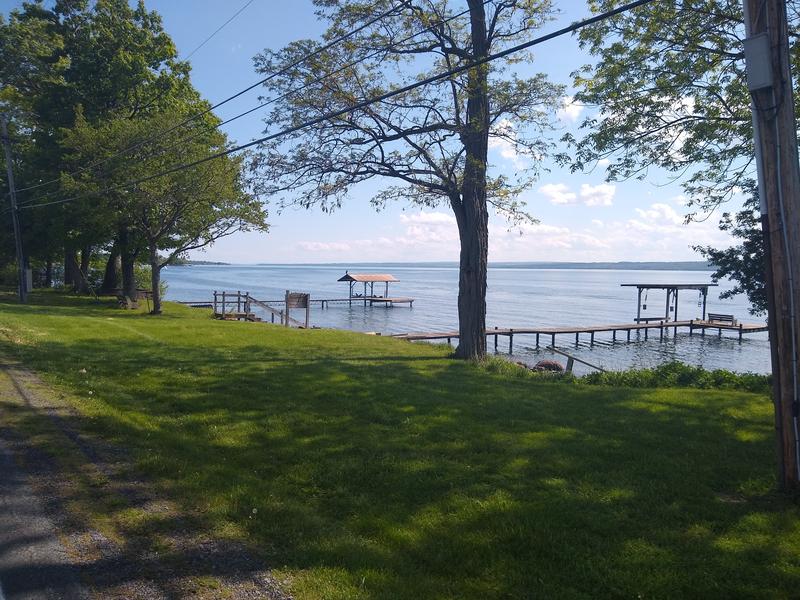 East shore of Seneca Lake, south of Geneva.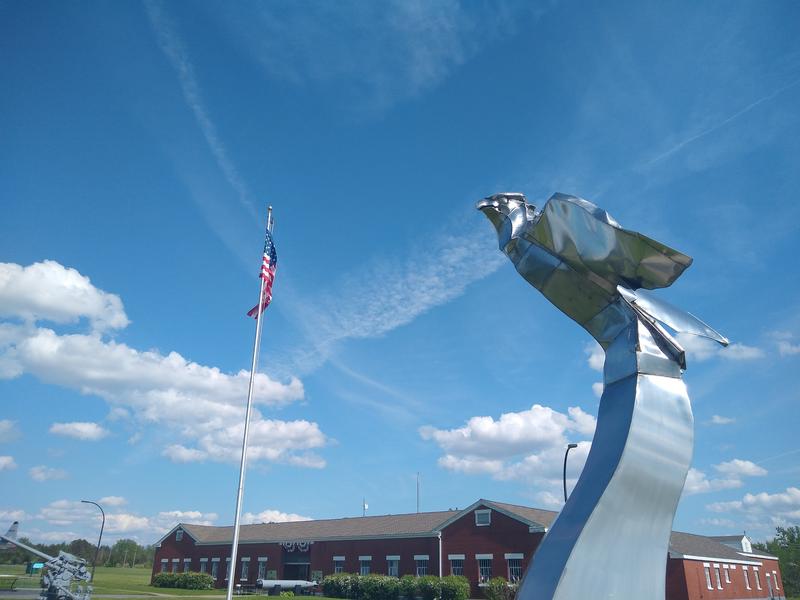 Steel eagle near the veterans' museum in Sampson State Park on the east shore of Seneca Lake.
Sampson State Park back to Ithaca: 45 miles
There are two climbs my legs weren't in the mood for at this point of the ride. The first was just north of Ovid where a horse-drawn buggy pulled out in front of me and seemed to beg me to give chase, but I didn't have a whole lot left in the tank and they left me in the dust. The second was about 5 miles long near Interlaken on Tunison Road, which I just had to plod up. I rode over and broke my cheap sunglasses when they fell out my bag on the gravelly Hall's Corners and 6 Corner's road sections.
The rest of the ride was familiar, and (thankfully) mostly downhill ride through Trumansburg down to Ithaca.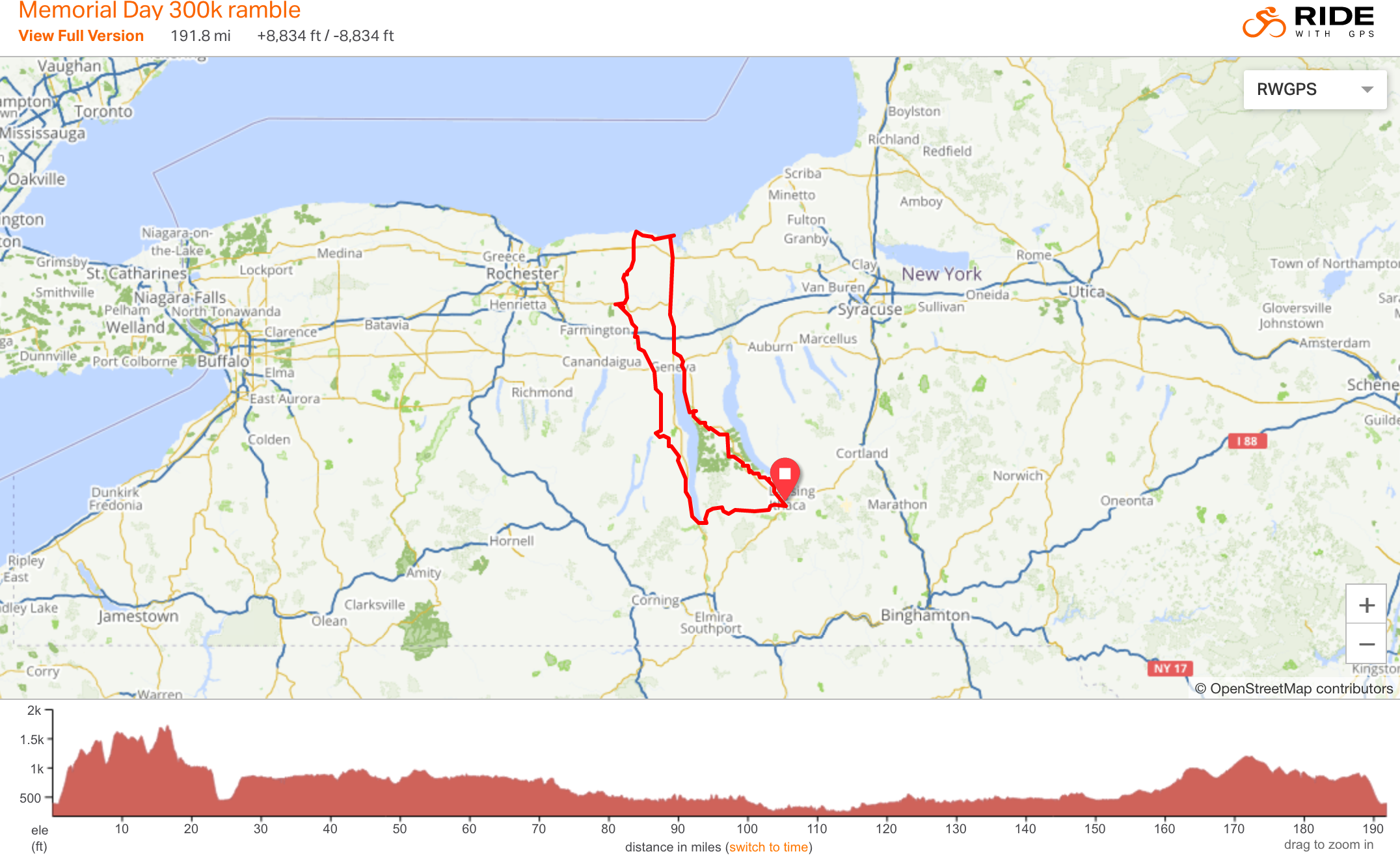 Ride with GPS route.