With the summer quickly passing, I wanted to continue to gain a little more experience with long-distance rides on the Rivendell before tackling a 400k. When planning a long ride I often focus on one or more lakes around here. I like to watch boats trolling the shores, sailboats getting blown across the water, families enjoying a gathering along the waterfront. These are the sights and sounds of summer in the Finger Lakes, and reaching them on two wheels makes me feel a little like a tourist here. But another distinguishing characteristic of the area is the hills. For this ride, I headed south through the Southern Tier of NY, another area to appreciate and explore by bike.
I planned a 300k route:
Ithaca to Waverly - about 40 miles
I started this ride at 2:30 a.m. at the Chemung Canal Trust Company in Ithaca, which used to be the Lehigh Valley train station in Ithaca. The first leg of my route was south on Route 38, following the Lehigh Valley Railroad tracks (known as the Black Diamond line, so named for the railroad's cargo of coal from Pennsylvania to points north), to Sayre, PA. I enjoyed the view of the stars in the partly cloudy skies as I rode to 20 miles south on a modest climb out of Ithaca to Spencer. A quick jog west and then south again put Cayuta Creek and the rail line on my right.
I passed an hour staring at my headlight beam cutting through fog lying in the valley until I reached Waverly, then entered Pennsylvania to follow the railway to the Sayre Yards. I had read that the largest building in the world was once considered to be the "Big Shops" in this railyard. The building was torn down in the 80s and fencing around the area and the dark hid whatever there was to see and I turned around to head back into NY. As I left Waverly, the pre-dawn light lit my way and cars began their morning commutes.
Waverly to Bath, NY
About 53 miles west of Waverly I crossed over the Chemung River near the town of Wellsburg. The sun was still quite low in the sky, the traffic sparse, and a flock of birds was flying over the calm current, which made the scene memorable.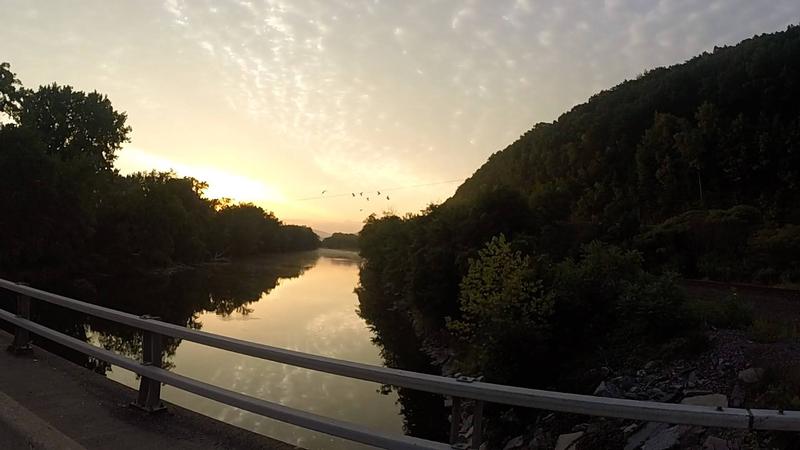 Chemung River near Wellsburg in the early morning light.
Around 8 a.m. I rolled into Elmira and visited the relocated study of Mark Twain on the Elmira College campus. The study used to overlook the valley in which I was riding. I briefly stopped at a convenience store for a quick coffee and a breakfast sandwich; wandered over to the Clemens' family gravesite in Woodlawn Cemetary; then proceeded up Harris Hill.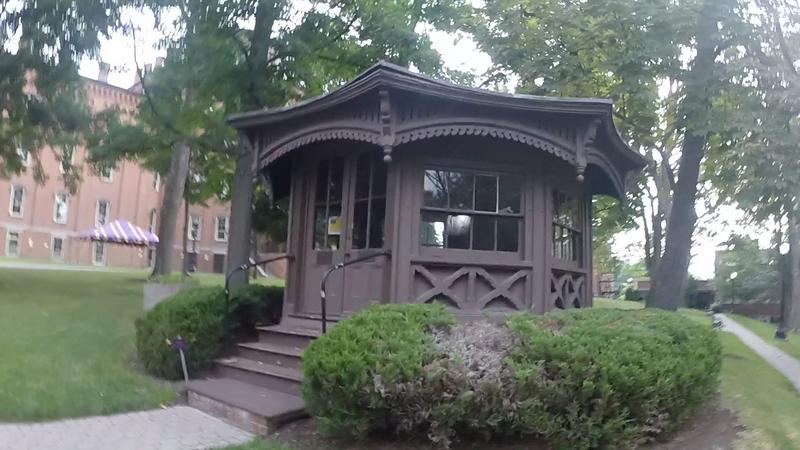 Samuel Clemens' study on the Elmira College campus
Mark Twain's gravesite in Woodlawn Cemetary
I knew this was the most significant climb of the ride, so I shed some layers and took my time climbing, passing the Elmira Reservoir and some early birds setting out for a morning paddle. A couple of local cyclists sped by me as I checked my GPS to make sure I was taking the right roads on the way up. I passed a familiar picnic area and amusement park and finally arrived at the National Soaring Museum at the top.
A GPS snafu
My route down off Harris Hill was supposed to be down the west side on Harris Hill Road and on to Big Flats, but I somehow lost my bearings and forgot how to use the GPS or something. I was used a Garmin eTrex 30x and was following a breadcrumb "track" on the route I had loaded. I had my cell phone with the Ride with GPS app but had decided to conserve my phone battery and forego the audible alerts it could have provided. Using a GPS this way means you have to be paying attention to not miss your turns. It also means you have to discern between going the right way and the 180 degrees opposite direction on the route because it isn't going to tell you. In this case, I blissfully enjoyed the descent until I noticed the same kayakers paddling on the same reservoir I had seen on the way up, at which time I nearly locked up the brakes and double-checked my route. I slowly turned around and re-climbed two miles of the hill before turning north to head down to Big Flats.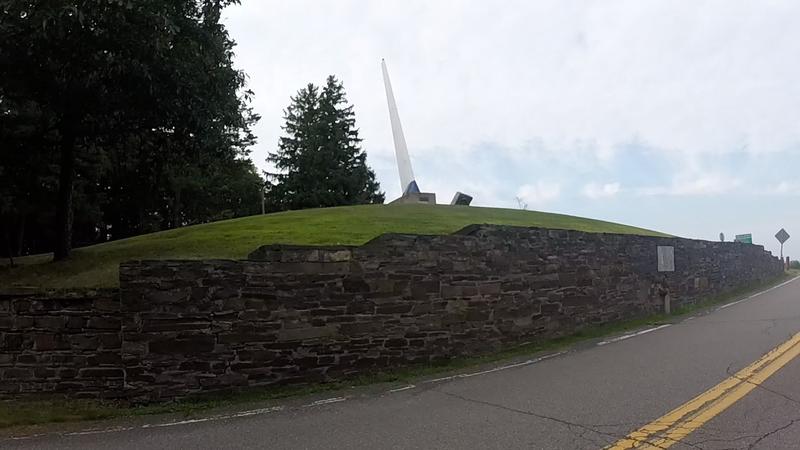 A vertical glider wing greets visitors to Harris Hill near the pull-out.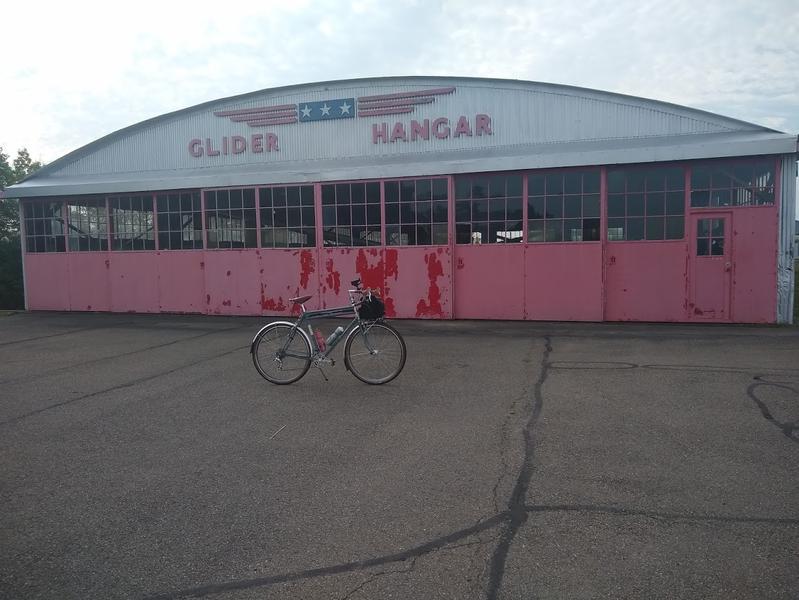 Glider hangar at the top of Harris Hill.
The ride from Big Flats to Bath followed the wide and flat Chemung River valley, crossing it twice in Corning where a mask-wearing buffalo that seemed to be jumping out of the side of the Rockwell Museum's wall warned me away, but I think that I'd like to return and visit post-pandemic. In Corning, the Chemung River is formed by the confluence of the Tioga and Cohocton rivers. I followed the Cohocton branch on Victory Highway (Route 415).
The Norman Rockwell Museum in Corning sports a buffalo head with a mask.
Passing the time in the saddle, I'd been noticing small monuments and nods to Sullivan's Campaign since leaving Waverly all along the valley, including a pointer to Newtown Battleground monument just before Elmira. After the Revolutionary War, the memorialized General Sullivan traveled through this valley and wiped out the native tribes that had sided with the British. I had hours during which that native history (as told by the blue historic markers and plaques along the route) stewed in my head. At mile 100, I was near Savona and viewing the steep sides of the entrance to Birdseye Hollow north of the valley. I passed a conspicuous roadside stand selling Trump flags and tchotchkes from under a couple of white canopy tents to passers-by just before entering Bath, a sign of the times...
to Bath, Hammondsport, and Penn Yan on the shores of Keuka Lake
I'd been hoping to be able to make up the lost time from my misturn on Harris Hill, but I hadn't broken any land speed records, despite the relatively flat 30 mile stretch of road into Bath. If I wanted to keep this ride on schedule and not ride well into the wee hours of the next day, I needed to call an audible and take some sort of shortcut. I began to think about whether I wanted to skip the extra miles into the crotch of the Y of Keuka Lake, the extra climbing of The Bluff, and what I anticipated would be a scenic view of the lake from Garrett Memorial Chapel.
I stopped into Wheels Unlimited, the bike store in Bath I had marked on my GPS around noon despite not needing anything. The mechanic (owner?) seemed busy fixing someone's bike, so I left him alone and left to fill my water bottles at a nearby convenience store. I had a chat with an older guy outside the store who was curious about my bike.
There were back roads available from Bath to Hammondsport at the south end of Keuka Lake, but I decided to stay on Route 54 and deal with the passing cars to see if I could make up any time. At 1 p.m. I made a planned stop for lunch to get a sub to go at a Hammondsport pizza shop.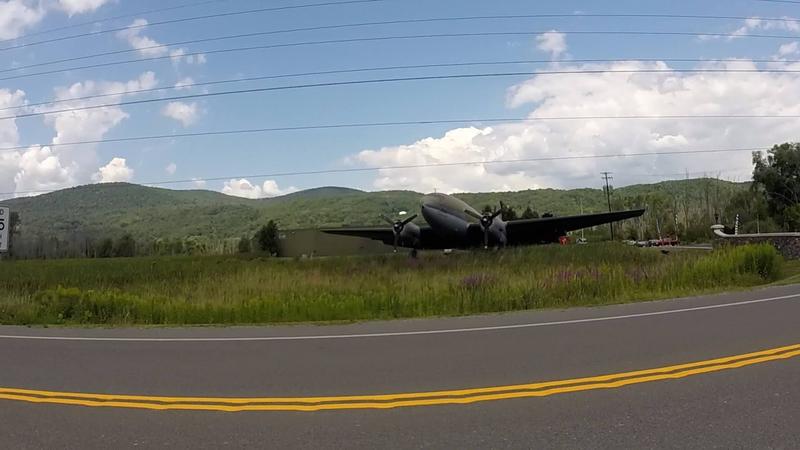 Vintage plane outside the Glenn H. Curtiss Museum in Hammondsport.
I sloppily bit away at the sandwich, leaving presents for the birds along the road in my wake, as I made my way up the 15 miles of undulating 54a on the west shore of Keuka Lake. I stopped for more water and a cold soda in Branchport (it was getting warm!). I decided to skip the 15 miles out and back trip to the chapel and save it for another day. Instead, I continued on 54a to the Seneca Farms ice cream stand in Penn Yan where a small crowd waited outside in line for their socially-distanced turn to enjoy a few minutes in the air conditioning and order. A sign outside advertised for seasonal peach sundaes. Inside I learned that fresh peaches had just gone out of season and I had to settle for a cone with peach ice cream, which was delicious. Any ice cream would have hit the spot! I was pigging out a bit, but everything tasted good.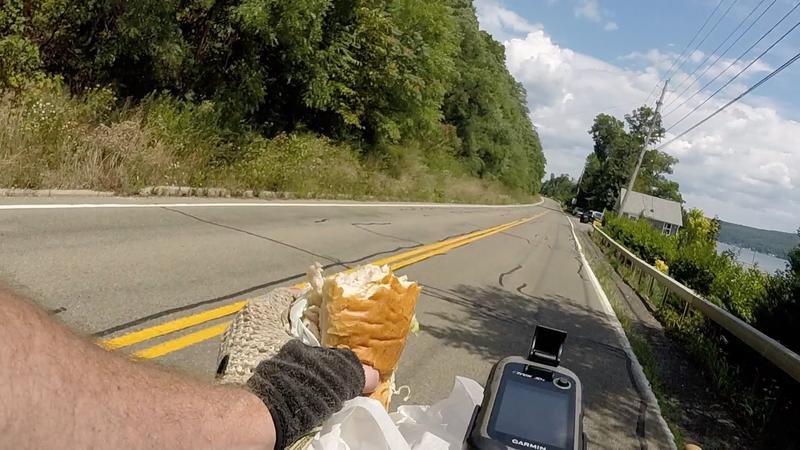 Lunch while riding along the west shore of Keuka Lake.
I caught the Keuka Lake Outlet Trail and enjoyed a respite from the heat under its riparian canopy. I stopped briefly to watch swimmers jumping into the not-so-legal swimming hole at the Seneca Mills Falls and again to re-read a little history about the Pre-emption line through the state, which was resurveyed by some local experts and passed through the trail near its east end. I stopped to talk with a small group of older folks at the end of the path who had just hiked a part of the trail, some of whom had also done some long-distance cycling years ago.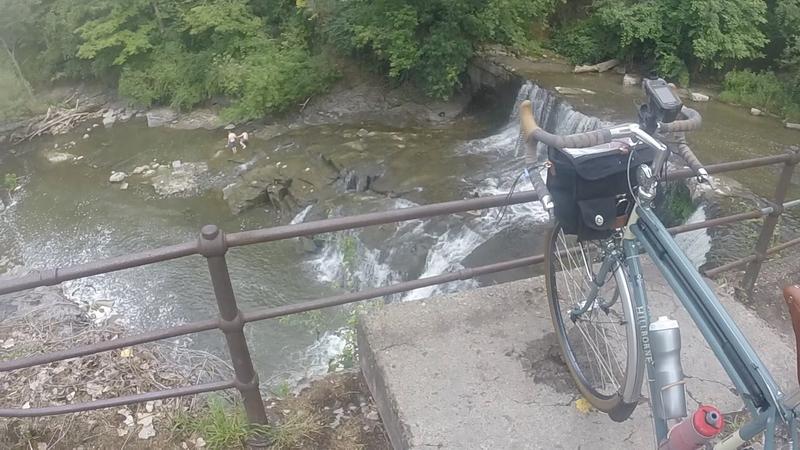 I was met by a stiff headwind for the entire ride south on Route 14 from Dresden to Watkins Glen. The road has wide shoulders and a few views of Seneca Lake, but mostly I was feeling exposed, hungry (again), and fatigued. On this stretch, I didn't see many stops for food. If you want a glass of wine, you're in luck, but if you want some food, you have to wait until you reach The F.L.X. Weinery east of Dundee to get something from their salty, greasy menu. I've stopped here before on a wine tour as a break from drinking. A couple of Zweigle's hot dogs, a pile of homemade fries I couldn't finish, and a bottle of soda filled me up but left me feeling dirty.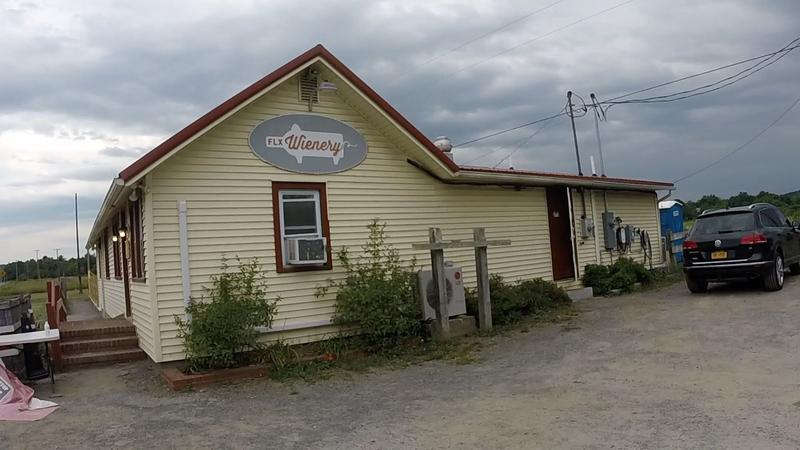 Hot dogs, sausages, fries, with a sommelier's pairing, if you wish.
Montour Falls to Ithaca - 25 miles
I rode to Watkins Glen and to Shequaga Falls in the town of Montour Falls on the south end of Seneca Lake. There was a mere trickle of water seeping over the rock at Shequaga Falls that seemed an apt metaphor for my enthusiasm for the climb out of town to Odessa on Route 224, I was quite ready to stand in a warm shower and go to bed. It was now around 7:30 p.m. and the sun had set behind the hills to the west. I refilled my water bottles at a convenience store. A young guy asked me about the ride and then, seeing I looked a little stiff, said he could give me a ride back to Ithaca in his pickup if I wanted.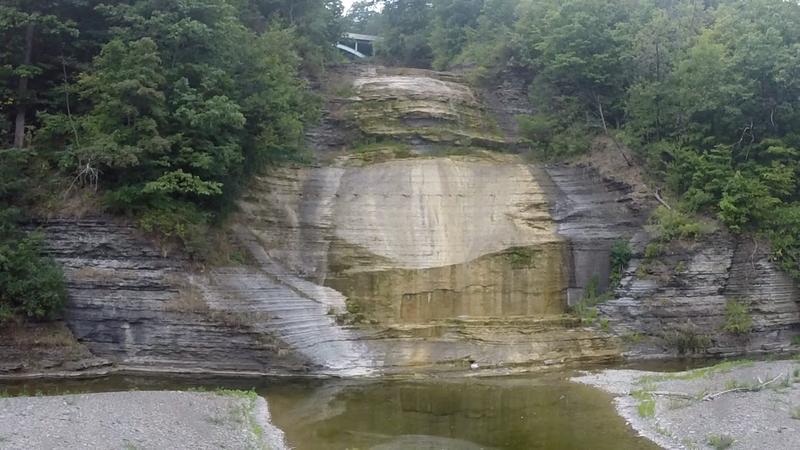 Shequaga Falls in the village of Montour Falls running dry.
The map indicates that the climb is a 6-7% grade. It felt like my pedals were barely turning as my morale sunk and I inched my way along for 5 miles until the road leveled out again. At the top, I played some songs on my cell phone and sang along as the night crept in. I've never been a fan of listening to music while riding, but I was suddenly a convert. Playlists buoyed me I made light work of the rest of the ride in the dark. I made the final descent from Newfield back into Ithaca without hardly turning the pedals, happy to have gravity pay me back for the earlier effort.
Post
I finished the 193-mile ride at about 11 p.m., after a little more than 19 hours of riding, which would be an acceptable time for a 300k. The route included 7,300 ft of climbing, which I think is a bit easier than RUSA recommendations (I think RUSA guidelines suggest 5,000 feet of climbing per 200 km or 4000 feet per 100 miles).
I think my main challenge is eating more early in the ride. Most of my eating was done between lunch in Penn Yan and dinner near Dundee. I snacked a little on the bike with fruit and nuts and finger sandwiches, but it's difficult to force myself to eat when I am not yet hungry.
I didn't have any mechanical issues on this ride, not even a flat tire. The bike is comfortable (although I do think I ought to shorten the 110mm stem), the lighting system is so nice to have, and it's nice to know I have enough spares and tools in the big rando bag on the front.