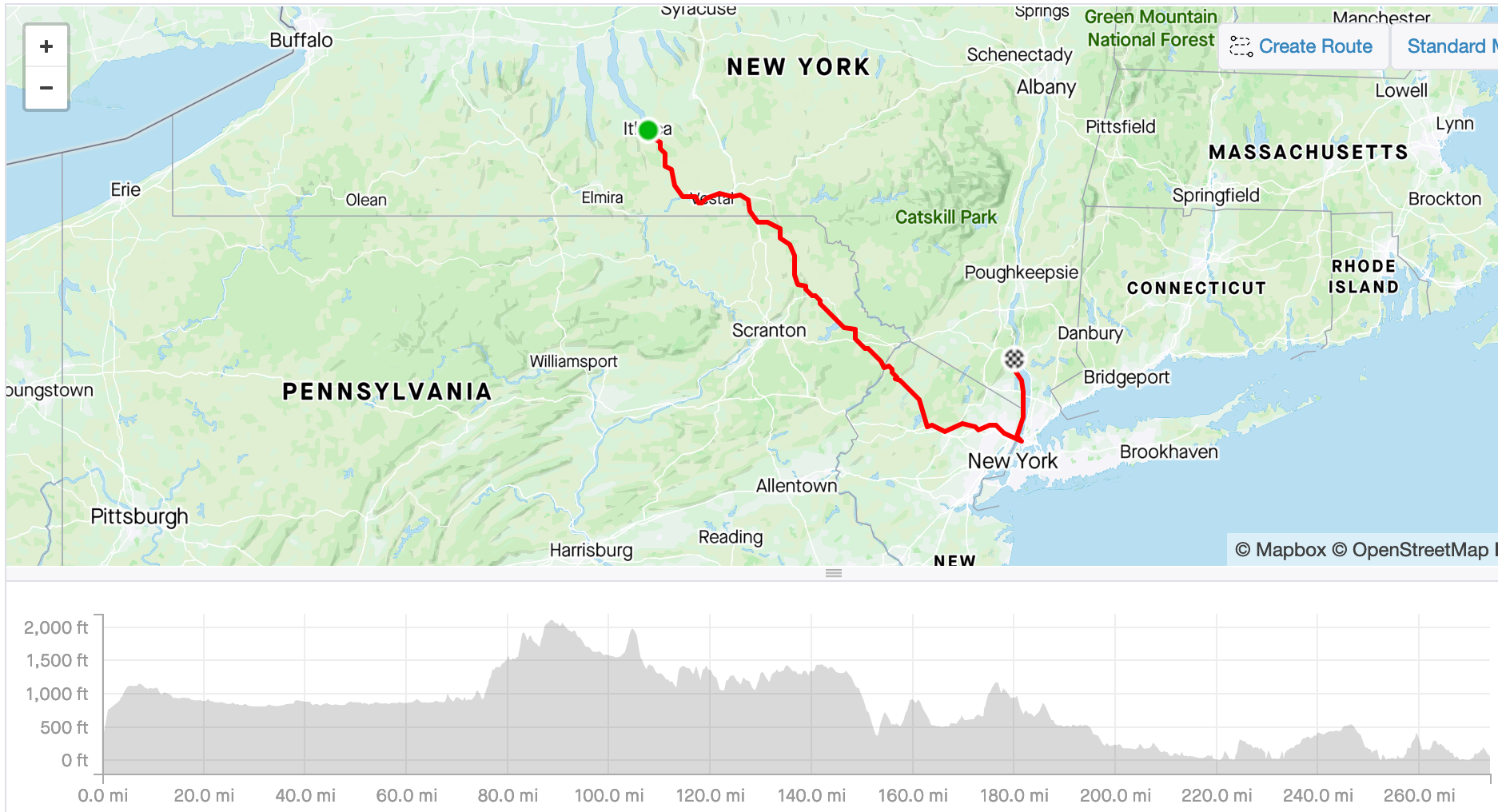 I rode 274 miles from Ithaca, NY to New York City and up the Hudson River towards Bear Mountain before I called uncle after 3 unexplained flats, after which I walked/coasted the last 5 mi to bridge.
Things I forgot:
my multi-tool (wth) - purchased yet another in Endicott at Babcock bikes - nice owner...that tool will go to my daughter
my USB-C cable to keep the phone charged - realized I didn't have it about 10 mi outside of Forest City, PA. Bought a replacement at Dollar General. A big lomein dinner in at the local China Wok helped get me over the hills ahead, though. The local gas station sells no paper maps and doesn't think they are sold any longer anywhere!
Switching to 32mm tires added a lot of comfort to the bike and confidence in off-road situations, which I experienced in the hills of PA. Options for mudguards are lousy with the big tires but, luckily, I didn't experience any rain on this trip. Seems RWG likes to route me on some bonkers roads. A little seasonal road fun is cool, but it sent me down the pretty rough D&H trail north of Forest City for 17 miles. That would be fun on a mountain or gravel bike, but not on 32mm road tires. I probably could do it (eventually) but I wanted to finish someday. I rerouted around it and a couple of other paths that I had no patience for on the night shift. RWG would benefit from an "avoid trails and paths" feature, or somehow highlight when one is chosen so that planning a route could take it into account.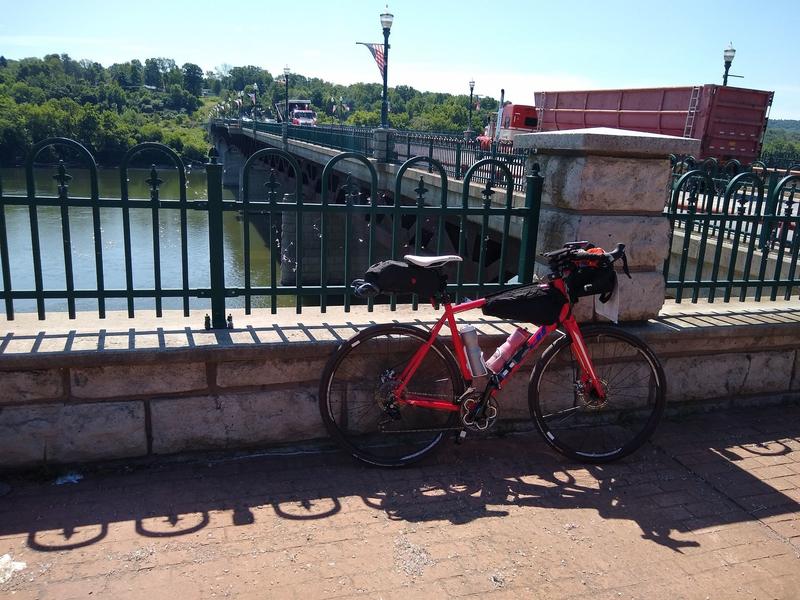 The hills (mountains?) of PA were a dominant feature of the ride. My cue sheet might have well said, "go to the next intersection and turn whichever way goes up". I spent a lot of time spinning little gears. It's mostly a mind game.
Coming down into Wilsonville, PA around 10 P.M., I attempted a U-turn across Route 6 to go back for ice cream only to find myself running into the curb of a median. I probably could have made it over fine if I saw it, but I didn't and went down on my left in a heap. A have little soreness in the posterior and left arm from the impact. I may have bent my handlebars a little...maybe I just twisted the shifter around the bar. Interestingly, I thought it felt more comfortable after the adjustment. I'll investigate later. Ice cream stand closed at 10 pm on the dot. Families were leaving as I arrived. All for naught.
I crossed Delaware at Dingman's Ferry crossing around 12:30 am. The descent to the crossing was intense at night and I knew I'd be paying for it later. Friendly old toll guys joked about charging me per spoke. It was free. Climbing slog commenced for a long time afterward.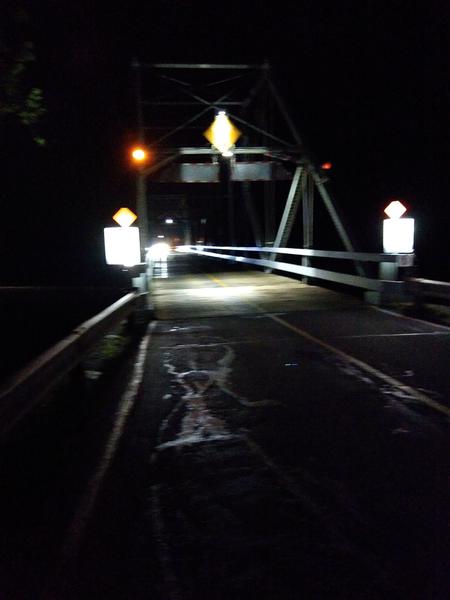 Bagel O's in Mountain View, NJ opens at 4:30 am. I'm not a coffee guy, really, but I think it was one of the best cups i ever had. I was getting sleepy after a night of riding and it really kicked me in the pants. Having an out of body experience when eating breakfast on the sidewalk outside a strip mall is going to be one of the takeaway memories from this ride. That bagel and smear of cream cheese were delicious.
I brought more chamois cream than I really needed, but I was happy to have it. I "smeared" myself a few times along the way. I also brought baby wipes to freshen up, but somehow just never got around to it. A better, more regular regimen is probably a good idea. :)
My homemade handlebar bag (Harbor Freight tool bag with some makeshift straps did well, but the straps kept loosening and needed a little attention to snug it back up. An opportunity exists to make that better with another RuthWorks bag. Their seat wedge was just the right size for rides like this.
The Pearl Izumi bib shorts (thanks Gay!) felt really nice. It takes some getting used to to get undressed to use the restroom, though! Maybe I don't know what I'm doing there. Feels silly googling it. :)
You'd think that after the Poconos and the Water Gap the climbing would be over, but It's surprisingly hilly getting into NYC. Climbing up to the GW bridge was steep in sections. Busses don't give way too much. It required a change of mindset to bike in the urban setting. The GW bridge pedestrian/bike path is narrow, sort of quick and full of locals that just know what they are doing. Why they built an entrance ramp with a tight hairpin turn is a mystery. The quick trip to Yankee Stadium was enough to say, "I was here...let's get out again".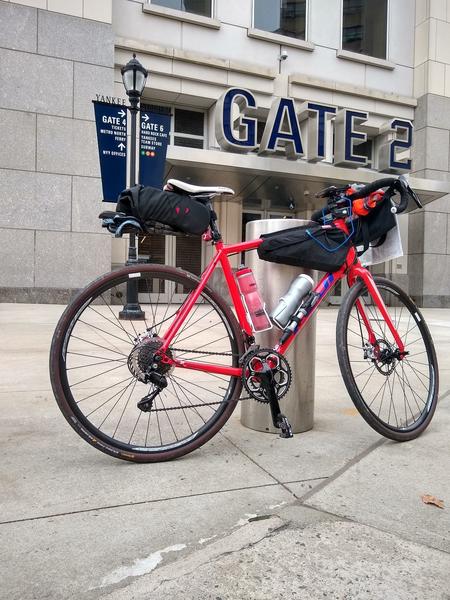 The stretch goal was to make it to Fishkill, NY, but I leaned on Gay's willingness to fetch me if things went south, which they did. My nutrition for the last 50 mi was not very good. Bicycle route 9 is somewhat of a food desert for a long while. Even so, it's full of cyclists flying along the road. I wanted to let each of them know why I was going so slowly (funny how that pops in my head).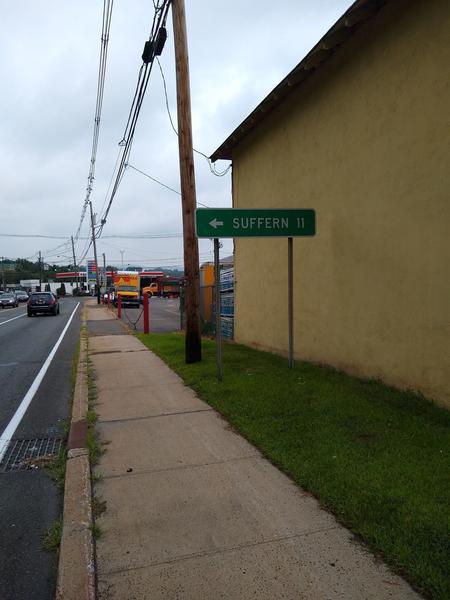 Better planning on my part would probably have included known stops for food in that section, but I mistakenly thought that a couple of miles outside the city would be chock-a-block full of places to eat. For all I know, there were choices galore 100 yards off the chosen route, but I just kept pushing ahead hoping to find something in my path. Live and learn!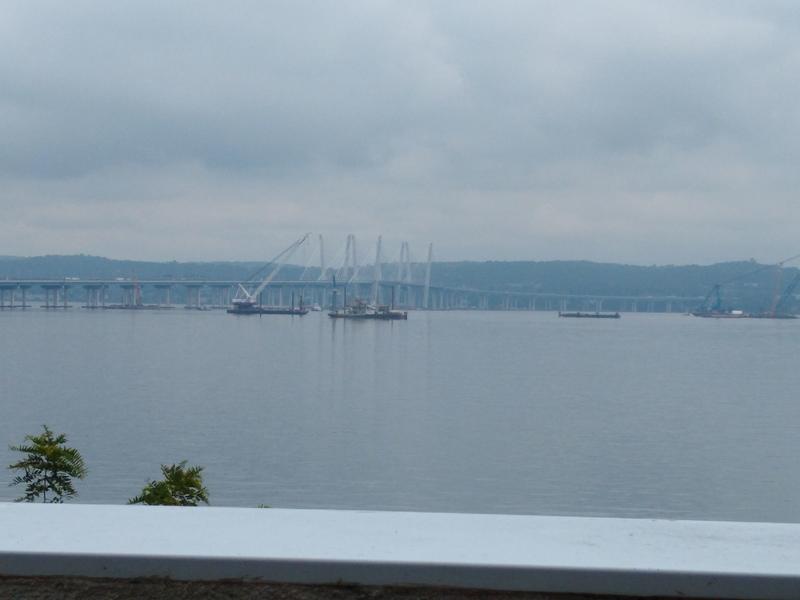 I have no idea what the cause was of the 3 flats I experienced on the trip north along the Hudson. I didn't hit anything that I could see. The tire, rim, and tape looked pristine to me. Some little sharp thing must be there, but eluding me. I'll find it when I get home.
This was exactly the sort of rambling ride that I envisioned for this bike and I'm very happy with most of it. Easily the longest day in the saddle ever for me! :)