My third official brevet was "Joe's Niagara," and again, I rode it with the Finger Lakes Randonneurs. The route was a long, rectangular loop with short legs north-south and long east-west legs. The ride started and ended at the RBA 's house on the shore of Lake Ontario in the town of Ontario. Just three of us were riding this brevet, and I was the only local rider. Paul Shapiro and Jonathan (JB) Levitt are long-time rando-pals and had driven up from NYC and NJ to meet in Webster to check into a hotel and grab a bite to eat. I learned both had completed PBP, and Paul had been awarded a K-Hound award. We grabbed some subs from a nearby pizza shop and ate before heading to the start at 7pm.
The night shift and stomach issues
The plan was to stick together throughout the night and arrive at Niagara Falls just after sunrise. JB and Paul are faster, more experienced riders who traded puns throughout the night to pass the time. Paul played some music, and they played "guess who sang this song." I was lagging behind and could only somewhat make out the tunes, but I was surprised by a long series of Banarama hits in a row.
The chicken parm sub I had eaten for dinner haunted, and I developed some heartburn throughout the ride. Paul suggested that I try a Pepcid AC and some ginger ale when we reached the second control in Oakfield. After a while, the medicine and soda helped a little. I tried to imagine that my stomach felt fine as I attempted to eat the calories I knew I would need to keep moving along.
We passed through the Iroquois National Wildlife Refuge, but I couldn't see any of it other than the sign for it lit by my headlights. I could smell it though and imagined a small temperature change a little as we rode through the wetland.
In the dark, we passed through Lockport (our 3rd control) and stopped at a 7-Eleven in town to refuel. I was feeling better, but not great. For most of the ride out, the winds were light headwinds but began to pick up as the night drew to a close. I remember feeling myself flag as we went straight into the breeze near the Niagara Falls airport. JB and Paul held up for me a few times as we rode through the industrial areas on Packard Drive east of Niagara Falls.
We had planned to get some breakfast before making it to the falls themselves, but nothing was even open yet. So we spent a few minutes milling around the town looking for food options before deciding to head into the park. My sister used to live in this part of the state, and I've had the chance to visit the falls a few times. It's always a thrill to see, but it was a little more special this time, having ridden through the night to see it early in the morning before the crowds show up. We stopped at each of the falls, took some photos, and then pedaled north to the Main Street Cafe, a nice breakfast spot John had found. I was glad he did because I was in the middle of a low-grade bonk and needed the food. Eggs, hashbrowns, toast, and a cup of coffee. I changed my shirt and seemed to have a new lease on life.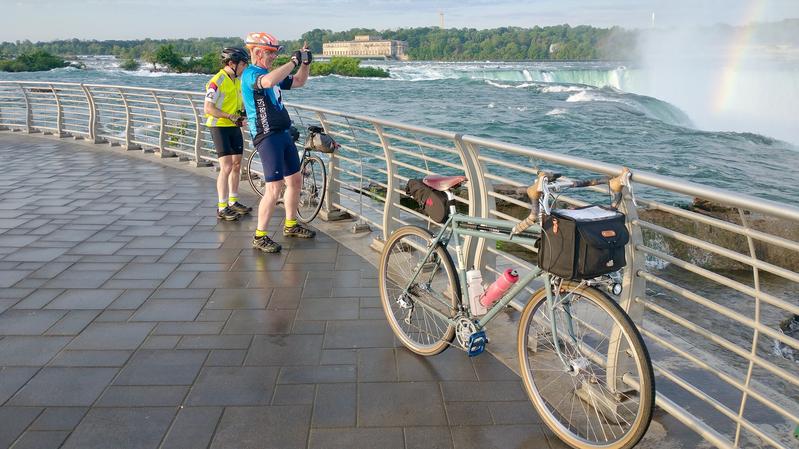 JB and Paul at Niagara Falls.
A long, hot return
The forecast suggested we'd enjoy a west tailwind off the lake on the way back. Unfortunately, it also called for some sweltering temperatures. After we descended off the escarpment into Lewiston, my riding partners told me that they would try to beat the heat by putting some early morning miles on. They wished me a safe rest of the ride and quickly took off. I had mixed feelings about this.
On the one hand, riding with some company can be very helpful. On the other, I was ready to stop playing catch up and start riding my own ride. This section of the state was entirely new to me. I'd never been along the Niagara River and had never driven the long stretch along the lake's south shore. I was happy to take this in in my own way.
The town of Youngstown seemed very scenic with its view of the river and the sailboats moored off the banks. I drank the last few gulps of my water in a small, shady park before asking staff at the Village Diner to refill my bottles. The weather was getting hot, and I was drinking a lot. A small group of cyclists with full panniers passed by, going the other way, heads down, and straight into the wind. I was glad I wasn't them.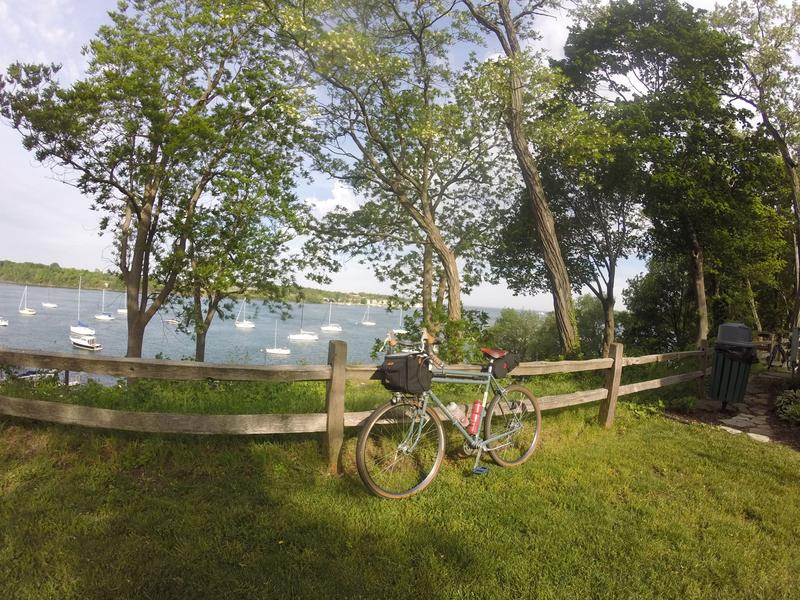 Sailboats in the Niagara River at Youngstown.
The fifth control was in Olcott, just 20 miles later, where I stopped at a convenience store and again filled up the bottles. The clerk asked if I was part of the Lap of the Lake ride, the 1200k circumnavigation of Lake Ontario. I was surprised that anyone knew about that ride! But then again, there weren't a lot of places to stop along this stretch of road, so maybe a bunch of sweaty cyclists coming in year after year would leave an impression. I explained that the LOL probably wasn't happening this year since the border was closed due to COVID.
Really feeling the effects of the heat, I decided to take a 20-minute nap under some trees at around mile 170. A passing mailman stopped to ask if I was ok. I took a few more minutes to snooze and then got back in the saddle. It's nice to have people stop and ask. Another 13 miles to the next convenience store, just before it closed (thank goodness). They didn't have an ice machine, but I bought a bag of ice and some bottled water. I rubbed it over my forehead, down my shirt, and filled my bottles. The clerk here said that two other cyclists had just left, and they had done the same thing. I knew Paul and JB were probably about 30 minutes ahead of me now, and I took another rest. Although the terrain was flat, the heat was a killer!
The Lake Ontario State Parkway
After a few more miles, I took an entrance ramp onto the Lake Ontario State Parkway. This was a section of the route I was looking forwards to. I had thought it would be a pretty fast stretch of road, but I found myself picking my line through the bumps and potholes. The shoulder wasn't in good shape, and grass and weeds grew through cracks in the pavement. For miles, items threatened to leap out of my front bag with each rough seam in the road. Eventually, the pavement smoothed out, and either the wind shifted to be perfectly behind me, or the road's curve made it seem that way. For a little while, I was in cycling heaven, speeding along at 22 mph with almost no effort. "Raise the spinnaker!" I figured I'd be done with the rest of the ride in a hurry at this pace! As best-possible times were being re-calculated in my head, the wind/road combination changed again, and my velocity fell back to human speeds. Back to your regularly scheduled program. Another 30 miles ticked by with another rest under some shade trees in a cemetary near Hamlin. 200 miles done.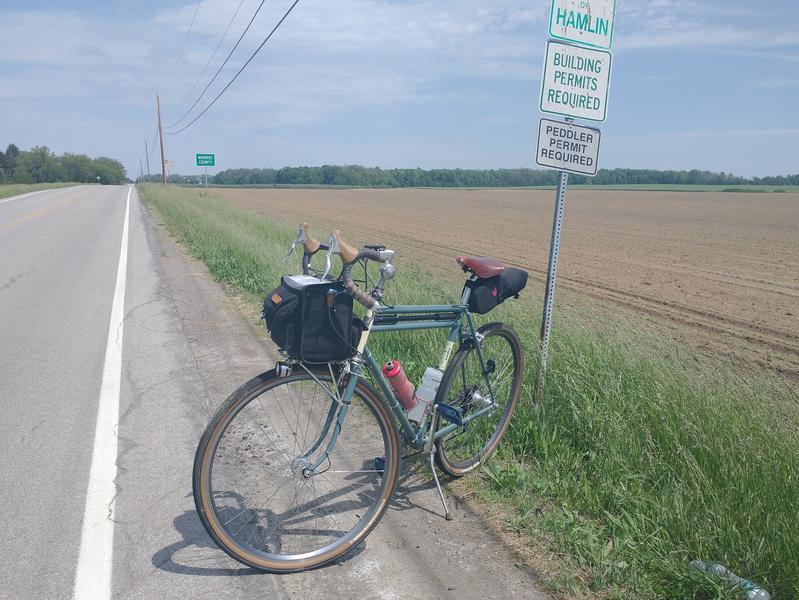 The wind blew the bike over twice while attempting to take this shot near Hamlin, NY.
Irondequoit and back to Ontario
As the road curved south towards Braddock's Bay, the crosswinds whipped some small ponds into a windsurfing shape. I was getting ready to be done with this ride but was trying to savor the place and sites. Finally, with my legs shot, I entered the penultimate control in Charlotte. I quickly ducked into a dodgy 7-Eleven near a bar for water and initials on my brevet card, all while attempting to mentally place a tractor beam on my bike left alone outside. This part of town wouldn't be where I would normally choose to leave my bike, but it was fine.
I crossed the bridge over the Genesee River and through the northern suburb of Rochester. There were surprisingly sharp climbs on busy Sweet Fern Rd and some urban riding through the town for a few miles. A quick descent and climb out from the valley at the south side of Irondequoit Bay put me in Webster and on the home stretch back to the start/finish control. My time was 25:06, so I had almost 2 hours to spare.
Retrospective
No mechanical issues on this ride (new tires are holding up fine), but I continue to have nutrition problems. This time, I learned that greasy, acidic foods like a chicken parm sub isn't a good way to start the ride. Heat is it's own special challenge. It seems that I handled that well by taking rests and drinking a lot.