A Free Weekend
This weekend I found myself unexpectedly free. Having just purchased a new bike this spring and still excited about riding it, I saw it as a perfect opportunity to get out on a longer ride and enjoy some of what spring in New York had to offer. As of yet, I hadn't tried any of the longer rides associated with randonneuring, but it appeared that this was just the chance to try.
New to the sport, and its protocols, I really wasn't quite sure how to go about it. The local cycling club and bike shop pointed me towards the [DistanceRider] site and so, yesterday, after a cursory look at the site, I sent an email to Peter Dusel (the closest RBA to me) and asked if there was a permanent he could recommend for the next day. From his response I gathered that wasn't how it was typically done but he was happy to accommodate and suggested I try his 200LR_1: Ontario to Naples, a 200k ride starting near his house near the Ginna Power Plant on the shore of Lake Ontario. The route is shaped like a dumbbell, with a 25 mile loop north of a shared 40 mile out-and-back route on Canandaigua Road, and a southern 60 mile loop around Canandaigua Lake.A few emails back and forth ensured he had my personal details on file and I was registered.
A permanent, like a brevet, is a timed route that starts at a designated time and needs to be completed in the specified time allotment. I requested an 8 a.m. start and had 13.3 hours to complete the ride. What that really means is that no matter when I start, I had to finish the ride before 9:20 p.m. and although I arrived in Ontario in time and remembered by $5 fee and to sign the waiver, but for some reason it took me more time that anticipated to get ready to ride, so I didn't get started until around 8:30 a.m., behind schedule before I started! The clerk in the convenience store seemed pretty familiar with signing my card and I set off.
North Loop: 25 miles
After getting my card signed, I headed north towards Pete's house and Lake Ontario. Almost immediately I noticed my seatpost was sinking into the frame. I raised it and tightened the seatpost clamp. I turned onto Lake Road and headed west towards Irondequoit Bay, cycling through the gears as I went up and down over drumlin after drumlin along the lake. About 10 miles in, and I realized I was slipping down again. Uh-oh...pretty early on to be experiencing a mechanical issue that would drive me crazy if I had to do this for another 110 miles! As I tightened the bolt again, I realized that the hex head was a little stripped, not allowing me to get a good purchase on it with my multi-tool. I wondered where the nearest hardware or bike shop was, whether they would have what I needed, and how far off route I'd need to go.
The first control was a informational control near Irondequoit Bay, after which the route headed south through some residential and commercial areas. I wondered what drew Pete to route through that particular areas, as it didn't seem particularly interesting to me. Once out of the town, I rode along through some wetland areas and farms. I continued along, raising my saddle and tightening my seatpost clamp every 5 miles or so, getting frustrated and looking around for a shop.
Straight South: 40 miles
Canandaigua Road is an undulating straight shot that passes through a few small towns and crosses the Erie Canal near Macedon. I stopped into a strip mall there to see of I could find a replacement bolt for my seatpost clamp bolt, which was getting more stripped the more I attempted to tighten it. No luck, but a search in Canandaigua shows that RV&E Bike & Skate shop is open on Main Street in Canandaigua.
The shop is a little busy when I arrive, but the mechanic might be the owner and he hooks me up with a new bolt for no charge. To thank him, I buy a Take-a-look mirror that fits on my sunglasses. I didn't think I really needed it, but it turns out I really like it.
South Loop: 60 Miles
The traffic in Canandaigua was a little tight for a small town down near the lake, requiring me to take the lane and back up traffic for a few minutes for my own safety. The nice spring weather and we were well into the day by this point. Despite having lived in New York most of my life, and Ithaca for the past 10 years, I had not spent any time around this part of the Finger Lakes aside from passing through on Route 20 in a car. There was a little climb out of town and then a quick downhill into the Main Street in Rushville, where the route turned right on Gilbert Street and enjoy a flat ride into Naples at the southern tip of the lake.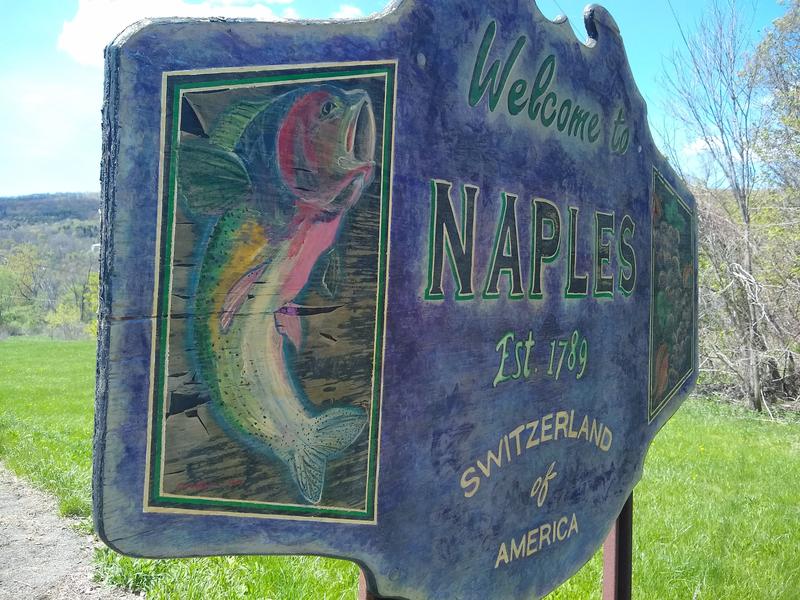 I stopped at Bob's and Ruth's Vineyard Restaurant for an ice cream cone (you have to keep the receipt to mark the time), to use the restroom, and to refill the water bottles. Naples is the location of a couple of bakeries that make grape pie, neither of which were on this route. It also is ground zero for the Naples Grape Festival in the fall, so maybe I'll be back to revisit the grape pie scene then!
I thought that the best view on this route had to be on the climb out of Naples on Bristol Springs Road from the pull-off about three miles north of the town (see picture at the top of this post). The scenic, long view of the lake and the budding trees made this part of the climb worth it.
The hardest physical part of the route came immediately after that gorgeous view. A left turn up Powell Hill Road and a right on Gannett Hill took the route up a 4 mile category 2 climb (at least that what RWGPS says) that was honestly a slog. Some people claim to love climbing hills like this, but it's little bit of self-torture isn't it? I made the mental note that I would like some lower gears and just tried to think of how I was going to reclaim all of this energy in a short while on the way back down. All I can say is that I eventually made it up after shedding every layer of clothing I had and stuffing it into my very makeshift handlebar bag (which is another topic...) Of COURSE there is an informational control at "The Jumpoff" in Ontario County Park on Gannet Hill, just to make sure I didn't skip out on the fun of that climb. To its credit, the park is a great piece of property worthy of a visit, with great views of the valley to the west from The Jumpoff and to the northeast from elsewhere in the park.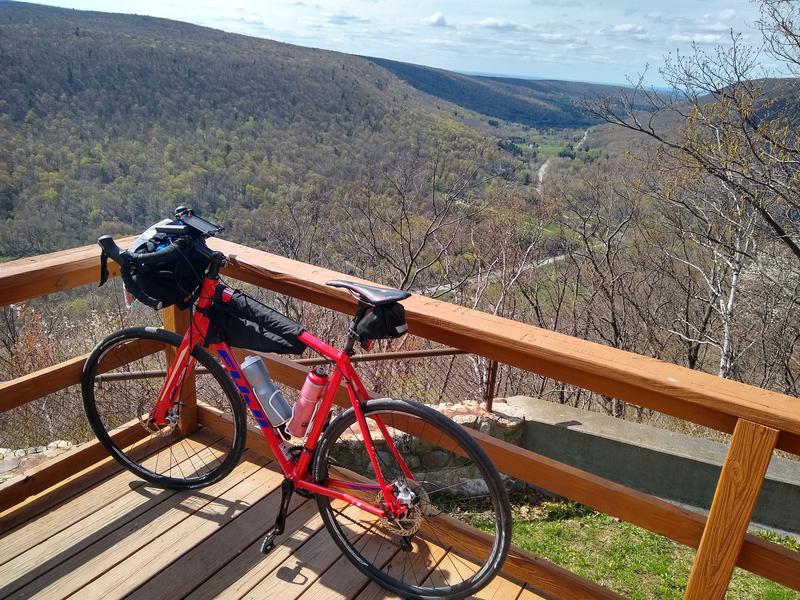 The descent down Gannett Hill to Route 64 includes an insane 13% extended downhill to Route 64. I feel that if I have to work so hard to get to the top of hills like that, I might as well extract every bit of speed and excitement I can from the descent...but self-preservation kicked in and I pumped the brakes a little on the ride down this unfamiliar road. Once I had made it down and I realized there were no sudden turns or obstacles to worry about, I wished to be magically transported back up so I could ride it again, full blast. Alas, no ski lift or gondola ride was to be found at the bottom to let me try again...
The Bristol Valley is an overall descent, but I remember it being a lot of small ups and downs through pleasant farmland where my speed ranged from 10 to 20 mph. At mile 103, I had completed the southern loop, rejoining county Route 8 to retrace my steps back to the start.
Straight North:
As I headed back along the road I had come in on, the wind seemed to pick up and I had a bit of a headwind most of the way back. The hills that didn't bother me earlier in the day now seemed troublesome. I decided to pull off into the ditch and take a little nap in around the town of Farmington. I was laying there for a bit and noticed a cyclist heading south while I rested. A few minutes later the same guy rode back and stopped and asked if I was ok. We chatted for a bit and I learned he rode that stretch often as a quick out and back after work. As he headed off, I tried to ride with him, but his legs were fresh and I was pretty drained. He took off in a hurry.
I finished the ride a little bit before dark at about 8 p.m., 11 hours and 21 min after I started, with plenty of time to spare. I drove back to Pete's house to turn in my proof of passage and we discussed his role as an RBA, randonneuring in general, and the Lap of the Lake (LOL) that he coordinates, a 1200k ride around Lake Ontario. It sounds like something I'd like to try eventually.
This Saddle Has Got to Go
Apart from the fact that the seatpost was slipping for the first third of the ride, the stock Oval saddle on the bike just isn't working for me. It's hard in a way that I don't think I can get used to. I really don't think it's going to work for the kind of rides I'm interested in. Glenn Swan suggests that I try swapping it with a different "take off" saddle from the collection of stock saddles he's swapped out for other customers. He seems to believe that there isn't a lot to be gained by buying expensive saddles, as it it is more likely finding a shape that works with my anatomy and getting it properly positioned is just as likely to give me comfort as throwing lots of money at it.