Bicycling has always been a favorite activity of mine, even though I haven't been consistent in my pursuit of it. About 30 years ago I bought a couple of nice-for-their-day bicycles which served as my escape pods from the daily grind of training, working in a shipyard, and time aboard a submarine. I would head out solo from Groton, CT to Providence, RI; from Cocoa Beach, FL to Tampa; or from Kings Bay, GA to Savannah. Weekends were for exploring and cycling in my 20s.
In my 30s the bikes mostly took a back seat to starting a family. After moving to Ithaca about 10 years ago, my current wife and I have purchased an 80s era Burley Duet tandem which we've taken for local rides and tours around the various lakes around here and a honeymoon loop through the Outer Banks. We also had a significant crash a couple years ago when we negligently rode (and blew) a bad front tire, leaving us with a fair amount of road rash, bruises, and trepidation about getting back on that horse. During a visit to her family in Oregon, my sister-in-law and I traversed the Columbia River Gorge. I've cajoled my kids to accompany me on small overnight camping trips on the bike. In a nutshell, some of my best memories involve two wheels.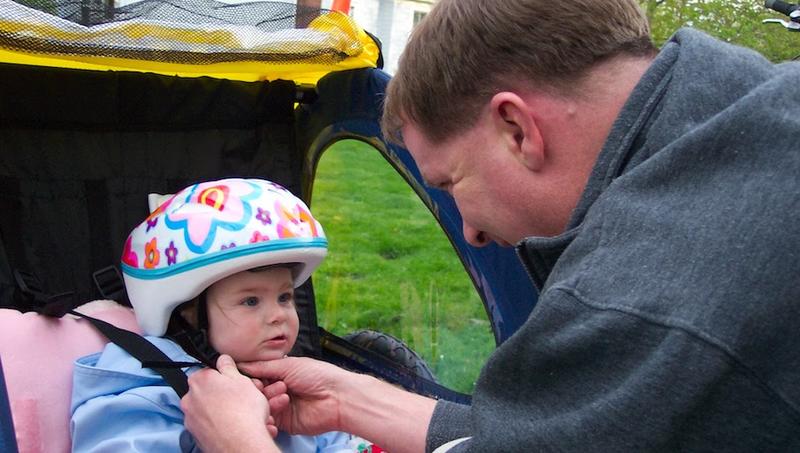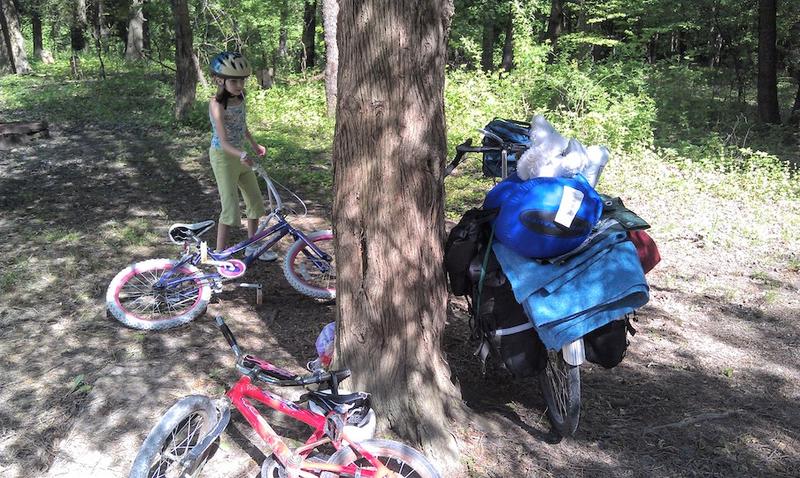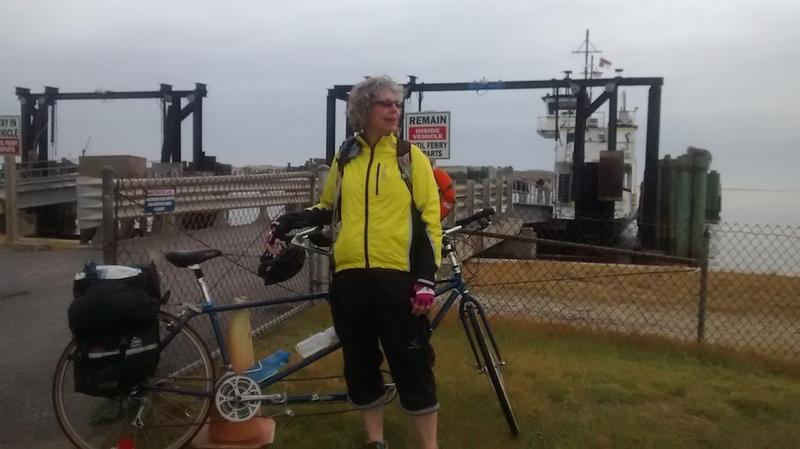 The past few years I found myself making some lifestyle changes to try to keep moving. I had been doing a fair amount of running for the past several years, then I began to experience pain in my right ankle which made me ease off of the impactful aerobic activity and switch to some weight lifting.
I achieved some rapid improvements in the gym near my job in a 5x5 program and was feeling pretty good about my consistent effort and results. Long story short, I was able to deadlift and squat a surprising (to me) amount. However, I started chasing numbers rather than concentrating on form and fitness. No surprise, I started to hurt more and backed way off.
No aerobic activity, no strength training...I backed all the way to the couch for months. Luckily the company at which I work started a little wellness group that offered a spin class in the same building where I work. I joined and showed up for 45 minutes of sweat time on some stationary bikes.
I tried a few rides out by myself around town, but the terrain around Ithaca is a lot more hilly than I guessed and every ride starting in the city (where I live) begins with a significant uphill. Hoping to benefit from the knowledge of the locals, I joined the local cycling club and tagged along for a few Saturday rides on my steel Bianchi 12-speed to see what that was like. It was pretty tough and I found myself getting dropped easily. I started to have some doubt about my ability to ride with this crew. Either my fitness was not where it needed to be or my bike was the problem.
The old trusty Bianchi had a standard 52-42 crankset and a 25-12 gear cluster at the rear, same as it had when I bought it in 1988. I'd taken it on a lot of those "epic" rides in my 20s and I couldn't imagine that the problem was my old steel. Regardless, something had to be tried and I wasn't ready to buy a new bike when I already had these trusty friends that were still in good working order. I visited a recommended mechanic in the area who was a racer in the 80s and we joked a little about getting older and needing lower gears in the hills. Jokes aside, it was an education in how the times had changed and just how vintage my bikes were. He happened to have a 6 speed (!) freewheel in his collection that gave me 28t in the back and we ordered a new Sora compact road double for the front.
My next couple rides were a little easier but I still wasn't keeping up very easily. I watched as the other riders clicked down...down...down into their 34 tooth gears and spun away up hills as I did the standing grind and zig-zagged across the road to "paperboy" my way to the top. Ugh.
Over the winter I treated her nice. I put fresh tape on her bars and shined her up as nice as I could. She sat in the back of the car when I went to visit my sister in Florida. We sat under palm trees and looked out at the water. I took her on a nice ride to see the alligators and the birds in the Everglades. Once last spin round the block. A tailwind helped her along and she tried her best...but she knew what was coming. My eye was wandering.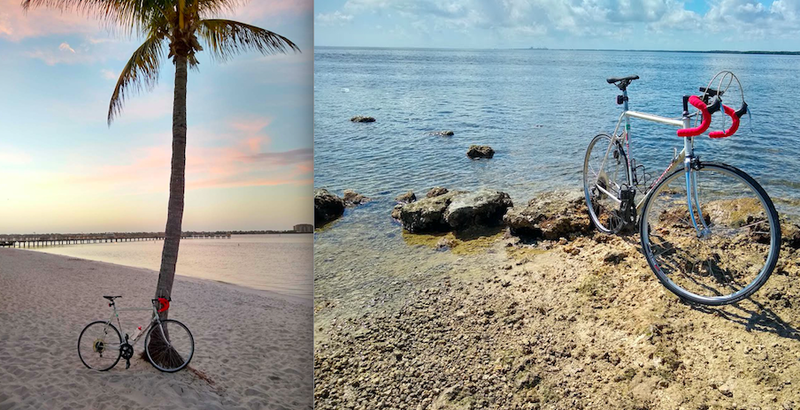 As soon as the weather allowed back here in New York, I went back to the shop to try some new rides. We discussed what I wanted to do and my needs. I wanted to take long, rambling weekend rides with maybe a light bag or two for an overnight. I wanted to be relatively comfortable. I wanted to be able to run wider tires so I could ride a seasonal road if I had to. I was curious about randonneuring. He had a 3 year old Fuji Sportif with a 105 group on it that wasn't the top of the line, but seemed like a great value. For a little under a grand I bought my first bike in 30 years. It's nothing fancy but it seems like the space shuttle in comparison to my old bike from the 80s, which is now hanging from the rafters in the garage.
Next year I'll probably replace my 1987 Univega Alpina Pro, an early production mountain bike repurposed as a makeshift touring bike. This year, I'm going to try to ride the rubber off of this Fuji.