Pre-PBP Goal
One of my goals for this year was to complete a 1200k brevet. A domestic 1200k would be a good proving ground for my ability to finish PBP, which I would like to enter next year. With PBP held every four years and me being currently 53, I think this will be my shot if I ever want to do it. But, early in the season, my friend Jim suggested riding the Coureur de Bois, a 1000k brevet in Canada. I thought that we'd be riding it together like we rode the Crush the Commonwealth ride last year. But, as it turned out, our brevet seasons turned out differently. I finished my SR series after a 2nd 600k attempt, but Jim had a rough year and didn't feel up to it.
No Lap of the Lake 1200k
I had hoped that Pete (our RBA) would be able to run the "Lap of the Lake" 1200k this year, but there was an insurance issue, so it wasn't possible. So instead, he ran the CNY Waterfalls 1200k for a second year. The "cloverleaf" design of the CNY Waterfalls is easier to support and doesn't have the same insurance issues (it never crosses the Canadian border). However, it was less interesting to me as it covered some familiar ground (half of it was the Niagara 600k I had just ridden!). So I decided to support the Waterfalls ride but travel north to try the Coureur de Bois myself.
I had been encouraged to try the Granite Anvil 1200k, scheduled within a few weeks of the CdB. The Granite Anvil was a more challenging course (41k ft of climbing over 1200 km) but with good support, while the CdB was a relatively flat river ride (13.8k ft of climbing over 1000 km). When I registered, I wasn't aware of anyone else planning to ride with me. I liked the idea of running along the Ottawa and St. Lawrence Rivers alone, covering the ground as best I could for three days with no support.
One of the appeals of randonneuring for me is "covering ground." At the end of the ride, it's fun to look back at the map and remember what you saw at each part of the ride, to see new roads on the map colored in by your tire tracks steadily over a few days. I alternately think about how long this would take in a car (and how little I could appreciate each mile) and how challenging such travel would be in those days. The ride's name means the Runner of the Woods and harkens back to a frontier time when such passages were made by canoes and bushwack. I had an unfair advantage over the original "runners" as I traveled a paved path through woods transformed into plowed fields, any remaining bumps smoothed by rounded rubber, a celebration of asphalt and machinery, despite the romantic name.
Aside from the scenery, there were two things I wanted to achieve as a result of this ride. First, I wanted to be eligible to pre-register for PBP in January. Second, I wanted to experience a taste of what it was like to ride multiple days in a row without much sleep. Unfortunately, the stark reality is that I am not a fast cyclist. I could (and probably will) train for PBP to raise my average speed, but I will have to face the fact that I will have to endure some sleep deprivation to finish a grand randoneé. I had not ridden beyond a 600k. A 1000k brevet seemed like a reasonable next step.
Day 1: Crossing into Quebec and north of Montreal
About a week before the ride, I learned that another rider from Toronto had registered. So I booked an Airbnb just two miles from the start of the ride, packed my bike and bags on the motorcycle, and headed to Ottawa. The weather forecast for the ride couldn't have been better. I arrived early, grabbed some dinner, and slept well. I arrived at the start and met the Ottawa RBA at 5 am in a dark parking lot near some soccer fields on the edge of town. We waited together a few minutes for the other rider out of courtesy, but then I decided to shove off and give myself every minute I could. After starting 45 minutes late, Régis caught up and passed me somewhere between the second and third controls around 100 miles in!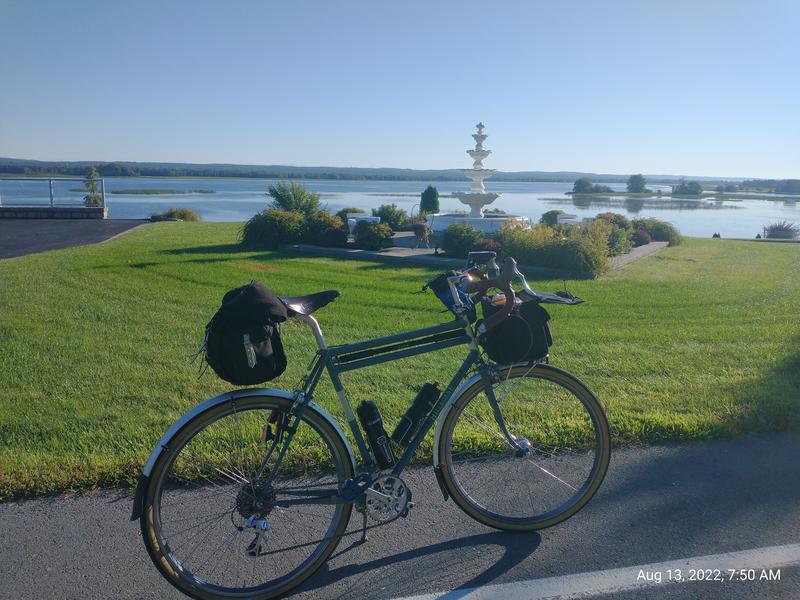 Admiring a homeowner's fountain along the Ottawa River near Wendover.
I asked Régis about speaking French in Quebec, and he told me that all I had to do was greet everyone with a courteous "Bonjour!" when starting a conversation. In most cases, my accent would be sufficient to broadcast that I was an English-speaking American and prompt a switch to English. However, a few times, the clerk at the "dép" (short for dépanneur: a convenience store) would call in an assist from another coworker to translate or handle my request.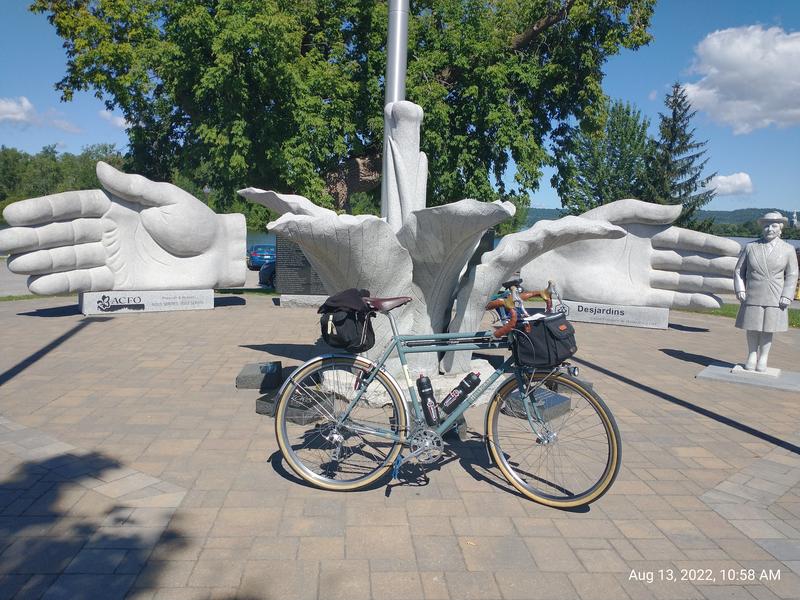 The Cultural Center crossing into Quebec includes this fleur-de-lis sculpture, a symbol of French cultural identity.
The weather remained beautiful all day, with hardly a breeze to slow or speed me up. I followed and crossed the Ottawa River, headed north of Montreal (avoiding all of its congestion), and made the Jolette control before sunset, alternately listening to podcasts and music. Régis and I arrived in Trois-Rivières a little after midnight despite having ridden much of the first day in isolation, each riding our own ride. I stayed at the Travelodge near the center of town, in a room without a hot shower. I did my best with a washcloth and the sink before grabbing 4 hours of sleep.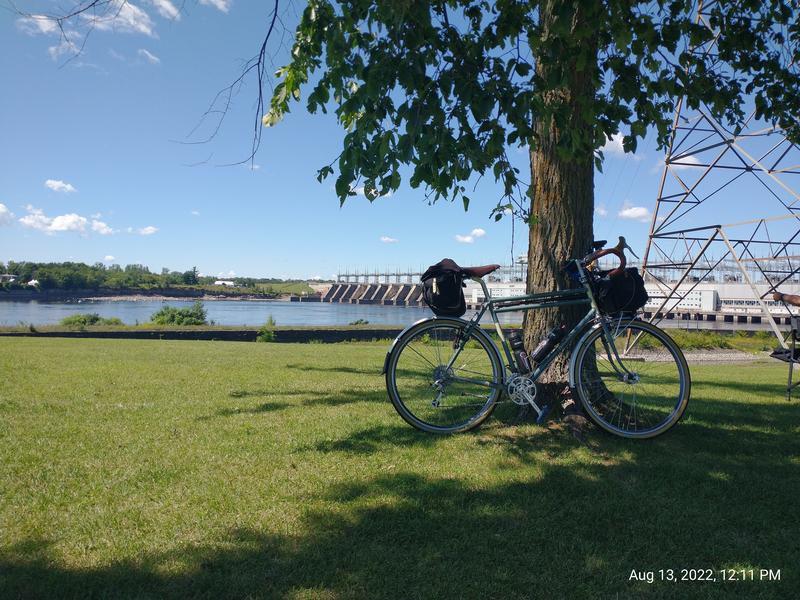 The Carillon Hyroelectric Facility.
Day 2: St. Lawrence & Quebec City
I was up early and out the door by 5 am. Unfortunately, nothing was open in town, so I rode for two hours, eating out of the bag, before finding a dep and wolfing down a microwaved breakfast sandwich. The arrival in, and descent from, Saint-Stanislas was memorable, as was a long stretch along the fast-running water of the Sainte-Anne River. I saw Régis in busy Donnaconna, both of us choosing Mcdonald's fast food for its salt and speed. The approach to Quebec City was a mix of surprisingly steep 10% grades and flat bike paths. The Laurentian Mountains, previously a presence miles to the north, now presented a stone wall on the left side of the street as mountains came to meet the St. Lawrence River. I stumbled onto the ferry to Levis minutes before it left, a rare case of good luck. I found myself wanting to return someday to enjoy the historic district and explore this walled-in capital of the province.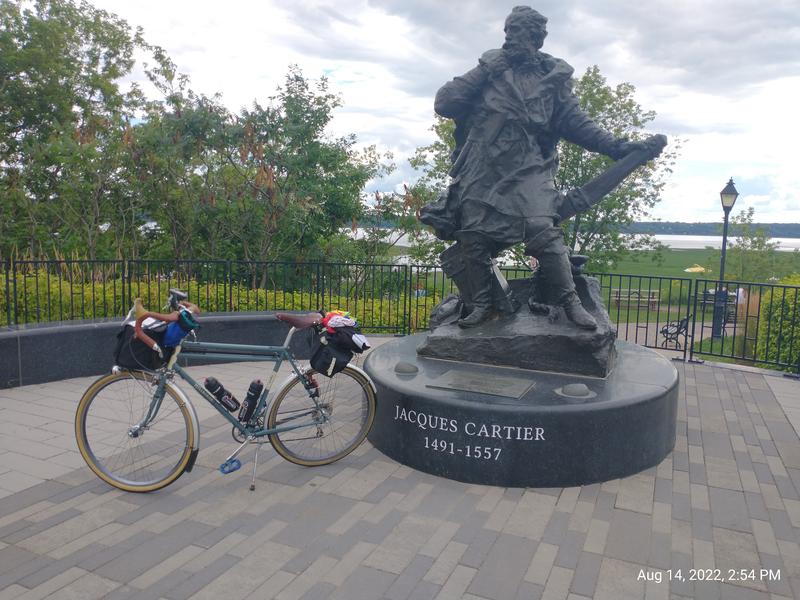 Jacques Cartier statue in Quebec City.
The bike path and roads out of Levis were quiet until approaching the Chaudière River crossing. I forgot to look at my GPS and ended up with an extra climb and some bonus miles. I stopped at a grocery store and bought a sub to eat on the bike as I made good time to Saint-Gregoire (just opposite Trois-Rivières). The roads were peaceful, and I was in good spirits. I found myself blasting tunes in the dark, singing loudly to myself, and rising out of the saddle to pop over hills and finish the day around 12:30 am, this time in a room with a working shower.
Fairmont Le Château Frontenac In Quebec City, from the ferry to Levis.
Day 3: Sleep-deprived and tendon-strained
Up again and rolling at 5 am the following morning, I wasn't sure how to best time my arrival at the next ferry. My legs felt like logs, and my brain was foggy from two nights of light sleep. All I knew I needed to do was turn the pedals and try to enjoy this unusual situation. It isn't every day that I find myself in an unfamiliar place, exhausted, and staring out at the world through half-closed eyes. This odd state of mind and body was what I was here to sample. I rolled by endless cornfields, crossed over many mirror-like rivers, and down wooded paths in a bit of a stupor until I arrived in Sorel-Tracy and the ferry crossing. Again, with nothing to credit but dumb luck, I stepped onto the ferry just about as it was to set off.
After a few miles, I rewarded myself for making the ferry with a quick sleep in the grass alongside the road, my phone set to wake me after 15 minutes. One snooze reset later, I felt a bit better and started pedaling again, stiff but limbering up as I went. I stopped again at a riverside casse-croûte and bought two hot dogs, poutine, and a soda, which my stomach would not let me finish. I sat at the picnic table, looking at the river through the trees for a little longer than I should have, and then got moving again, stiffer than before.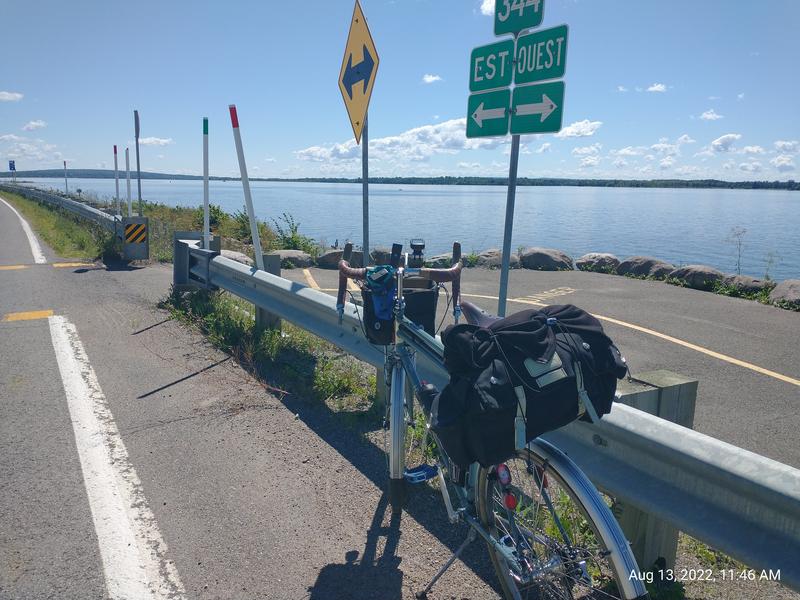 Following the St. Lawrence River.
As I climbed away from the river, pain in my Achilles tendon and hamstrings in one leg became evident, and I walked some hills. There was more than 200 km left to ride, and I wondered what sort of shape I'd be in at the end. After the ride, Jim suggested that perhaps my saddle height was a little too high, the result of replacing a broken tension pin that had broken. Re-tensioning the saddle could have added a couple of millimeters to the saddle, overextending my leg and straining my tendons. I never considered lowering the saddle height during the ride. I just pedaled on, wondering if long, flat rides were worse on your legs than hilly rides. Was constant, even pedaling worse than hard pedaling, followed by coasting?
Just after a quick control stop in Blainville, I had a puncture on a busy road at rush hour from a sharp stone that put a nice gash in the tire tread. I replaced the tube, used a dollar bill and some rubber cement as a boot and filler, and then pumped up my tire. I broke the Presta valve core stem of the new tube but decided to ride it just like that for the rest of the ride. It never caused me any trouble. I think fatigue made me more sloppy and careless than usual. In addition to my broken valve stem, I left my glasses on the ground and had to go back for them. Régis passed me by going in the other direction as I backtracked, me trying to shout-splain my reversal over traffic noise.
He took a wrong turn down the road, and we rode within a few minutes of each other for the rest of the ride. In Grenville, just before the penultimate Hawkesbury control, I watched in amusement as he convinced a vendor to give us his remaining hot dogs for free just before they closed up shop. We donned warm clothes and reflective gear, and on came the lights as we left for the finish. Despite the tendon issue, I found a way to climb by moving my feet forwards on my platform pedals so that the arch of my foot was over the spindle. Transitioning from "regular" pedaling to this other position wasn't elegant, but I could put all my weight down on the drivetrain and blast up the few remaining hills near Rockland. I finished strong, arriving in the dark parking lot that was the final control a little more than 71 hours after starting and just a few minutes after Régis. We signed each other's cards in the dark and quietly celebrated our finish.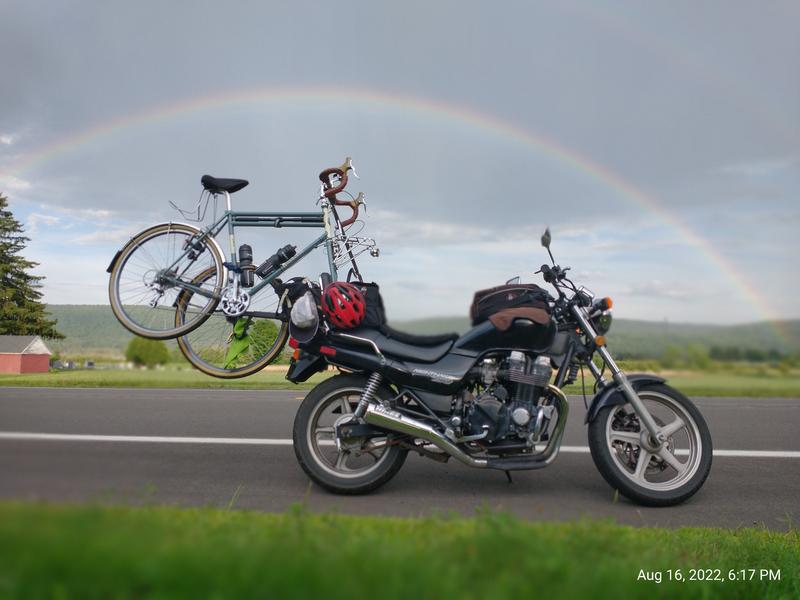 A rainbow over my ride home after the Coureur de Bois.