Last year Gay and I enjoyed getting out of the winter doldrums of upstate NY. Beyond a daily dog walk, we only spend a little bit of time outdoors after the snow flies. A few years back, I attempted to kindle a mild interest in ice skating and snowboarding, only to find myself lightly concussed and with a mildly bruised derriere. We like the idea of this fourth season more than its reality.
So, in mid-January, we rented a tiny apartment mere blocks from the sand in Jacksonville Beach to participate in the digital nomad lifestyle. We packed the rear of the Prius with all we needed for a month away from home: laptops, monitors, and clothes for both of us; knitting supplies for her; and a couple of bags of cycling equipment for me. My 1980s Bianchi strapped to the rack on the back.
The Bianchi was my first road bicycle, purchased by a 19-year-old me in Westerly, Rhode Island, for $300. It was just a middle-of-the-road bike, but I rode it plenty around Connecticut and Rhode Island, exploring the nooks and crannies of the coastline around Groton, Connecticut, where stationed for a few years. I remember watching American Flyers on VHS and then taking off on that bike to get cheap cull lobsters from Ford's shack in Noank. The tears streamed from my eyes as I flew down US-1 back home in the cold, sleety rain, my legs pushing me as fast as I could make them...some scene offrom the movie convincing me to ride as if nothing could go wrong.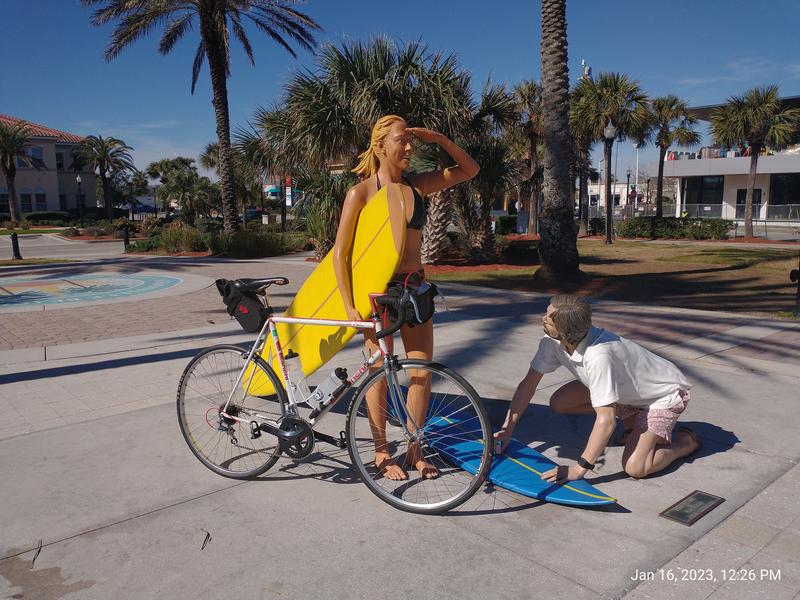 Jacksonville surfers with an old Bianchi.
When our submarine traveled to Cocoa Beach, I secured the Bianchi to a missile tube and rode it up and down the coast after hours, my path lit by a chunky halogen headlight. Weekend liberty was for longer rides. I rode across the state to Tampa and Clearwater on Saturday and back to Cocoa Beach on Sunday.
When stationed in St. Mary's, Georgia, I would ride it up Route 17 to Savannah, only to have to call my roommate to rescue me when my bottom bracket exploded. Despite the trouble, I have great memories of riding miles under a canopy of Live Oak and Spanish moss, spending time in the historic town, and having a deserved dinner on River Street.
The Bianchi saw years of little use after I moved back to NY. I stopped cycling and didn't go out running much. Instead, I found myself buckling down, going back to school, marrying and starting a family, and all the usual trappings of young adult life. I should have sold the Bianchi so that someone could enjoy it, but I didn't. Instead, I rediscovered it years later after moving to Ithaca. I joined the local club and found its 80s gearing inadequate for the club rides in the steep hills of the Finger Lakes using my legs as motors. A few attempts at retrofitting it for the new purpose led me to buy a new model instead. But I still didn't sell it. Instead, last year I considered it expendable enough to put on the rack and drive through the salt spray on our trip to Florida.
This year, I gave it a little love. First, I asked my mechanic to dimple the chain stays so I could ride wider tires. Then, I had the frame sandblasted, and a local painter gave it a two-tone, red and white cerakote paint job. Finally, I rebuilt the bike with new cables and chains, but most of the old Suntour parts and the retrofit Sora crankset went back on the bike. Wider 28 mm tires fit where they never could before. It was the perfect Florida bike.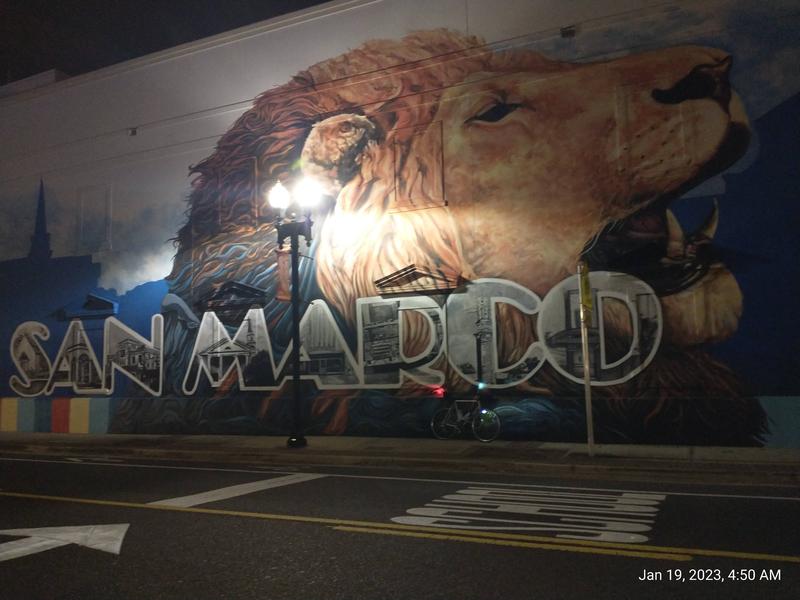 Full-building mural in San Marco neighborhood in Jacksonville.
I had only been riding a little since I rode the Coureur de Bois last summer. When visiting my best friend last fall, I took a few dirt road rides in Missouri and completed my first Coffeeneuring season. But other than that, no big miles. I did a few shakedown rides around our rental apartment in Jacksonville while considering where I could do some miles.
Sunrise run over the St. Johns River on the ferry at Mayport.
Alachua 200k
I knew that the newly revived Northeast Florida Randonneurs was planning to hold a "brevet week" after I planned to return to NY, so I took a chance and contacted the RBA and asked about pre-riding one of their routes. As a result, I received an offer to ride their opening 200k RUSA (not ACP) event with them that very weekend. We had a nice out-and-back from southeast Jacksonville to Alachua in mild weather. Speeding along the mostly flat course with Hamid and Scott resulted in a faster-than-usual 200k with a quik stop for soup, coffee, and some rando talk. Unfortunately, we finished in a chilly drizzle, which affected them more than me. Everyone jumped in the warm cars and went home quickly.
300k Training Ride to the Okefenokee Swamp and Amelia Island
I lived in southeast Georgia for a couple of years in my 20s while in the Navy. I recalled visiting the Okefenokee Swamp and thought it would be an interesting destination. I planned a training ride from Jax Beach and over the St. Johns River to downtown Jacksonville. The Old King's Road headed northwest from the city towards the St. Mary's River and the GA state line. Having read about the road's significance, I stubbornly refused to be rerouted around the breaks introduced by more recent railroad lines and stepped past old mattresses and other home refuse left at the road's dead ends to portage my bike along and over the tracks to meet the forgotten road on the other side. Later, I called a similar audible in Crawford, jumping the tracks at a 4-way intersection of railroads to bridge a gap in Thomas Creek Road for no particular reason, witnessing some evidence of an encampment under the Route 301 overpass.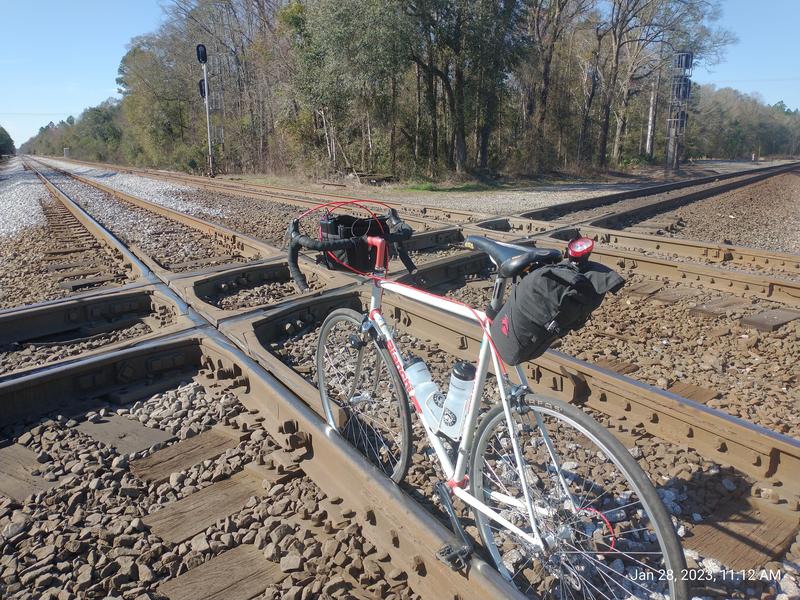 Railroad intersection near Crawford, Florida.
A few miles of sandy roads from Crawford to Kent brought me to the St. Mary's River and a convenience store in St. George. I self-consciously clopped around the only store in town in cleats and lycra to gather snacks and drinks, collecting friendly but curious looks from other customers and the staff alike. "Where ya goin'?" and "How many days will that take?" were prompts to short conversations that I tried to answer without sounding as if I were humble-bragging.
I turned north on the Okefenokee Highway in St. George to head toward the swamp's entrance. Motorists on that two-lane road must see few cyclists. Oncoming cars repeatedly passed and put me in the dreaded "scissors scenario," where two cars and my bike coexist briefly on the same section of the road. The sudden realization that I was there became evident on the face of the passing driver in the form of wide-eyed panic as they quickly became cognizant that there wasn't anywhere else for me to go but my couple inches of shoulder to the right of the white line. I moved over an inch and endured the 60 mph blast of sand and wind in the face from the oncoming car while they white-knuckled by and hopefully pee'd themselves.
The entrance to the park was a few miles past an eyesore of a landfill, so close to one of Georgia's premier natural features. Unfortunately, the roadside was covered with trash for miles from St. George to the dump, not just the occasional can or wrapper, but industrial tarps and partial panels of insulation caught among the palmettos and trees. A discarded pink stuffed bear stared at me inches from a puddle that would surely have drowned it. Remembering a similar bear my daughter once loved when she was little, I secured it with my seat bag strap, and it smiled at passing cars for the rest of the ride.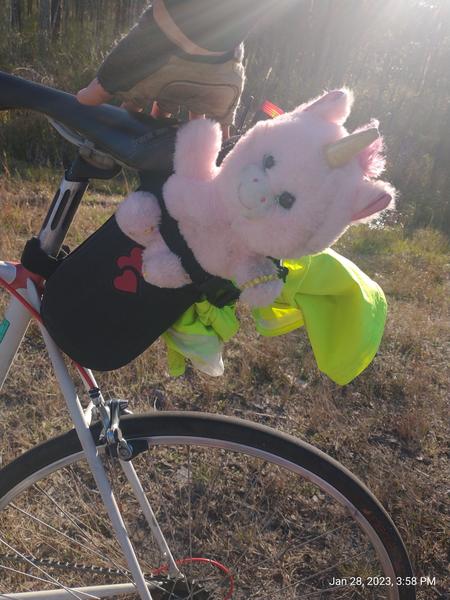 Rescued trash bear near the Okefenokee landfill.
I spent a little time at the visitor center checking out the taxidermy displays of regional fauna, chatting with the docent about why the swamp exists (it's the Trail Ridge), and grabbing a sandwich at the small eatery. I left the area visitor center 30 minutes after arriving, headed back down the 4-mile Suwanee Canal Road, headed north to Folkston, then eastwards towards Kingsland on Route 40. I continued south and east through Yulee and reached Fernandina Beach on Amelia Island by sundown. The 20 miles to the St. Johns River, the subsequent trip back to Jacksonville, and then along the busy road to the beach passed pleasantly with music in the dark.
Alachua 300k Pre-ride
I had mentioned I had asked the RBA if I could pre-ride one of the upcoming "brevet week" rides. Hamid made an exception and said I could pre-ride the Alachua 300k a little before usually allowed. I jumped on the opportunity to tick off one of the ACP rides necessary to qualify for PBP this year.
The ride started in the same supermarket parking lot in Orange Park that the Alachua 200k had. In fact, the first 60 miles of the route to Alachua used many of the same roads on that previous ride. I made good time with a mild tailwind, arriving at the Alachua control in under 4 hours. The next 40 northbound miles were on quiet roads without services. Along the carless roads were small signs with what I assumed were weekend camp names, but after reexamination of the area's satellite maps, gather must have been names of tree plantations. Rows of trees passed as I listened to downloaded, queued podcasts until I reached the beginning of the Osceola National Forest and the next control around mile 101 near "Ocean Pond". The convenience mart offered fried gizzards and pizza for sale, but I settled for more sugary snacks and drinks and filled my bottles.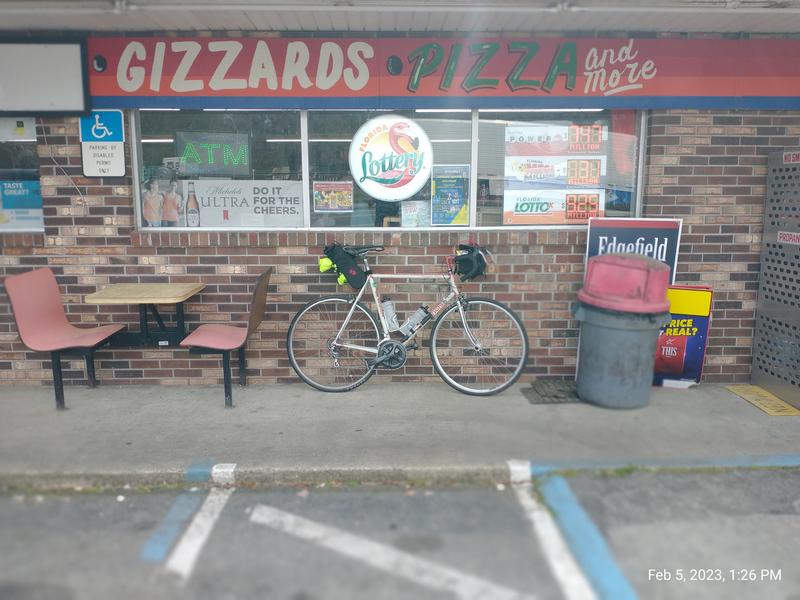 Tasty treats in the Osceola National Forest.
Proceeding further north, I pedaled towards the Big Gum Swamp region. . I stopped at the trailhead to hike into the swamp, but settled on just reading the informational signs on how fire was a natural occurrence in Florida forests and that controlled burns were part of forest management today. The roadside signs for controlled burns foreshadowed the smoky scent, blackened trunks, ashen understory, and still-smoldering fires within sight of the road. The breadcrumb trail on my GPS attempted to route me through a burnt area, and I decided against it, making a note for my ride report to Hamid for later.
Further up the road, the route wandered off the pavement and onto a sandy stretch that challenged my tires. The 28mm tires had been downright plush on some of the rougher pavement stretches but cut deep lines in the sand if I veered off the narrow tire tracks where vehicles had packed the sand down hard. I did my best, but the sand was too deep in some sections. I eventually went down, bruising my ego and getting sand in my hair while getting a chuckle from a pickup truck passing by at just the right moment to witness my antics. The driver couldn't resist commenting on my bicycle choice for the conditions as he passed. Eventually, after some extensive walking through sand in cleats, I reached the pavement again. Ten miles later, I was at the northernmost control in Moniac, just over the Georgia state line to fill up again.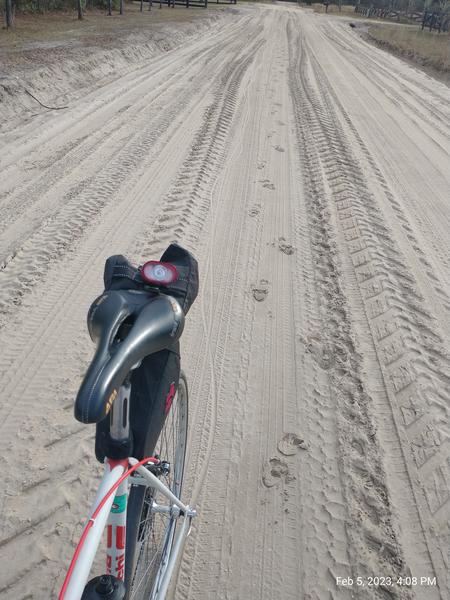 Footsteps and tire tracks in the sand in the Osceola National Forest.
Heading south again, I crossed the St. Mary's River after a mere dozen miles in Georgia as the sun went down. I stopped for a second at the closed store that was a control in Macclenny, then headed down a pitch-black road with little shoulder while waves of cars periodically released by a distant traffic light roared by me from behind. As each wave went by, or if any vehicle approached from ahead, my eyes needed to readjust to the change in light, resulting in temporary, short-lived blindness on the road.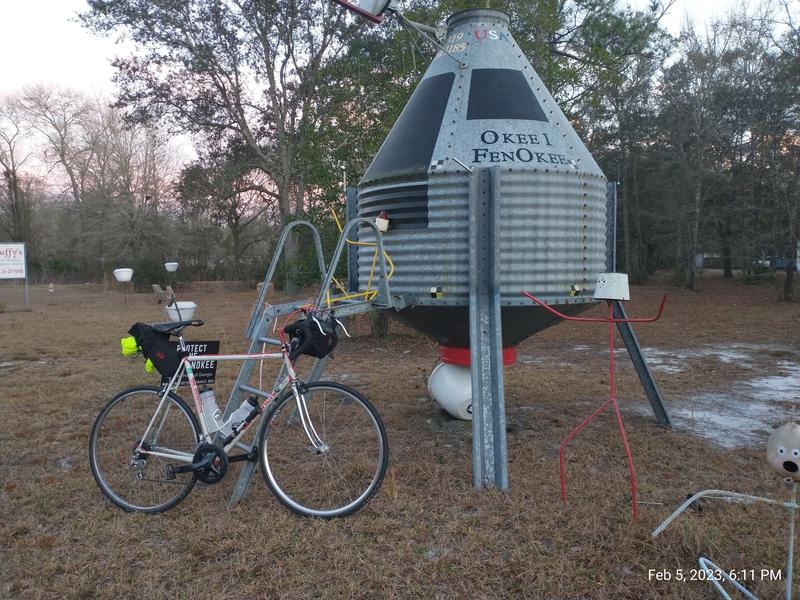 Roadside art south of the Okefenokee swamp.
As the temperature dropped, I neglected to don the clothes I had shed earlier in the day, not wanting to take the time to dig them out or thinking I could manage the few remaining miles without. I started to shiver and chatter and only then decided to succumb to the loss on the clock. Once I had a hat, buff, arm warmers, and jacket on, I wondered why I waited so long. I finished the rest of the ride with gnawing heartburn from too much sugary and acidic food in my gut all day. The latest sugary treat from the store in Moniac pushed my stomach over the edge that day. It had had about enough of my abuse during the 16-hour ride. I arrived back at the Publix I had started at and bought some antacid pills and at them like a post-ride meal.
The winter riding was just what I needed in the off-season to jump-start my PBP year. If I don't finish the 1200k in France, it won't be because I sloughed off in January and February.