Youghiogheny crossing near Confluence, PA.
On the last weekend of May, a group of cyclists gathers at either end of a 380-mile route across Pennsylvania. The termini of the route are Point State Park in Pittsburgh and the Liberty Bell in Philadelphia. The ride alternates direction in successive years, and in 2021, a west tailwind was forecast to give riders of CtC eagle's wings en route to Philadephia.
I had become aware of this ride a couple of years back after visiting Oswald Cyclery in Mansfield, PA. A little research into the framebuilder and owner of the shop informed me he was the first to finish the route in 2016. I had never heard of the ride, but I liked the spirit of it. The website makes it plain. A ride in the key of "No." No registration. No entry fee. No prizes. No support.
Jim Bondra and I were gearing up to do a whole series of brevets this year, and he brought the ride up in January as a few days of long training rides to get miles in our legs in preparation for a brevet series. We decided to ride it together in three days rather than go-for-broke to get the fastest time possible. The longest ride I'd ever done was 274 miles a couple of years back, which ended in unexplained flats and a lot of walking. I remembered how drained I was from that ride and other 300k+ rides and was a little daunted by the idea of spending successive days in the saddle.
The Plan
Essentially the route follows the Great Allegheny Passage to Rockwood, about 100 miles into the ride, and then follows PA bike route S across the state until diverting onto the Schuykill River Trail in Valley Forge, and then 25 miles down the trail and into Philadelphia.
We discussed how far we should try to go each day. He knew that most of the riders would try to finish this ride as fast as possible. A common game plan was to reach Chambersburg around 225 miles, sleep for a few hours, and then finish up the next day. Jim took the lead on identifying available sleep and food stops along the way. He'd been eyeing this event for a while and proposed driving to Pittsburgh on Thursday, riding 175 miles to Breezewood on Friday, 125 miles to Lancaster on Saturday, 80 or so to the finish on Sunday, and then renting another car and heading home to Ithaca on Monday. Sounds good to me!
We watched the weather as the event approached and saw various predictions of light rain and some cool/cold nights. I packed my Shower's Pass rainjacket, neoprene gloves, and shoe covers. We arrived early Thursday, had a meal in Market Square, blocks from the start, and tried to get a night's sleep.
Day 1: The GAP Trail

A eager group ready to start under the overpass at Point State Park.
We didn't sleep too well, both awake by 3 am but trying to fake more sleep for an hour or so more before giving up, showering, and getting ready. Jim and I and another rider staying in the same hotel made our way to Point State Park together. A few minutes past 6 am Ron Anderson announced the start to about 25 riders. We followed the parade of blinking lights through Pittsburgh, across bridges, and down side streets along the Monongahela River to the beginning of the GAP Trail. A few local riders ensuring we all got to the start of the trail broke off, and we were off. We were the slow riders here, and we didn't see anyone else for a long time as they sped off, hellbent on getting their best times. We had a different mindset.
As we pedaled along the slow incline on the cinder trail, Jim admitted to not feeling 100%. After a couple of hours of admiring the Youghiogheny River on the left and sedimentary rock formations to the right, we stopped at the KOA north of Connelsville for breakfast. Pro-tip: the dryer vents at a KOA laundromat are a pleasant place to dry damp hats and gloves and warm yourself up if you need to. Full of food, we continued along through Connelsville and on to the whitewater rapids destination of Ohiopyle. I piped a podcast through my headphones as we continued to pick our way over and around downed trees, over scenic bridges, and past camping gear-laden tourists heading in the opposite direction. If there was a tailwind, the trees diffused most of it. When we did feel the wind, it was inconsistent as our route twisted to follow the river rather than keeping it at our backs. Such are rivers.
Jim up ahead on the GAP.
It's good to ride with a buddy on rides like this. You can dip into a conversation and ride close when you want, but also venture off alone for periods to be in your own head, ready to regroup at the next hilltop, intersection, or rest stop. I was making reasonably good time over this offroad section of the ride with the wide, low-pressure tires I had on my bike. I wondered if Jim's road tires were a little less suited to this part of the route. He had said he wasn't feeling great after the Mexican meal the day before and the poor night's sleep, and when I looked back, I'd see his bright yellow jersey coming around the bend in the trail sometimes, and sometimes not. I waited in Confluence for him to catch up as drops of a chilly rain began to fall and donned the raingear as I anticipated his arrival and considered going back to see what happened. Ten minutes later, he showed up with a tale of a crank arm that fell off. It's good to ride with someone.
The rain came and then went a couple of times before it decided to stay with us for 25 miles or so. We finished the GAP portion of the ride around 6 pm, where we inexplicably met three other riders in Rockwood convenience store and huddled under the eaves. Jim and another rider were shivering from the cold. The rain was still coming down, and we didn't know how long we'd be in it. Jim had the latest and greatest Gore raingear, but it wasn't working for him. It seemed we needed to call an audible on this day's ride and end it early.
I asked about nearby hotels and was given a tip about a nearby campground that had a guesthouse available about 60 seconds from where we stood. The owner met us with keys and unlocked the guest house. A few minutes later, we had the bikes washed at the available bike washing station, and Jim was in a warm shower. I walked to pick up a pizza nearby at the local historic opera house and shops. I received a tour of the old building where Elvis performed in the 70s and had a conversation with the women as they closed up their pizza shop about the decline of the town and coal mining in the area. Jim and I ate our pizza and turned in early.
Day 2: Ridges and Valleys
The following day Jim and I were well rested and took off early. Morning conversation revolved around how the hills we were encountering would have been completely miserable and downright dangerous in the rain in Jim's near-hypothermic state the previous day. He seemed in better shape today, and we were both looking forward to getting to Breezewood and the novelty of riding a section of abandoned roads and tunnels there. We'd been able to arrange for hotel cancellations without extra fees and had a new room awaiting us in Fayetteville, 125 miles away.
The second day was the best day of the ride. Free of mechanical or weather conditions that slowed us down, we were left to enjoy the scenery and the sunshine. Looking at a topo map, this would seem the most challenging day as the route passes through that middle part of the state that appears as if someone crumpled the paper in a diagonal stripe across the state. My experience of driving through that part of the state has been one of long, steep hills and expansive views.
The approach to the Ridge and Valley section of the state was hilly but rarely too steep to handle. I used the GPS elevation profile to help me decide which hills I could try to power over out of the saddle and which I should sit and spin in the small chainring. This section of the ride had a nice mix of both, and I found myself passing the time away pleasantly, rising and falling over the central Pennsylvania landscape, alternatively moving at a snail's pace and then smiling as tears streaked sideways from my eyes on the descents. We passed the Eastern Continental Divide at the summit of Allegheny Mountain about 15 miles east of Somerset. However, I somehow wasn't aware of its geographic significance at the time and wondered aloud to Jim where the divide was further along in the day. I expected a sign somewhere but never saw one. The descent to Mann's Choice for lunch was fast and beautiful.
On this ride, I chose not to bring a lot of food on the bike and instead scarfed down a lot at our stops. Chocolate milk, V8 juice, and a sandwich of some sort seemed to be doing the trick. A quick bite, top off the water bottles with an electrolyte tablet in each, and I was good to go. It surprised me how well this seemed to be working. I always had a few snacks on board, but I learned I didn't need to carry a bar bag full of food for these rides. Something to nibble on and make it to the next stop was all that was required.
As Bike Route S slalomed its way around many of the ridges characteristic of central PA, it made good use of the gaps left by rivers and streams. Not that there wasn't climbing to do, but it mostly was rolling hills where I found my stride building speed on the descents and popping over the top of the next hill. Where I couldn't manage, I'd alternate between sitting and standing to get all of the muscle groups in rotation. We both recalled a 10% grade outside of Everett that struck both of us as exceptionally steep.
After what seemed like most of the day, we arrived at Breezewood and found the entrance to the 13-mile section of abandoned turnpike with its two tunnels and busted-up pavement. From pictures and video on the web, I thought this was going to be a vacant stretch of road but instead found it to be a local spot to walk the dog, express yourself with spray paint (fumes from the artist's cans were dominant smells in the tunnels) or be outside with friends and family. It was an enjoyable part of the ride that, once again, had me glad for the wider tires. I thundered carelessly over debris while Jim picked his line a little more judiciously.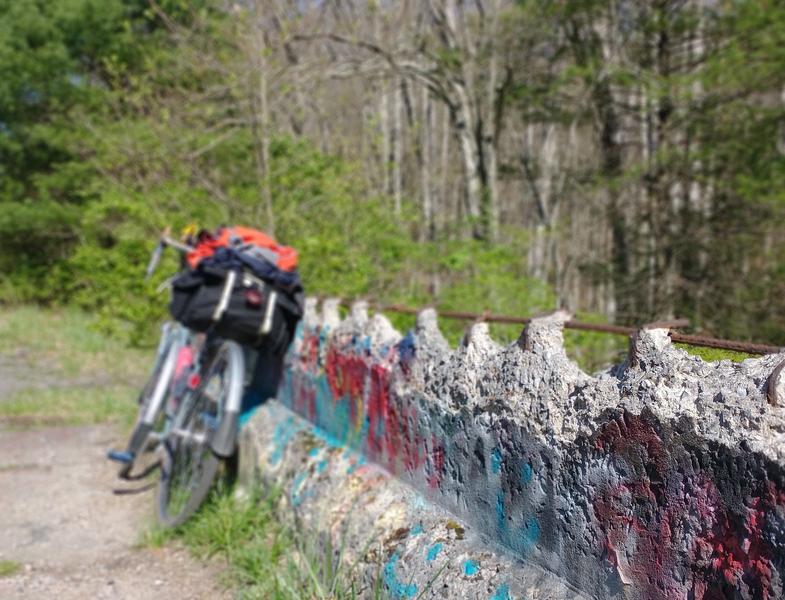 An old highway barrier on the abandoned turnpike shows some character.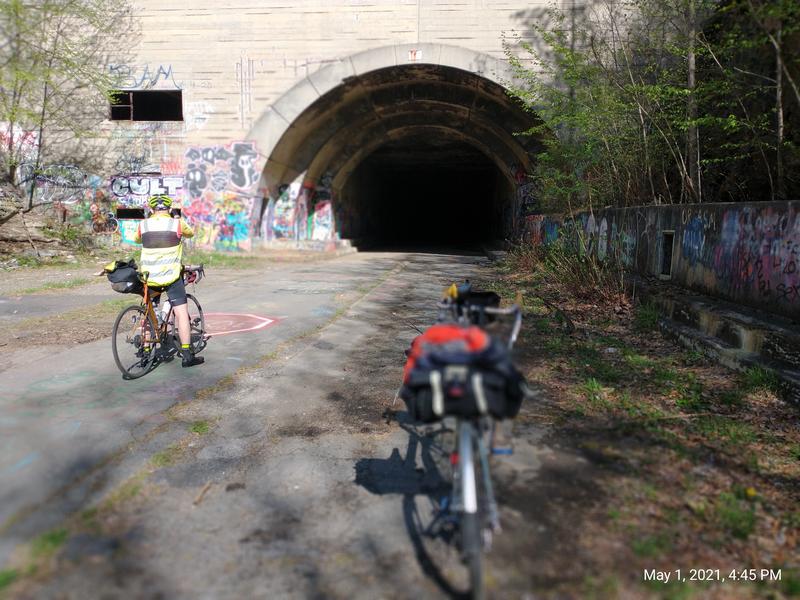 Jim taking pictures of one of the tunnels.
The climb to Cowan's Gap from Burnt Cabins was gentle and peaceful through forested areas, and the descent to Fort Loudon a nice reward. Jim must have eaten some Wheaties (or just been eager to finish strong) as we rode with the sun low in the sky en route to Chambersburg. We grabbed some food at an omnipresent Sheetz and completed the 129-mile day at a truly dive motel. I need not go into details.
Day 3: A Test of Resolve
Everything about the last day should have been fantastic. It was the flattest part of the ride. We had tailwinds, it was sunny, the scenery was exceptional, and the promise of a completed ride was within sight. However...
I woke to a flat rear tire. Having just ridden to the motel without incident the night before, I thought maybe I'd pump it up and see if it held air. It did. Sometimes valves are funny like that, so perhaps...but no. A couple of miles down the road, I was flipping the bike and changing the tube. A quick inspection of the tire and a run around with a cotton ball to detect a wire or piece of glass turned up nothing. Sometimes tubes are funny like that...but no. At the top of a long descent just a few miles later, I lost Jim to gravity as I pulled over again to patch the newly installed tube. I saw the tiny pinhole in the tube and checked the corresponding spot on the tire but found nothing.
My day was spent either patching or replacing tubes, searching desperately for the cause, or worrying about the next flat. Jim and I had spotty communication, and I was confused if I had somehow passed him at a rest stop or not. We tried to arrange meetups at one town or another, but we didn't connect again until York City, where we both stared hard at the tube and rim and could not find anything wrong.
We met another CtC rider in York City at a rest stop who was the owner of the Shadyside Trek store in Pittsburgh. She was riding at party pace across the state visiting family and hadn't planned on going all the way to Philadelphia. Shortly after that encounter, another unexplained flat. We were killing a lot of time going through tubes, so we stopped at the Walmart in York to get four more cheap tubes (we were going through both of our supplies, and no bike shops were open on Sunday).
We continued across the Susquehanna River and on through Amish country, which had many of the short rollers I liked, picturesque farms, and the novelty of a lot of horse-drawn buggies and folks on bikes. I changed another tube and swapped the front and read tires to see if the problem followed the tire or stayed with the rim. Jim and I worked together on my wheels while watching an Amish family play baseball and speak German in the early evening light. If you have to change a flat, you could do worse.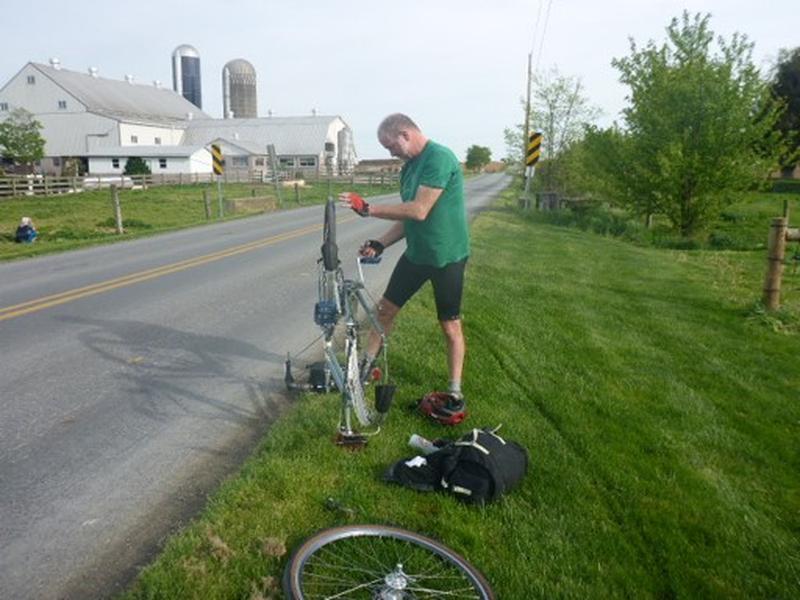 Fixing a flat and rotating tires in Amish Country.
In all, I had nine flats that day, and it was a challenge to keep my spirits up. I worried that I would run out of tubes, that Jim would lose patience, or that this was ruining the experience of the ride. At one point, we agreed that if I had one more flat, Jim would call AAA. I had two more flats in the dark, though, and we never called AAA. We finished our 155-mile day, reaching the Liberty Bell after 1 am. I got a final flat on the way to the hotel and walked it in.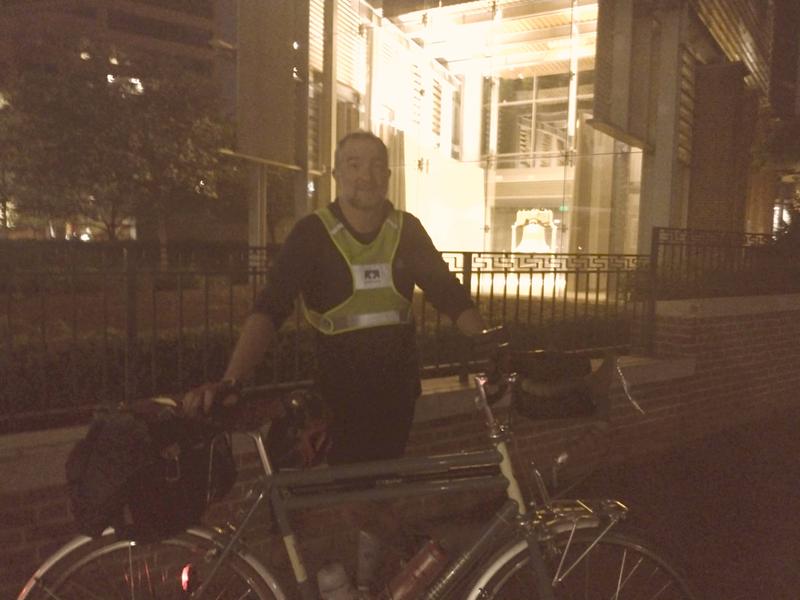 Me at the Liberty Bell.
Retrospective
The tires on this ride had ~2000 miles on them by the end. My rear tire had more tread wear than the front, a result of not having rotated them. Even so, the issue was never found, and a new set of tires were purchased. I'll keep the front tire as a spare since it still has some file tread on it.
Drinking milk and V8 seemed to work better for me than sports drinks, which tend to be too acidic when I drink them repeatedly throughout the day.
WHYY in Philadelphia had a story about this year's event. We aren't in it.
NoPro Hero quick clips of the ride.