Hemlock Lake through the trees.
QuadZilla-inspired
While researching some of the big rides around the Finger Lakes region, I came across references to something called QuadZilla, a multi-day ultra-endurance cycling event that seems to have been held up until a few years ago. The web site for the event wasn't up, but my local rando connection pointed me to the route, 22k feet of climbing and 351 miles. Others have written about the ride. I couldn't tell for sure if it was a RUSA 600k or not at one point. I was intrigued, but not about riding it quickly nor for hitting every hill I could find. Just the idea of getting out during this COVID summer and spending a full day on the bike sounded wonderful. Keeping things local, rather than traveling out of range of support (should I need it) was the right way to go.
When planning a route, 5k to 7k of climbing per 200k is what seems to be the norm in brevets. When choosing a 200k or a shorter permanent, I'm somewhat willing to suffer some climbing, but that willingness dissipates when I'm choosing or planning a longer ride. I'm a recreational rider, not "hardcore" like the folks I read about doing the QuadZilla, so I planned this ride myself by seeking out valleys through which I could make some distance without going into the little gears all day long. The route ended up at 11.3k of climbing over 254 miles. (I've come to expect that the planned climbing is going to be about 10% less than the actual climbing...a phenomenon I'm less surprised by with each subsequent occurrence.) Even so, this would be a "light" 400k by randonneuring standards. Here's the route, which includes some sightseeing and logistic points of interest. Many of the stops I passed by, but it was nice to know they were there.
Planning and Packing
Last year I was pretty excited about the Fuji Sportif, but this year's ride is a Rivendell Sam Hillborne that I built up for light touring and overnight rides like this one. Dynamo lighting, an eTrex 30x GPS, a boxy rando bag on the front, and a Carradice bag on the back would carry much of what I needed for spares, extra layers, food, and accessories. Loaded up, the bike isn't light, but neither am I!
One of the aspects of these rides that I am getting a handle on is planning out not only my route and what I need to bring, but getting a sense of where I expect to be at any given time. It isn't rocket science if I keep it simple. Rather than a map in the top of my front bag, I like to keep a table of times, towns, and points of interest that I expect to encounter along the route. I started making this simple aid after I forgot about planned sights and stops when I was on the road. This simple table keeps reduces my chances of missing out on any good times I had planned for myself.
| Mile | Time | Location | POI |
| --- | --- | --- | --- |
| 0 | 3 a.m. | Ithaca | |
| 12 mi | 4:10 a.m. | Mecklenburg | |
| 24 mi | 5:30 a.m. | Watkins Glen | Water fountain at the park? |
| 39 mi | 7 a.m. | Tyrone | General Store there? |
| 48 mi | 8 a.m. | Hammondsport | Kwik Fill Store |
| ... | | | |
This simple tool helped me break up the all-day ride into 10-15 mile pieces and allowed me to see if my progress (including stops) was on track with a 10-mph pace (including stops). Planning for a 10-mph pace makes the math easy. I planned for for a 3:30 a.m. start.
Night Start: Ithaca to Watkins Glen in the dark (22 miles, 1900 ft of climbing)
After having spent the time to meticulously plan my route, gather my gear and supplies, pack the bike, lay out my clothes, charge the batteries, and stage the food, I had enough time to get 5 hours of sleep before I needed to get up and moving. I checked the alarm a few times and finally got to bed. Getting up on time was key, since I planned to be riding throughout the next day and night and to finish around 6 or 7 a.m. the next morning. All the preparation worked out. I rolled out of the covers, dressed, and got started right on time.
Getting out to Watkins Glen by sunrise was the goal. Last year, during my Memorial Day ride to Sodus I took the back roads out to Watkins Glen, but I decided to go straight west from Ithaca on Route 79 for this start. The night was chilly with temperatures in the 40s and I started out with a few layers, a thin hat, and wool gloves. The climb out of Ithaca quickly warmed me and I was able to look back at the lights of Ithaca and the stars hanging in the clear night sky. There wasn't any traffic (I might have seen 10 cars all night) and I settled into an easy pace. I turned down some back roads south of 79 to take advantage of the view of Watkins Glen and Seneca Lake from Cass Road. However, when I arrived at the viewpoint, I saw the town and lake were blanketed in a layer of fog.
I descended into the foggy town and turned into Clute Park, where I had hoped to find a water fountain and top off the bottles. In the dark, I failed to see a cable stretched across the entrance until the last second...too late! My Riv and I took a tumble, but the cable had struck the waxed canvas Acorn bag sitting on the front rack and saved the frame and paint from any damage. Good grief. What a start! I didn't find any water fountain in the park and the restrooms were locked for the night. Oh well, I hadn't drank much in the chill of the night and the bottles had plenty of water remaining. I brushed myself off and started the climb out of Watkins up Route 14 overlooking a foggy Seneca Lake.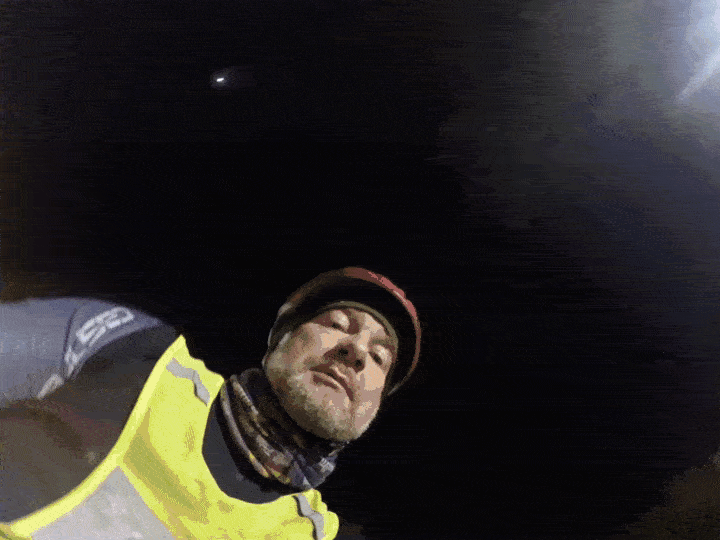 Watkins Glen in the dark.
Morning: Watkins Glen to Hammondsport (48 miles, 1600 ft of climbing)
After an easy climb heading north on Route 14 in the pre-dawn light, I turned west again and up a 500ft climb to Reading, after which I spent a couple of miles on a gravel road while looking back to see the sun rise behind me. A few deer ran out and along the road ahead of me then darted off into the dewy woods.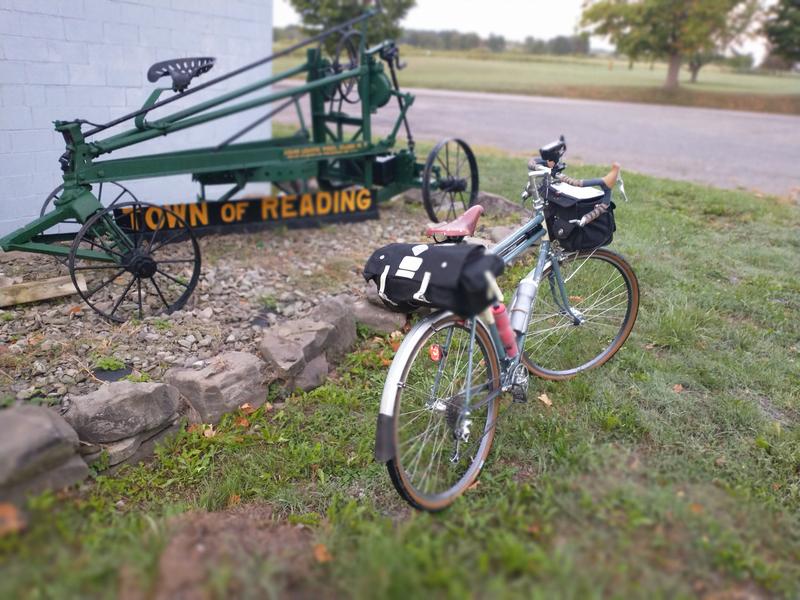 Rivendell Sam Hillborne near Reading.
Passing through Tyrone, I thought I remembered a general store I could stop in and get some water if I needed it (and by this time I sort of did). Nope. Strike 2. Shortly after I went through the still foggy valley between Lamoka and Waneta Lakes and climbed up into the clear air above. As I pedaled towards Hammondsport, I noticed the ditches and fields on either side of the road were shimmering with the dew on more spider webs than I think I've ever seen. Funnel webs down low near the ground were every foot or two. Orb weavers had sewn together every vertical stem a few feet up. They all shown in the sun and looked like a shiny crop planted there. It was a bad day to be a wandering bug.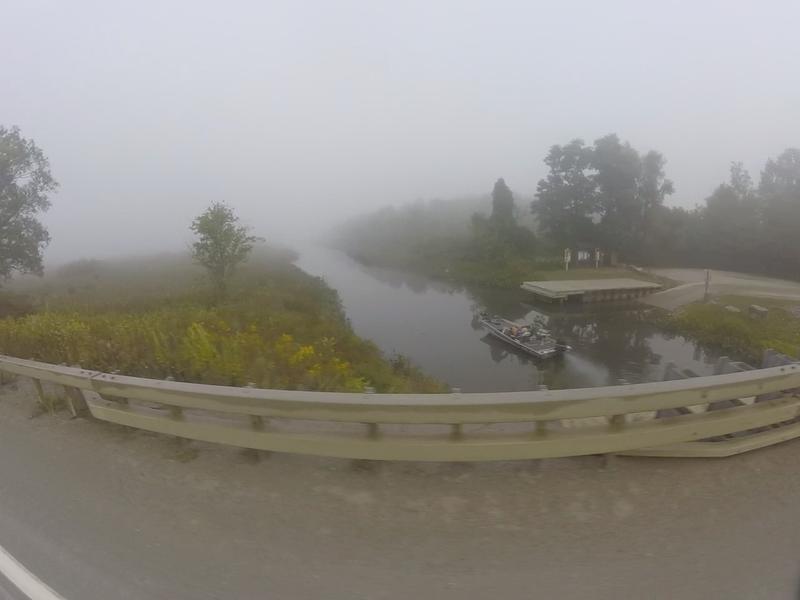 Canal between Waneta and Lamoka Lakes in the fog.
At about 8:30 a.m. I had the most memorable view of the trip. On Wayne Road east of Hammondsport there are views of Keuka Lake that are as pleasant as any in the Finger Lakes. My timing was great. The fog was lifting and little white puffs hovered over the lake in the brightening sunshine. I stopped for a little while to just enjoy the moment while I snacked from the bag. A banana and a half a peanut butter sandwich disappeared and then I flew down the 10% drop into Hammondsport.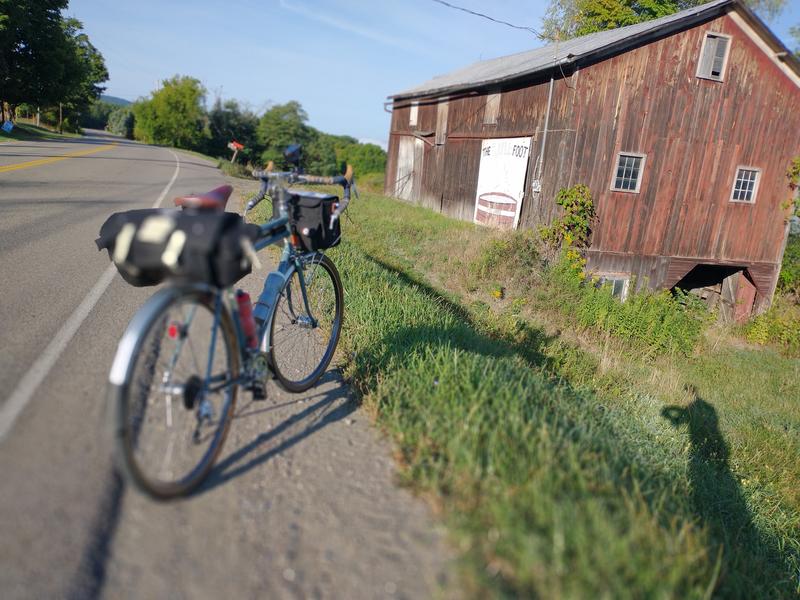 Barn near Keuka Lake on Wayne Road.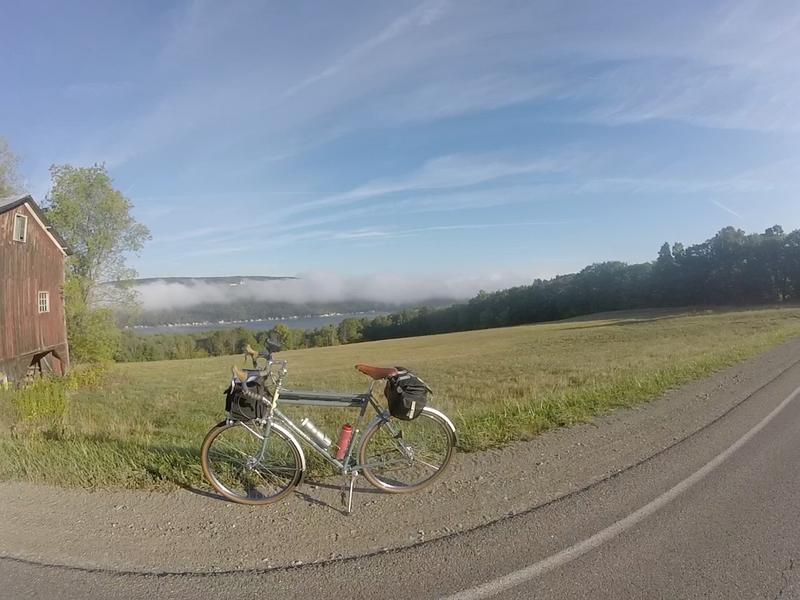 Clouds above Keuka Lake in the early morning.
Morning: Bath, Avoca, Cohocton River Valley to Strong Hill (50 miles, 2200 ft)
The ride from Hammondsport to Bath on Route 54 involved a small climb that I did in a mild headwind. I had ridden this road heading north during a previous ride this summer, but it was nice to ride by the Curtiss Museum with its airplane out front, which I have yet to stop in and visit...maybe after this pandemic (how many times have I said that this year?). The stretch north of Bath is rather commercial and not particularly interesting, but there are plenty of places to stop and get supplies if needed. Indecisive about what I wanted to eat, I stopped into a Dunkin Donuts to get a breakfast sandwich, but the place was packed and and the line moving slowly. I went to a nearby Kwik Fill gas station, pulled my buff over my nose, and went in to buy anything for the stretch ahead. I was surprised when the guy in front of me in line paid for my pre-packaged sandwich and claimed he was "paying it forward". I thanked him, but there was no one behind me to pay for. I wondered when I'd next have the chance to pick up someone's tab. I left the store and started out along Route 415, paralleling first the Southern Tier Expressway and then Route 390 through the Cohocton River valley, an upstream tributary of the Chemung River.
This section of the ride was easy pedaling, a slight uphill for miles through farmland and a couple of small towns. I had decided to forgo cash on this trip and just use a credit card for purchases, which I soon regretted. On this Saturday I encountered three Mennonite buggies selling baked goods from the side of the road, missed opportunities for some great memories. As the day heated up, I stopped and shed the layers I'd been wearing since I started and packed them away in the saddlebag. Long socks and gloves were traded for summer variants; the base layers peeled away in favor of short sleeves and bare legs; hat stowed.
Miles of Route 415 went by easily as I watched the small river approach and retreat from the road. I passed through the small towns of Avoca and Cohocton, where I left 415 and continued on Route 371. It was just a few miles beyond when I began to see windmills from a nearby wind farm appearing over the hilltops. As I entered North Cohocton, I saw a few intriguing stores kitty-corner from each other. I wondered if anyone sold the grape pies from nearby Naples on Skaneateles Lake and entered into the Olde Country Store to inquire and get a snack. I was surprised to see a store-length candy display that would be my 10-year-old self's dream come true. I grabbed a few sweets and a root beer and asked at the register about the pies. Across the street was Mikey's, which apparently did sell grape pies. I sat on the bench outside the store and topped off the sugar reserves with the candy and drink. Satisfied, I decided to check out the pie store another time.
I turned onto Route 21 and headed west to Wayland, another food stop if needed (but I didn't), and through the convenient Pokamoonshine Hollow on Pokey Moonshine Road. From there it was up a few steep grades to a nice view of valleys to the west from the side of Strong Hill on Reeds Corners Road. This was the highest elevation in the trip at 1685 ft. I descended like a rock 800 ft to end my first 100 miles at about 2:30 p.m. (just shy of 11 hours since I started), just south of Conesus Lake, the westernmost of the Finger Lakes.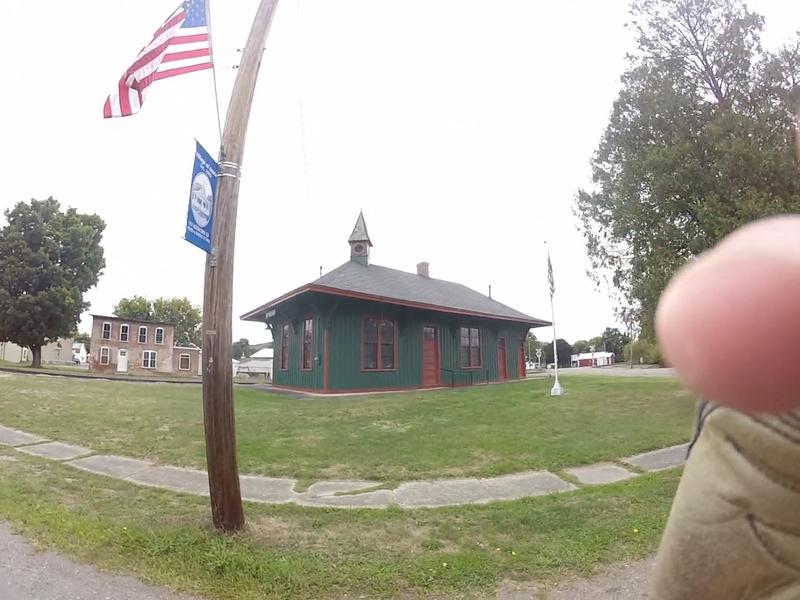 Lackawanna & Western train station in Avoca.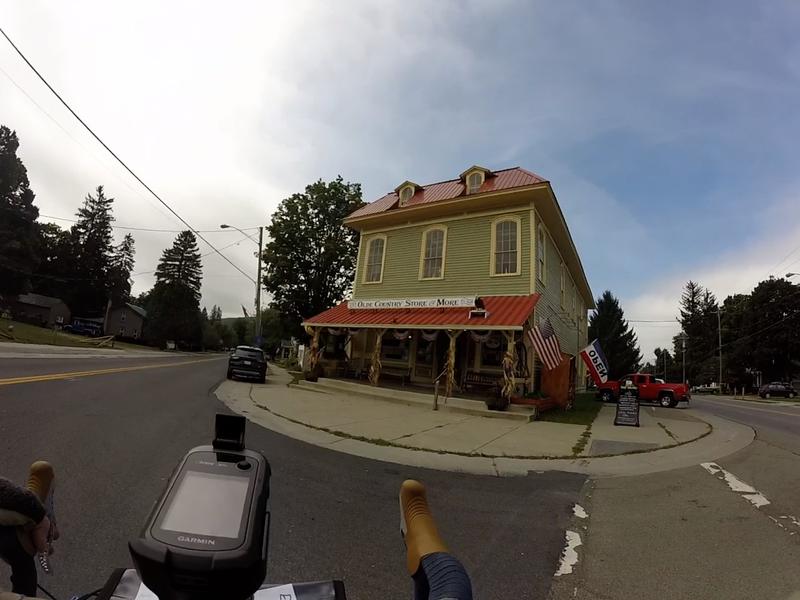 Olde Country Store in North Cohocton.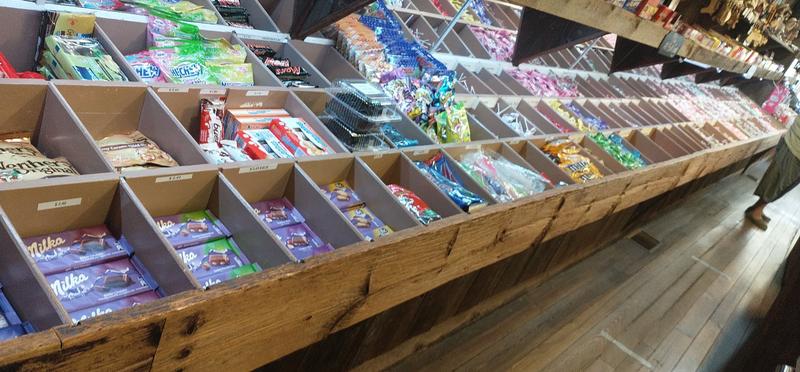 A store-length candy display in the Olde Country Store.
Conesus to Canandaigua (40 miles, 3100 ft)
There must be a popular cycling route around Conesus Lake. Several cyclists passed me on my way along the western shore of the lake. Now that I think of it, those were the only cyclists I recall seeing all day, despite the fact that it was pretty much a perfect day to be out. About halfway up the lake I pulled into Long Point Park and watched the boats bob across the waves and I refilled my bottles at a fountain. There was a south wind blowing me up the north shore of the lake. I was grateful for it at that moment, but I checked the weather on my phone and saw that the wind was going to be picking up through the day. After just 10 minutes of rest, I found myself a little stiff getting back on the bike. I proceeded up West Lake Road but turned off to stick close to the lake on Pebble Beach Road until I reached Lakeville at the north side of the lake. I turned right (and east) and starting to head back along Big Tree Road until Livonia. The route turned south at times and I found myself flagging in the headwind. I stopped at a 7-Eleven in Livonia, made some poor food choices, and gorged myself on fats and salt outside the store. I wheeled the bike to a patch of grass on the side of the store with a huge big gulp in hand. I laid down in the grass to fully appreciate my first bonk of the day.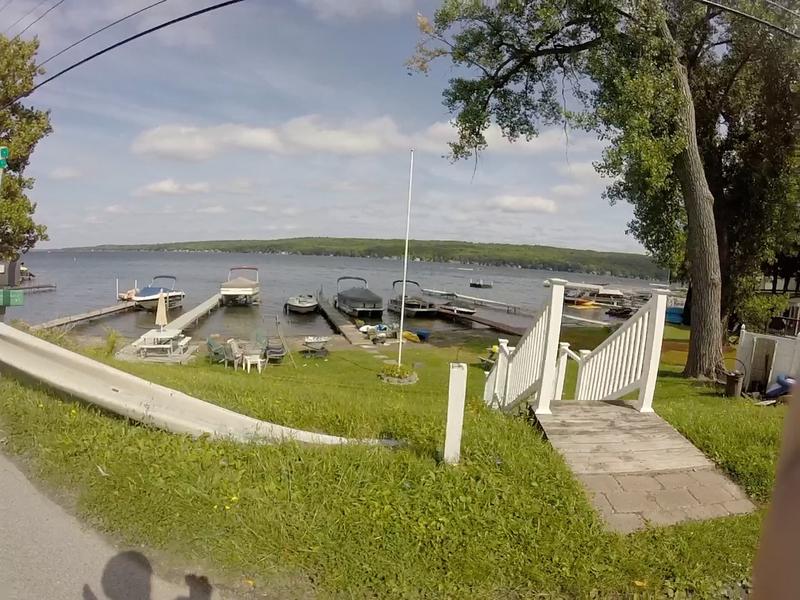 Docks on the west shore of Conesus Lake.
40 minutes later (!) I left the store and took my sweet time climbing out of Livonia. Despite having made efforts to make this part of the route as easy on the legs as possible, there is no getting around the fact that traveling between the lakes means climbing out of one lake valley and descending into another. The fact that these lakes are so close together is part of what makes this area of the state so interesting to cycle.
Passing by Hemlock Lake on Bald Hill Road gave some views of this lake through the trees, but I didn't venture down along it's undeveloped shore for fear of having to have to add yet another steep climb to get back out. Instead was a flyby sighting of Hemlock Lake and then up along the north slope of Bald Hill and an immediately drop down to the north side of Canadice Lake, also undeveloped. A half-mile down the east shore I turned east and UP onto Birch Hill Rd. All I can claim on this climb is that I didn't walk any it...but that is all. A picture is worth a thousand words.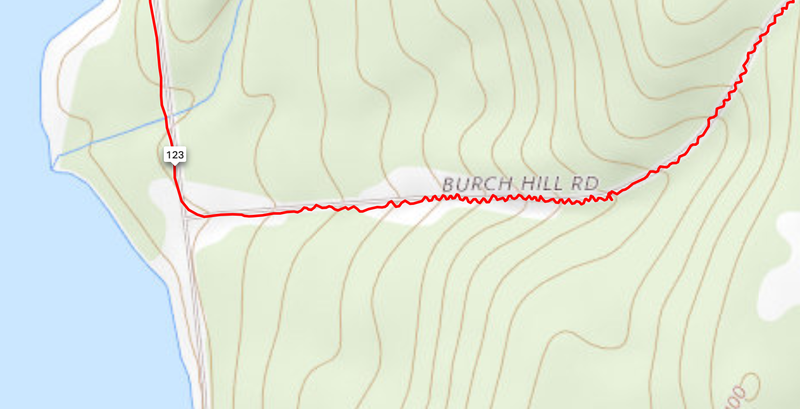 Paperboy track up 10% grade on Birch Hill Road.
At the top of the climb, a sign that said that the descent down Cratsley Hill Road was closed for road work. If I didn't give it a try I'd miss a good stretch of the shore of Honeoye Lake, so I took a chance and let gravity do its thing. The road was pitted and gouged and the shadows from overhead trees had me second-guessing my line most of the way. I saw no evidence of construction and I don't know what I would've done if I encountered an impasse. I wouldn't have wanted to climb that hill again! After a couple more miles north along the west shore of Honeoye Lake, I entered the town of Honeoye and stopped at another 7-Eleven for more food and a giant Gatorade. If Gatorade didn't eventually sour my stomach, I'd think it was some sort of super fuel for me. It has pulled back from the brink on more than one occasion, and it didn't fail me this time.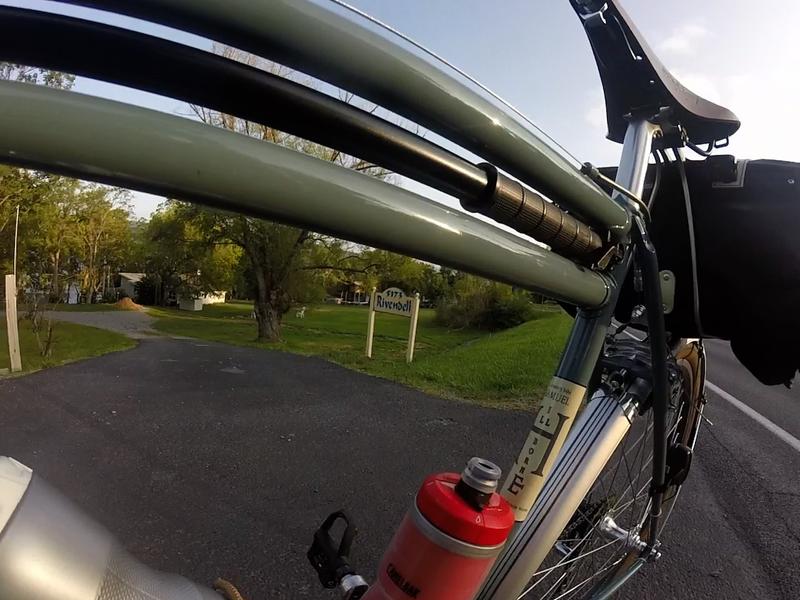 Double top tube of the Sam in front of a property with a familiar name near Honeoye Lake.
After 15 minutes or so, I headed east over drumlins on Route 20A, passing just a few miles north of the Bristol Mountain Ski Area and on towards Canandaigua. I stopped and watched the sun go down at 7:45 p.m. (a little more than 16 hours and 150 miles in now). I was definitely running behind schedule, but having a great time. I began to shift my thinking towards just enjoying the day and this ride, and away from the pressure of my schedule, worries about average speed, and concerns about my "non-moving time". As the last slivers of sunlight disappeared over the horizon, I donned my reflective vest and ankle bands then proceeded into town with a different attitude.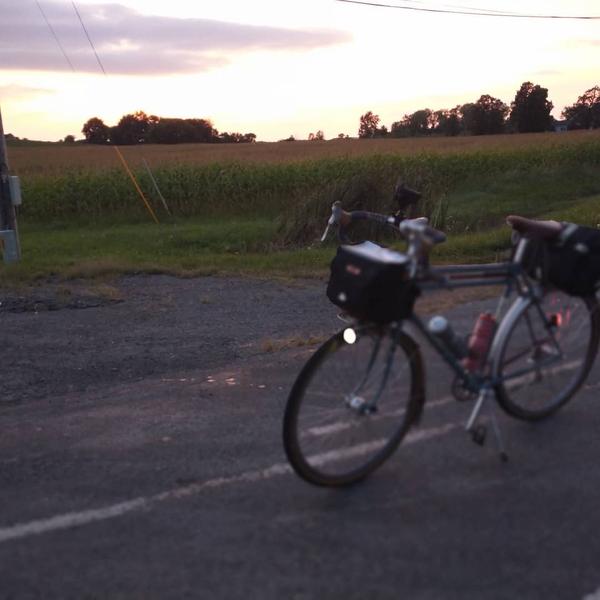 Sunset on Bristol Road, west of Canandaigua.
Canandaigua to Otisco (62 miles, 2400 ft)
This long stretch of the ride seems like a big blur as most of it shared many of the same characteristics: dark, windy, and flat (in comparison to everything that had come before). I mentioned the south wind earlier and how the forecast called for more of it. Well, here it was, blowing me sideways, ahead, or backward depending on the tack the road took. I could only hope that it would ease up by the time I needed to head south again (spoiler: nope! it got worse and worse!).
I've always thought of US Route 20 romantically as a relic from the early days of car travel. I like to take it instead of the Thruway when I'm not in a hurry and traveling by car east/west. Old motor lodges and dated roadside attractions provide evidence of a time gone by. While it all looks old and nostalgic in the daylight, you really can't see a heck of a lot of it at night. The road (in many stretches coincident with NYS Route 5) has wide shoulders and a smooth surface, but at times a lot of fast-moving traffic, which probably should have bothered me, but it didn't. The headlights from tractor-trailers approaching from behind give me the chance to be sucked for a while in their wake and to catch an unnatural tail wind for a few seconds. I wound up the cranks in anticipation and spun away as trucks roared closely by, momentarily protected from that ever-increasing south wind; then slowed back down as the effect wore off and I watched their taillights advance ahead of me. I'd sit in wait of the next close call and breezy boost. It went like that for hours. I pulled out the Bluetooth headphones from my front bag and tried to listen to tunes from my Spotify account. I sometimes forget which two lakes I was between.
In Geneva I get off the road and ride along the trail through Seneca Lake Park, getting sprayed with mist from the tops of whitecaps blown onto the path. The winds are up around 20-25 mph, I'd guess. A park employee stops me in her truck and says the park is closed, so I get back on Route 20 and lean into the wind for an hour on my way to Montezuma.
Waterloo, Seneca Falls, then the Circle K gas station, and another big Gatorade at the top of Cayuga Lake. My mother pings me via text and I give her a call while I eat behind the store. After a few minutes, I continue on Route 20 and a few side roads to Auburn. I'm just making miles now and the legs are on autopilot. No heroics, just chugging along, making decent time. There's a little climbing here and I feel bonk #2 coming. I pass through the town and Emerson Park on Owasco Lake and lay the bike down in the grass and take another nap. It's a little past midnight and I nap in the night air for 25 minutes. Despite some stretching, I'm pretty stiff and need to be careful when clipping back in.
Eight miles of intermittent climbing later, I pass through Skaneateles silently while the town sleeps. On the way out of town, I've finished a double century. 50 some miles and I can go to bed. The wind is still blowing and I turn south into it and follow Ninemile Creek towards Otisco Lake. When I reach Otisco Valley Road the wind hits me right in the face.
I've been wearing all of my layers for a while now, but I'm feeling chilled even though the temperature isn't any lower than the mid-40s. I start to shiver, partly because of the wind and weather, sure, but there are compounding factors of fatigue and unmet nutritional needs making my body react too. I know this because I'm making progress along the road slowly, but I'm starting to flag and start seeing spots in front of me. The windy lake is to the right and houses are on the left. There really isn't a safe place to pull off yet.
Otisco Lake to Ithaca (34 miles, 1750 ft)
Otisco Lake is only about 7 miles long and flat, but the wind makes pedaling in anything except the small gears practically impossible. The climb after the lake is just a few hundred feet, but it's difficult after over 200 miles. I pull off the road after the climb and lay in a ditch alongside a cornfield. I'm partly sheltering from the chilly wind, and partly seeking a slight incline for comfort. I fall asleep for 40 minutes and awake very cold with a very stiff lower back. It's a groaning effort to get standing again and another to mount the bike and clip in in the dark. It's about 6 a.m. and the night sky is starting to give way to an emerging light to the east. That was bonk #3.
I slowly warmed as the day began and I exited the Otisco Valley. I turned south on Route 281 in Preble and headed for the Speedway and enclosed Duncan Donuts in Homer. I noticed a few bikers fueling their Harleys as I arrived. While ordering breakfast I asked some of the guys in the store where they were headed this morning but received nothing but stares back. I started to get that Pee-wee feeling and noted that they were all wearing Outcast colors. I grabbed my coffee and sandwich and looked up the "Outcast MC" on my phone and gathered I wasn't quite their type. I don't know of any "1-percenter" randonneurs. After eating and having a hot cup of joe, and watching the motorcycles roar off dramatically, I was ready to get going again.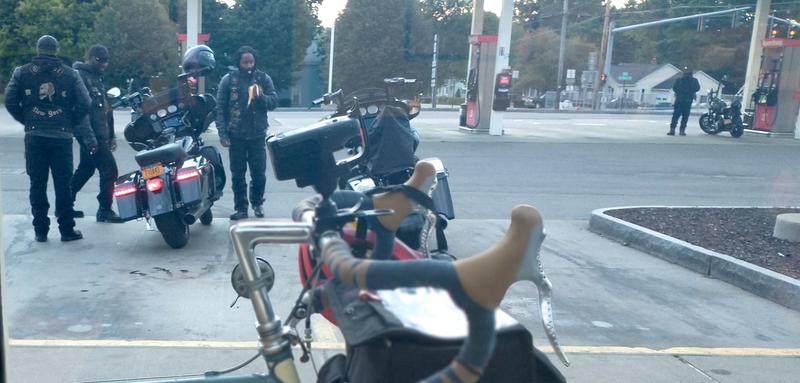 Pee-wee and the Outcast MC get donuts in Homer.
I finished the rest of the ride on familiar roads through Cortland, McLean, Freeville, and Etna following Fall Creek back to Ithaca. I felt tired but fine, another bonk-gone-by. I arrived home 30 hours and 22 minutes after I started. This was a pretty ambitious ride for a year where most groups were not riding together, brevets everywhere were canceled, and my own training curtailed by a pandemic.
All that said, I think a lot of the reason for the slow time (a 400k brevet would need to be completed in 27 hours), had to do with my nutrition. Time off the bike (a fair amount it asleep) accounted for over 5 hours. Although I planned quite a bit, I could probably have done a better job of eating on the bike and planning exactly where I was going to stop to get food. Dithering about stops and passing opportunities to get a meal likely resulted in me just not having gas in the tank when I needed it.
In all, a memorable ride, and a good day out.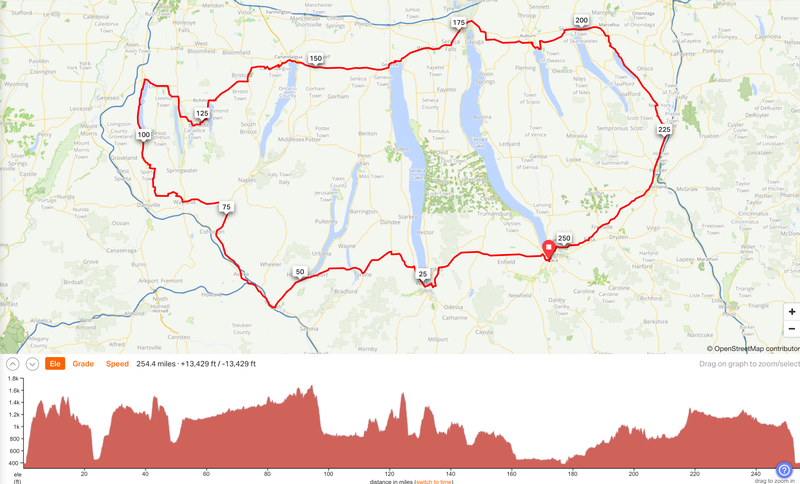 Ride wth GPS track.