Rivendell Sam Hillborne
NOTE: An update on how this bike worked for my first season on brevets.
Last year I replaced my 1988 Bianchi with a new-to-me Fuji endurance bike and found that I still really enjoyed riding. I added some lights and bags, swapped out the rear cassette to get some lower gears, and maxed out the tires to 32mm to make it even more comfortable for long rides. It's a great budget bike build with little left to do to it (maybe a wheel upgrade?), and I believe I'll enjoy it for years to come.
This year I had planned to replace my even older Univega mountain bike with something new as well. I had converted the mountain bike to a makeshift touring bike over a decade ago in preparation for a tour I never ended up taking, but the truth is, the frame is too small for touring. I'm just shy of 6 feet tall and the bike's seat tube measured 17". The small frame provided a lot of standover height for bouncing around in the woods, but it also had proportionally short chainstays. I found that I could tour on the bike, but panniers from any rack I mounted on the bike resulted in heel strike.
Initially, I figured I'd buy a classic tourer to replace the Univega. A Long Haul Trucker was on my wish list. But, I questioned whether I'd ever really ride across the country and whether that was the right choice. I started watching videos about how classic bicycle frames were made and did Internet research into various custom frame builders. I let myself dream a little about super-light steel frames, built just for me. Two trips to the west coast were helpful.
During a trip to Oakland, I rented an old bike off Spinlister and rode over the Berkeley Hills and to the top of Mt Diablo, after which I made it a point to find the back alley shop for Rivendell in Walnut Creek. I've been pretty much on board with Rivendell's aesthetic and philosophy about bikes since I rebuilt my Univega, which I equipped with their Silver bar-end shifters from a decade ago. Will, the manager of the place, recommended I take an A. Homer Hilson for a while. I was short on time, but that short ride on the Homer left a real impact.
In Portland, I rode the owner's personal bicycle at the sadly now-defunct Norther Cycles, spoke with Ira at Breadwinner about a G-Road, and saw some gorgeous work in progress across the street at the AI collective. Everyone thought that a good next step for me might be to attend the Philadelphia Bike Expo in the fall, which I did with my son. We wandered the exhibit hall, went on a group ride, and I spoke with builders from all around the country. Rivendell had a booth there, and I had a chance to talk to Will again. I told him I was trying to decide if I "needed" to get a custom frame. He said, "you don't need a custom bike." Simple as that!
He was right. For one, a dedicated randonneur bike might be a little too "noodly" if I wanted to load it up. A more "standard" build probably made better sense if I ever planned to go touring with this bike. I needed something that could handle wider tires with fenders, would be simple to service on the road, and would have the aesthetic of a lugged steel frame.
A few more calls and visits to local bike shops to search for that perfect mix of price, quality, aesthetics, and je ne sais quoi didn't produce any satisfying results. I decided to put in an order for a Homer with Riv. I was going back and forth with Will on an invoice when I happened across a forum post on the BOB email list with a double top tube Sam Hillborne for sale in Rochester. It was the local Rivendell dealer's personal bike that he was selling. He was downsizing his stash after closing his shop...tough times for a niche bike shop owner. I went up and tried it out on a quick ride around the block. He had it set up for commuting with albastache bars and friction shifting. It had some nice touches, like Paul brakes, Velocity wheels, VO cranks, and Spécialités TA rings. The frame and components were well taken care of, with just a scratch or two in the paint. I canceled the Homer invoice with Riv and put the Sam in the back of the car and brought it home. This would be my light-touring/randonneuring bike.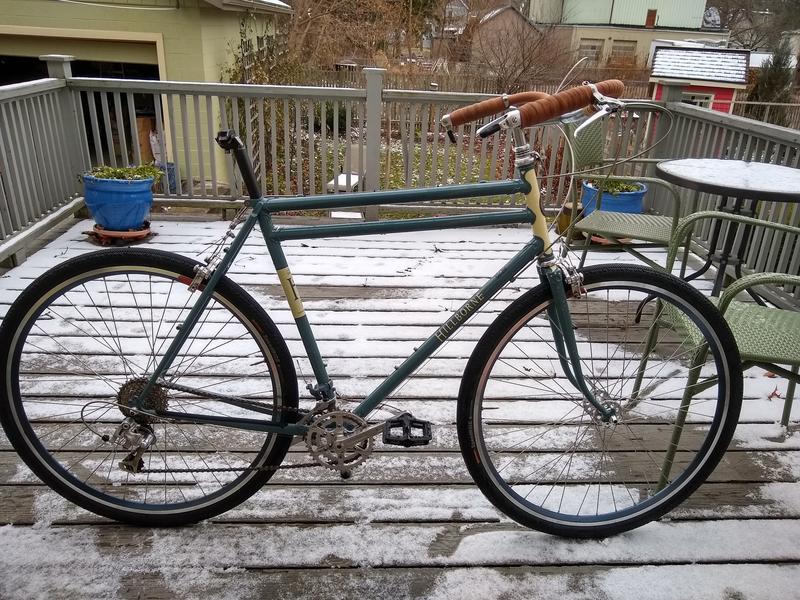 Rivendell Sam Hillborne as purchased
Drivetrain and Brakes
The bike came with 9-speed 11-30t rear cassette and Velo Orange crankset with 40/30 Spécialités TA rings. I swapped the cassette with a 11-34t after paperboying up a particularly steep grade 100 miles into a ride. The front derailleur is a Claris and the rear mech a silver Microshift R10, both of which worked very well and weren't begging to be replaced. It's an odd setup in my experience to have such a small big ring, but this bike was a commuter, not a racer. A few rides convinced me that I rarely spend time up in those top gears and having the small-ish rings ensured that the progression through the gears wouldn't be "spaced out". I really like the looks of the smooth silver R10, most new components are being built in black.
The brakes are Paul Racer center pull caliper brakes. These are very powerful brakes that I think are just as strong, if not stronger than, the BB7 discs on my Fuji. Nothing needed changing here.
Cockpit and Saddle
The bike came without a seatpost, and I used an aluminum post from my son's mountain bike until a Nitto Crystal Fellow arrived on my doorstep. I spent the end of the winter massaging a bit of Proofide into the leather of a fire-warmed honey-colored Brooks B17, hopefully speeding up the break-in process. I'd ridden a Brooks Flyer on the Univega and found it generally worked for me. A B17 seemed like standard equipment on a Riv that I thought would be a good guideline.
I tried the albastache bars for a while with the retro friction Suntour shifters. If I were to keep this for commuting, I'd probably love that setup. However, I didn't think I'd love them for a long ride. I am used to drops, and again went with a Rivendell recommendation, the Nitto Noodle. I'd done some measurements to try to get the same stack/reach as my Fuji and ordered a 110mm Nitto Technomic Deluxe (Talux) stem. Those measurements didn't translate into a perfect fit, though. A few long rides convinced me to swap the 110mm for a 70mm Technomic I had on the Univega, which was much more comfortable. So much for my DIY bike fit! All's well that end well, I guess. A set of 9-speed, indexed (but with friction capability) Shimano bar end shifters, new Jagwire cables, Tektro TRP brake levers, and an old St. Christopher bell off eBay finished the cockpit.
Nitto Noodle and Technomic stem
Bags and Racks
This bike will probably never see four panniers and a full tour, but I wanted some options to do both overnight randonneuring events and light touring. For this bike, I decided to use black, waxed canvas bags. Despite their heavier weight than more modern Xpac or Cordura alternatives, I thought they looked timeless and would last a very long time. I chose a large and boxy Acorn rando bag that would rest on a Nitto M1 on the front of the bike. This bag isn't the largest of all bags you could buy, but I wasn't looking to carry everything but the kitchen sink. I had previously purchased a Carradice Nelson Longflap and Bagman support with a quick release to carry a light load on the back. I figured that these two bags would handle most of my use cases for the bike.
I'll make note that although I had read and seen plenty of videos that extolled the benefits of a low trail design for carrying a front load, most custom builders I spoke with recommended a mid-trail design, which the Sam Hillborne has. I had some concerns about overloading the front of the bike would result in slow handling. Most Rivendell literature these days seems to indicate that a rear load is sort of their preference and they don't sell front bags anymore (but they do seem excited about bike baskets).
Finally, a stainless Tubus Cosmo rack is on hot standby for days when I need to carry rear panniers. I have a full set of Jandd Mountaineering panniers in pretty good condition from the 80s that I can retrofit with larger hooks to fit the wider tubing on the Tubus rack. I've yet to try it, but I can see that the Tubus rack will put those rear panniers far out of heel strike range. I doubt I'll ever run front panniers on the bike. Should I ever need a full-on touring setup, I'll probably want to evaluate a dedicated bike.
As a side note, the Bagman support and the Tubus rack interfere with each other and can't be used together. I'll need to lash the Carradice bag to the saddlebag loops (imagine that!) using the leather straps if I want to use panniers with the transverse saddlebag.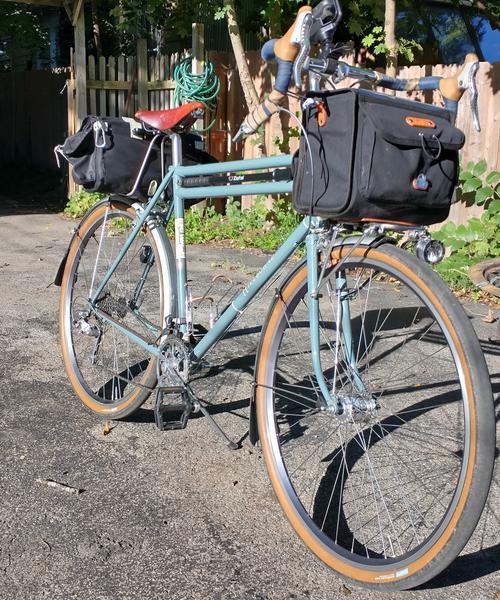 Acorn Large and Carradice Nelson Longflap
Electrics and Lighting
One thing I learned from riding the Fuji was that USB lighting (and really, all things electric) is a spotty mess. The day before a ride I was charging a phone, two headlights, two taillights, a camera, and batteries on the GPS, and a USB power brick. Even then, you never know when the power is going to go out. I was easily sold on the idea of a generator hub and a set of great lights. I ordered a SON28 and asked Glenn Swan to rebuild the front wheel to use it. Glenn also ordered a Schmidt Edelux II (which I mounted on the left side of the M1 rack), a B&M Secula Plus mounted to the left seat stay, and a Toplight Line Brake Plus (for use with the Tubus rack). I did the wiring and soldering of the quick disconnect coax plug to the hub. All of it came from Peter White Cycles in NH, who was helpful when I had questions about the vibration from the generator hub that I felt when riding the bike. "Tighten the axle a little more." And that fixed that.
As I say, I have yet to use the Tubus rack, but the Edelux II and Secula Plus is an excellent set of lights. I do carry one set of USB lights, just in case, but the bright and even beam by the Edelux and the confidence in knowing that I'm never going to be without lights is a big part of feeling at ease when riding all through the night. I still do carry a power brick and spare batteries for the eTrex, and I don't think I'll overcomplicate the electrics on this reliable bike with a USB charging system.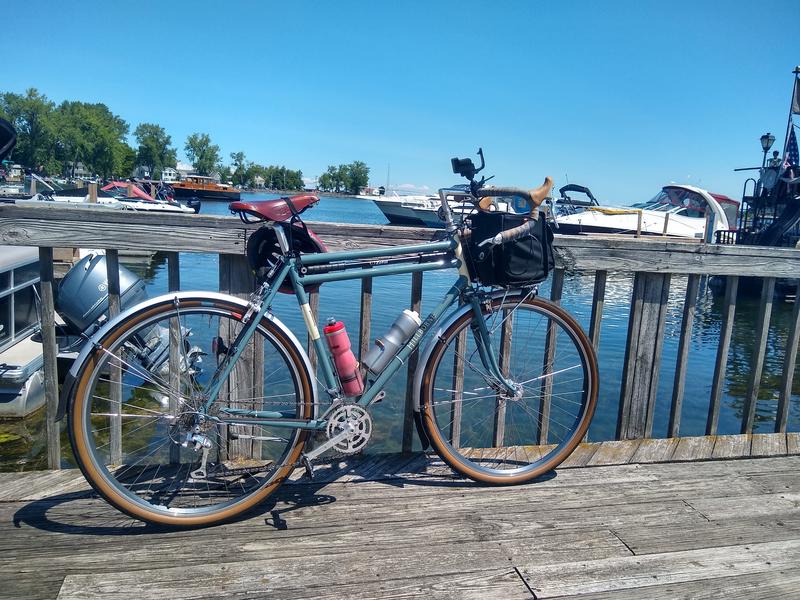 Side view of the bike.
Wheels, Tires, and Fenders
The bike came with a very nice wheelset. Blue anodized Velocity Dyad 36 spoke rims laced to Velo Orange Grand Cru hubs. I bought another Dyad rim, but you couldn't get the anodized version, so I had Glenn rebuild that blue rim with the SON28 hub and build a new wheel with the new black rim and the Grand Cru hub as a spare. Someday, I'll learn how to do this too, but it gives me a lot of comfort to know someone did it right.
The previous owner was riding a set of Continental Speed Rides, which he believes are a great value. They are a bit knobby and probably not exactly what I would ride on a long road ride. I ordered a set of Rene Herse 44mm Snoqualmie Pass tires with the endurance casing. The ride is a bit smoother on the smooth pavement and they are fine offroad as long as I'm not in a wet mess where knobs would be nice. When inflated to around 25 psi, rides over chewed up back roads are surprisingly easy on the rump.
Rivendell doesn't sell fenders other than SKS fenders. They believe that the Securi-clips will save you from flipping over the handlebars should a stick get stuck between the spokes and fender stays. Just this winter, the SKS P65 Longboards on my Univega popped free from a stuck stick, so I understood their value. There are certainly more pretty fenders out there that I would may have liked to have seen on this bike, but I outfitted a pair of P50 Longboards over the tires. I think they look quite nice. They certainly are simple to fit.
Post
I've taken this bike on several long rides this year, including a ride around Keuka and Seneca Lakes, a ride around all of the the Finger Lakes, and one to to Lake Ontario and Skaneateles. I enjoy riding it more than the more "advanced" Fuji, but I tend to be a bit faster on the Fuji. I know this because I repeatedly rode a 24 mile training loop out to Brooktondale and back and kept logs. However, speed isn't always king to me. The bike is, as Grant Petersen is often quoted as saying, "rideable art" and people seem to notice it. It makes for a nice conversation starter when meeting people out and is a joy to ride. One evening I sat out in the garage just admiring it, which isn't something I do a great deal with anything.
The handling of the bike is now very stable, but not cumbersome. However, earlier this year I took a ride during which I experienced a fast descent that led into a hard left turn. At that time, I had the too-long-for-me 110mm stem and was carrying a front load. The bike felt as if it didn't want to make that turn. I thought I might end up in the ditch. Since swapping stems to the 70mm, I find that the bike is very predictable.