At the beginning of the season, I had made a plan for getting through a RUSA SR series , and here are the results:
| Date | Km | Route | My Time | Time Limit | Bike |
| --- | --- | --- | --- | --- | --- |
| 2021/03/28 | 200 | 200LR_3 Women's Rights Loop | 11 hrs 31 min | 13 hrs | Sam Hillborne |
| 2021/04/08 | 104 | NY: Oneida Lake | 05:02 | 6 hrs 52 min | Sam Hillborne |
| 2021/04/13 | 209 | NY: Tug Hill Crossing 209K Loop | 11 hrs | 13 hrs 56 min | Sam Hillborne |
| 2021/05/15 | 300 | John's Waterfall 300 | 18 hrs 54 min | 20 hrs | Sam Hillborne |
| 2021/06/04 | 400 | Joe's Niagara 400k | 25 hrs 6 min | 27 hrs | Sam Hillborne |
| 2021/06/19 | 600 | 600LR_2 Stuart's 600k | 38 hrs 24 min | 40 hrs | Sam Hillborne |
| 2021/09/11 | 200 | 200LR_2 Seaway Diner Ride (BRM 200 Anniversary Ride) | 11 hrs | 13 hrs | Fuji |
Without a whole lot of extra training, I made it through all of the rides with a little extra time to spare on each. I also participated in the cross-PA Crush the Commonwealth ride early in the season. I rode most of the season's rides, and all of the SR brevets, on the Sam Hillborne I had built up for just this sort of riding. Here are my thoughts on how it went.
How was the Sam Hillborne for randonneuring?
I purchased the Rivendell as a bike for light touring and randonneuring a couple of years ago and mostly found it was a capable bike that I enjoyed riding long distances. It's more of a tourer than a randonneuse, but I probably will stick with it. Overall, I felt pretty comfortable on the bike over long distances.
I used flat pedals without clips or straps for all of the rides this year, including brevets. I don't think this is very common in randonneuring, and I probably lost some pedaling efficiency. However, I believe that using platform pedals contributed quite a bit to my comfort. I didn't suffer ANY knee or foot pain while riding an entire SR series in Vans sneakers and plastic iSSi Thump pedals. I think that having the ability to change the position of my feet was actually very helpful. I can say that the Vans started the season feeling stiff, but by the end of the season they were less rigid, and I could feel the sole bending a little around the pedal. I may want to get a stiffer, dedicated shoe for my flat pedals for the upcoming year or consider switching to a mountain bike-style cleat and pedal combination.
The bike came with a Velo-Orange square taper crankset with 40 & 30t Spécialités TA chainrings. Early in the season I swapped these rings for a 42 & 26t from the same brand. I did this primarily to extend the low end and to maintain good progression (see below). This was helpful on long, steep climbs, such as the climb from Watkins Glen over Sugar Hill on the John's Waterfalls 300k .

Gearing on the bike with the 40-30t crankset.

Gearing on the bike with a 40-26t crankset wouldn't not have good progression. Note the duplication of several gears.

Gearing on the bike with a 42-26t crankset would lower the range and provide nice progression.
The Nitto Noodle handlebar, cloth tape, and 70 mm stem were comfortable for all but the 600k ride. Unfortunately, I experienced numbness in my thumbs during the 600k that lasted for about a month after that ride. To mitigate this, I've since installed an even shorter 50 mm Technomic stem (I moved the 70 mm stem to my daughter's bike, my old Univega). This shorter stem brings the bars closer and puts me a couple more degrees upright. As soon as I rode it after the switch, it was apparent that this would make a huge difference. I can't believe I started with a 110 mm stem!
I also installed the Redshift Cruise Control grips on the Noodle's tops (these grips for the drops are not compatible with bar-end shifters) and rewrapped them in Brooks microfiber tape. The flatter surface and softer tape should spread the pressure over more of my hands, which I believe will make a difference on those long rides.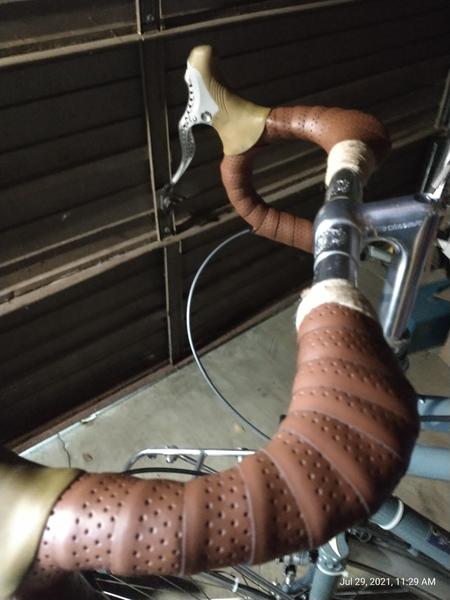 50mm stem, Brooks tape, and Redshift padding should make the handlebars more comfortable during long days.
The Brooks B17 seemed adequately comfortable. After my 600k, I had a pretty unhappy undercarriage, but that healed quickly compared to my hands. Changes to my hand position may affect how I sit on the saddle, so I am not eager to change the seat yet. A better chamois and experimenting with creams and lotions might be a better first step than experimenting with the saddle. Does anyone LOVE their saddle after a 600k? Maybe just a matter of hating it less?
After receiving nine unexplained flats during one day of the Crush the Commonwealth ride, I swapped the Rene Herse Snoqualmie Pass tires (which had about 2000 miles on them) for Gravelking SS+ tires in 43 mm. I still had a few flats this year on training rides, despite the added puncture protection offered by the Gravelkings. I suspect I'm sacrificing a little ride quality and weight savings in exchange for some security. After discussing my flats with fellow randonneurs during this year's 300k brevet, I've also begun carrying a spare tire in the saddlebag.
The 40+ mm tires provide a lot of suspension at low pressures (around 25 psi), but I have been running them at about 38 psi this year for most of the road riding I've been doing. Unfortunately, I often hear stones and leaves between the tire and fender when riding 43 mm tires. So next season, I'll want to start my brevets on a slightly narrower tire (38 mm) for the weight savings and added fender clearance. Hopefully, the reduction in suspension won't result in more discomfort at the saddle.
The transverse mount Carradice bag gives me a lot of cargo space for long brevets to store layers, parts, and anything I don't need handy while riding. A small Ruthworks Brevet bag is just right to hold a few snacks, my phone and battery, wallet, glasses, and my ever-present mask. I used the large Acorn bag on the front rack and the RuthWorks large seat wedge to hold a jacket and tire on shorter brevets. Both combinations work fine for randonneuring.
Training
After the first 200k brevet of last season, I remember feeling spent. I hadn't done anything through the winter in preparation, and it showed. During the season, I didn't do a lot of training rides between brevets other than the CTC ride (we did it over three days instead of trying to go straight through) and a couple of permanents early in the season. In preparation for this year, I plan to do more training. I've joined the gym and am working on leg and core strength and jumping on a spin bike for hour-long interval training sessions. The gym offers one measly spin class per week, but plenty of free YouTube videos are available to guide me through it. I haven't bought into the Zwift/Rouvy scene yet. Once it is possible to ride again in the spring, I want to do more perms and longer training rides in preparation for the brevets.
This year I'd like to attempt a 1200k. It's the next logical step in the journey. Unfortunately, I didn't think my brevet times were where they needed to be in 2021 to hope to finish a 1200k, so I volunteered at the WNY Waterfalls 1200k to continue to gain exposure and learn. Besides, the WNY Waterfalls 1200k was an amalgamation of the brevets I had already ridden last season, so it didn't appeal to me. Hopefully, we'll be able to ride the Lap of the Lake ( LOL ) 1200k this year if the Canadian border remains open. If I can improve my time enough, I'd like to try it.
While I can't imagine the stars aligning such that I would ride PBP in 2023, completing a 1200k this year would open up the possibility of preregistering. I'm almost 53, and if I ever hope to ride it, trying in 2023 is probably the best shot I'll get. I might as well act "as if" I'm going.